Immersive content partnership announced between Dolby, LG and Rakuten TV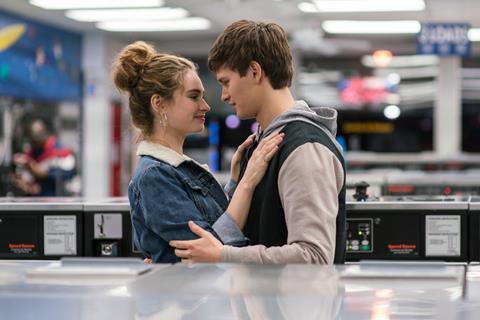 Dolby's flavour of HDR and immersive audio is coming to the home through a partnership between Dolby, LG and Japanese-owned VoD service Rakuten TV.
The agreement brings owners of LG OLED and Super UHD 4K smart TVs a selection of "Hollywood blockbuster" movies that can be viewed in Dolby Vision HDR and experienced in Dolby Atmos immersive sound, via the OTT app Rakuten TV.
According to the companies involved, it's the first time in Europe this quality of streaming content has been made available to home users.
In theory and with the right setup, the combination of Dolby Vision and Dolby Atmos in the home could create a viewing and listening experience similar to a cinematic experience.
Dolby recently demo-ed the setup in a screening room at its offices in Soho Square, on one of the latest LG OLED TVs with a 7.2.4 speaker setup.
First, it showed a few minutes from Baby Driver (pictured above) (to showcase Atmos' immersive credentials) and the next, a similar length clip from Blade Runner 2049 (main picture above) to highlight the effects of Dolby Vision.
It was impressive, and genuinely immersive in both imagery and audio, with colours that aren't easily represented in standard dynamic range and audio that moved around the room in a similar way to how it sounds in Atmos in the cinema.
It's worth bearing in mind, though, that the suggested setup for best-quality seamless streaming of the 4K HDR is a 100mbps fibre connection.
The Rakuten TV app is pre-installed on new LG smart TVs and, when launched, it checks if the TV is compatible with Dolby Vision and adapts accordingly.
It's pay-per-view, with 48-hour movie rentals costing £5.49 (an uplift of £1 over the non-Vision and Atmos versions).
The goal is for all new film releases to be offered in this quality – Rakuten says it will have "hundreds" by the end of the year.
It also plans similar partnerships with other smart TV manufacturers supporting both Dolby Vision and Atmos, if and when these sets become available.
There's currently something of a format war in HDR right now, with Dolby Vision up against the HLG format developed by the BBC and Japanese broadcaster NHK, as well as Samsung's HDR10+ format, all battling it out for supremacy.
Dolby's tie-in with LG and Rakuten TV appears to give it a brief USP in terms of getting its format out to consumers in the home.
"Our collaboration with Rakuten TV magnifies the dedication from Hollywood to bring Dolby Vision and Dolby Atmos to a broader global audience," said Javier Foncillas, vp, commercial partnerships Europe, Dolby Laboratories.