Telco says travellers can download content four times faster than over 4G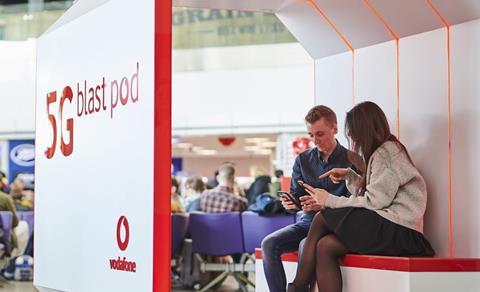 Vodafone has switched on 5G at Manchester Airport, and says that travellers are able to download content up to four times quicker than over 4G.
Airport users could download an episode of the new series of Tin Star in 45 seconds and the whole series in six minutes and seven seconds – up to four times faster than over 4G, which took 26 minutes and eight seconds.
Vodafone said that, at these speeds, its 5G network will allow a home Wi-Fi like experience, on the go.
Nick Jeffery, CEO, Vodafone UK said: "We all love to catch up on our favourite TV shows, play games or finish off some work when travelling. 5G, with its fast speeds and quick response times, will make that quick and easy, even in busy locations."
Passengers at Manchester's Terminal One visited Vodafone's special 5G 'blast pod' and were given a free Entertainment Pass on streaming service NOW TV.
As 5G handsets are not yet available for consumers, Vodafone completed the trial using its 'Gigacube' device – a portable router that is 5G enabled. Consumers connected to 5G via the Gigacube and used their Now TV Entertainment Pass to download and stream content.
Manchester Airport is the first of several travel hot spots where Vodafone is trialling 5G. Further trials over the coming weeks will include Snow Hill railway station in Birmingham.