All the speaker sessions from Day 2 of the Broadcast Sport Tech Innovation Forum 2020 are now available online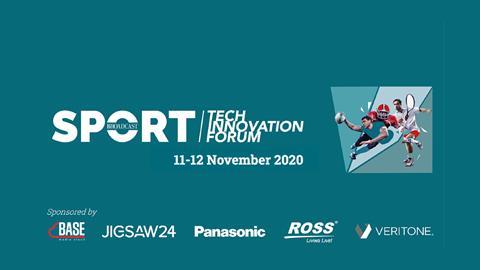 The Broadcast Sport Tech Innovation Forum 2020 was held on the online conferencing platform Hopin on 11-12 November 2020.
It was an exclusive event for the sports production sector where attendees could engage with live sessions, hear from various speakers and network with other delegates.
Over the two days we took a deep dive into the innovations being used across the many verticals of sports media, hearing from broadcasters, producers and rights holders.
All the speaker sessions from Day 2 are now available to watch on-demand below.
Session 1 – The OTT/D2C panel
Direct-to-consumer platforms are becoming more and more established in the crowded sports broadcast market. This panel discusses all things D2C, including the extent to which these platforms are eating away at the subscription base of Pay-TV and traditional sports TV operators.
Speakers:
Keegan Pierce, international development – UK&I, La Liga TV
Matt Brown, broadcast product manager, The Football Association
João Presa, COO & co-founder, MyCujoo
Chair: Jake Bickerton, editor, Broadcast Sport
Session 2 – Remote working at the Extremes
Discover behind-the-scenes details of how brand new electric off-road racing series EXTREME E will power its race to highlight the impact of climate change, whilst building innovative remote broadcast workflows and cloud-based content distribution.
Speakers:
Dave Adey, head of broadcast & technology, Extreme E
David Candler, media asset management and AI specialist, Veritone.
Chair: Ben Foakes, founder, Base Media Cloud
Session 3 – BT's Edge-XR project, presented by Matt Stagg
5G Edge-XR demonstrates how 5G networks, coupled with cloud graphics processing units, could enable people to view immersive sporting events from all angles across a broader range of devices including smartphones, tablets, AR and VR headsets and TVs.
Speaker:
Matt Stagg, director of mobile strategy, BT Sport
Session 4 – How to put an OB truck in the cloud
Jigsaw24's Rupert Watson and Chris Bailey explain how the NDI processing engine can be used to transition an entire outside broadcast facility to the cloud.
Speakers:
Rupert Watson, sales director M&E, Jigsaw24
Chris Bailey, head of pre-sales, Jigsaw24
Session 5 – Esports Panel
One of the beneficiaries of the wholesale cancellation of traditional live sports during lockdown has been esports. This panel debates the rise of esports, what lockdown has meant for this growth, and what traditional sports broadcasters can offer esports fans.
Speakers:
Julian Tan, head of digital business initiatives & esports, F1
Cameron Reed, esports business development manager, Ross Video
Jose Garnes, head of content, SailGP
Chair:
Cara Kotschy, freelance
Session 6 – Women In Sports Tech
It isn't breaking news there is a gender diversity issue in the tech industries. But today's session is not about the negative; it is being part of the force for change, meeting and hearing from fantastic women who are trailblazing their way through the sports technology arena and setting a new agenda that we can all take away to enhance the change.
Speakers:
Carrie Wooten, managing director, Rise – Women in Business
Nikki Lushington, lead MCR engineer, Timeline Television
Jena Mihalovic, operational delivery lead, technical operations, Sky Sports Operations
Charlotte Winter, outside broadcast manager, BT Sport
Chair: Megan Johnson, senior partnerships manager, Sky Sports