The production, created by Dimension, Sky Studios and DNEG, demonstrates the game-changing benefits of virtual production
Virtual entertainment specialist Dimension, Sky Studios and DNEG have joined forces with Creative Technology and Arri to demonstrate what they describe as "the game-changing benefits of virtual production".
The project – The Virtual Production Innovation Project – was also aimed at upskilling the next generation of creative talent for virtual production.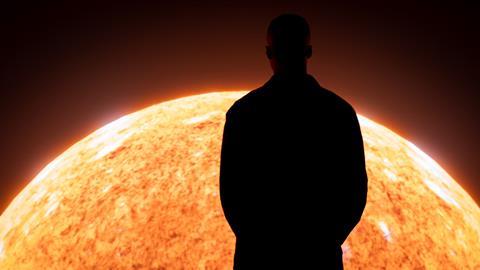 The production filmed over two weeks in October 2021 at ARRI and Creative Technology's mixed reality stage in Uxbridge, West London, and was designed to showcase the advantages and versatility of virtual production for capturing in-camera VFX using an LED volume.
It was directed by two-time Oscar-winner and DNEG creative director Paul Franklin (Interstellar, Inception). The DPs on the project were Dale Elena McCready and Robert Payton, and the photo-realistic, live 3D worlds were created by Dimension in Unreal Engine.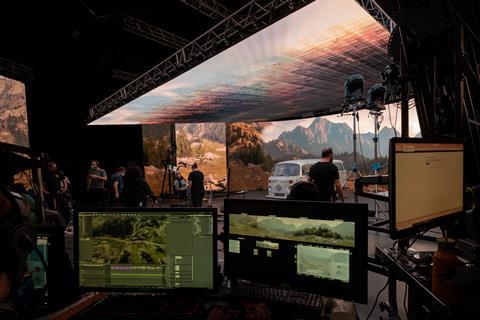 A short behind-the-scenes trailer is below:
The production is to be edited into a series of short films, each focusing on a specific scene and virtual production objective. Together, they will provide a comprehensive and insightful view of the state-of-the-art technology, techniques, achievements, and key learnings from the project.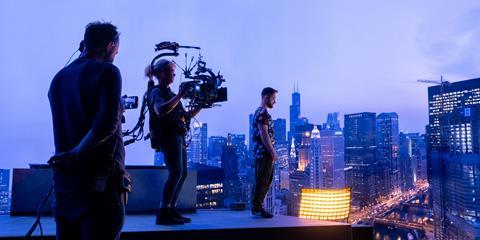 The project demonstrates the versatility of virtual production across a range of genres, for broadcast productions as well as feature films.
The short film series will go live in early 2022.
What is virtual production?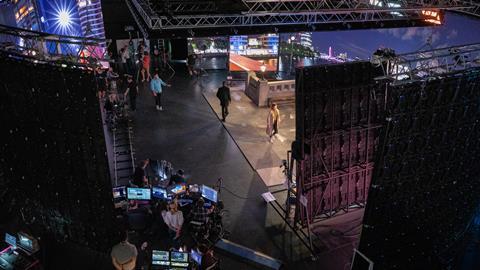 Virtual production enables filmmakers to see visual effects in real-time as they shoot.
This is achieved by combining games engine technology, like Epic Games' Unreal Engine, with large high-resolution LED screens, to create highly realistic 3D scenes live on set.
This fusing of technology frees up elements of a traditionally linear production process (live production followed by visual effects) to work together in parallel, allowing for more collaborative and creative decision making between teams.
Scenes (as seen in the behind-the-scenes video above) can be filmed in-camera without the need for further VFX work in post-production. Lighting from the scene can be used to authentically light the cast. Scene changes and transformations can be made in real-time on set, and the cast can see and respond to the realistic virtual world around them, leading to better performances.
Virtual production is also enabling the screen industries to reduce the carbon footprint of productions by limiting the need to travel to additional locations.
Film director Paul Franklin, said: "Speaking as a filmmaker, the Sky Virtual Production Innovation Project was a dream come true. Working with a state-of-the-art LED volume, I was able to explore a wide range of dramatic scenarios ranging from urban locations through natural landscapes to deep-space sci-fi worlds, all on the same stage. The photographic realism that can be achieved is astonishing – I can't wait to shoot in the Volume again."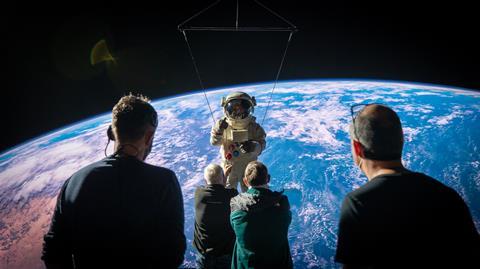 Eugenio Perez, head of production scripted, Sky Studios, added: "This collaboration has reinforced the potential of virtual production to be a game changer for creatives working at the forefront of storytelling. Having used virtual production throughout the development and production of various upcoming Sky Originals, we are pleased to be working in partnership with Dimension, DNEG, Creative Technology and Arri to share these learnings with the industry."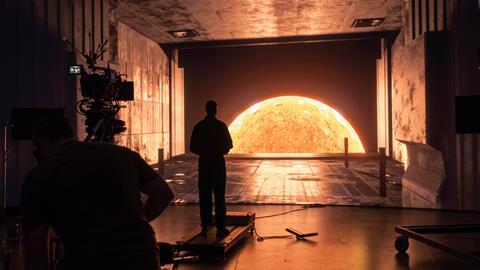 Steve Jelley, co-founder and co-CEO, Dimension, said: "With this latest collaboration, Dimension set out to demonstrate how virtual production can offer incredible creative possibilities as well as affordable, practical production solutions. We've distilled our experience with high-budget shows and proved that virtual production can not only work within the constraints of episodic drama, but can expand the creative choices available to directors and producers who embrace its strengths."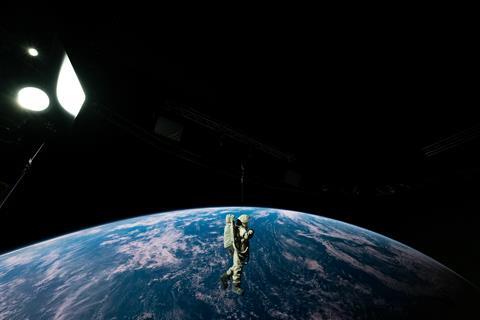 Namit Malhotra, chairman and CEO, DNEG, said: "Virtual Production is a creative technology that has the potential to revolutionise the production of filmed content. It is already opening exciting new creative avenues for filmmakers, as well as addressing some of the challenges we face producing content during a period of ongoing restrictions. We're just scratching the surface of what will become possible with this technology in the next few years, and it is exciting to collaborate with Paul and the teams at Sky Studios and Dimension to produce a series of short films that demonstrate how versatile and game-changing this technology can be in realising the filmmaker's vision."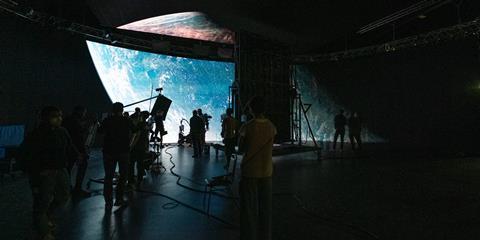 Will Case, director of innovation, Creative Technology, said: "We built our volume stage with ARRI to help accelerate and develop virtual production. It was inspiring to be part of a project, joining forces with Sky, Dimension and DNEG to push the technology to its limits and collaborate, explore and share workflows, showcasing this new technology and sharing it with the broader industry. We really are at the beginning of what we can achieve with this technology as it becomes more accessible and a fundamental part of the filmmaker's creative toolkit."
David Levy, director, business development, global solutions, ARRI, added: "The opportunity to work with such a talented and diverse group of creatives, innovators and industry leaders has been a real privilege for ARRI. It was the perfect opportunity to validate all the design decisions ARRI and Creative Technology made to deliver this highly integrated Mixed Reality studio. The speed and creative flexibility we were able to achieve during this project was phenomenal. To think this is only the first generation of this type of studio solution is really exciting."