Animators aged 18 and below were able to enter the awards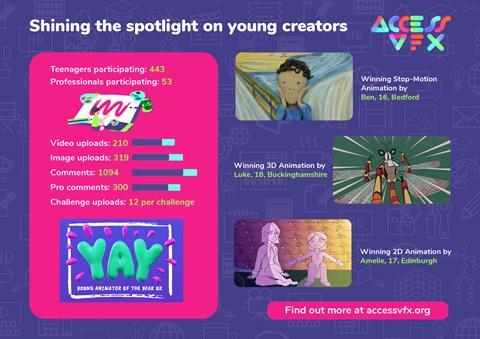 The winners of the Young Animators of the year competition have been revealed.
ACCESS:VFX, ScreenSkills Animation Skills Fund and 3Dami worked together on the awards, which saw animators aged 18 and below invited to enter their original films into six categories separated by age ranges and animation mediums.
Before entering their creations, the young animators who signed up to the programme were set tasks by a number of the best VFX and animation studios around the UK and encouraged to used open source software.
Young Animators of the Year winners
Best Stop-Motion Animator Aged 11-14: 'Rebirth' by Finlay, 14 from East Sussex
Best 2D Animator Aged 11-14: hand-drawn short film by Freya, 14 from West Midlands
Best 3D Animator Aged 11-14: 'Companions' by Noah, 14 from Dorset
Best Stop-Motion Animator Aged 15-18: 'Insomnia' by Ben, 16 from Bedford
Best 2D Animator Aged 15-18: 'Future Therapist' by Amelie, 17 from Edinburgh
Best 3D Animator Aged 15-18: 'Flight of the Odonates' by Luke, 18 from Buckinghamshire
The competition aims to give the winners access to and advice from professionals and studios in the animation, games and VFX industry. They will have their work reviewed by professionals from across the industry and see it premiered at a special screening session at the Manchester Animation Festival.
Oscar-nominated Aardman director Will Becher, who was one of the programme's judges, said: "I was so impressed by the variety and professional quality on display in all of this year's young entries. The skills they're learning in this programme and the valuable feedback they're getting from across the industry is something they can take forward as they learn and grow as creatives. I can see many of them becoming successful professionals in the future."
Tom Box, co-organiser of YAY UK, board member of ACCESS:VFX, Chair of ScreenSkills Animation Skills Council and managing director of Blue Zoo Animation Studio, added: "I want to extend a huge congratulations to this year's winners. This programme is a great way for young, ambitious animators to experience not just the creative process of producing their own original content but doing so alongside industry professionals and award-winning studios. I couldn't think of a better way to kick off a young animator's career."
One of last year's winners, Joshua Palfrey, has since joined Blue Zoo Animation Studio where he works as a full-time 3D artist, aged 18.