Broadcasters and content owners are learning from the likes of Amazon and Netflix by overhauling their platforms to better engage viewers with content suggestions based on data and algorithm.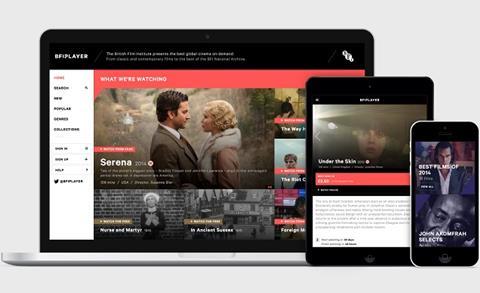 BBC iPlayer is widely credited with kick-starting the online video habit in the UK, but a decade after launch, it is set for a major revamp to keep pace with over-the-top (OTT) competitors Amazon Prime and Netflix, which have made greater strides in using data to personalise the experience of using their platforms.
"The first generation of catch-up services were based around the assumption that viewers knew what was on a particular broad caster's channels, and an assumption that the broadcaster could communicate this to you through traditional channel advertising.
"The need to provide insight into what you wanted to watch was considered minimal," says Thomas Williams (below), chief executive of Ostmodern, which designed and built the BBC Store platform.
The seismic shift in user behaviour towards going straight to digital means aiding discovery is now a much higher priority for OTT platforms. Göran Appelquist, chief technology officer of delivery-over-IP systems provider Edgeware, says that making content easily available on-demand is one of the big draws of OTT.
"Letting users find exactly what they want, whenever they want it has become crucial to content owners since it's the best way of engaging audiences and, most importantly, keeping them using your service," he says.
Personalisation is often associated with recommendations, for which Netflix first cracked the code. By some estimates, more than 50% of viewing on the platform is based on recommendations.
"They're so good at it that they don't even bother to show users their entire catalogue," says Iddo Shai (below), director of product at opensource video platform Kaltura.
"But personalisation goes much deeper than that. For example, Netfix and iTunes users see a personalised homepage and personalised push notifications about new content based on shows watched in the past."
Targeted marketing has also made great strides and will soon work in unison with recommendations, predicts Shai.
The tracking of users will begin long before they sign up to an OTT service (using cookies that track users' browsing history on all devices, as well as credit card purchases) and will continue even if they decide to cancel their subscription.
"In between, personalisation will help to keep them using the service for as long as possible and to increase their spend," says Shai.
Social media chatter can also be used to determine the context of a person's discussions around trending TV or films.
Many of Kaltura's customers encourage users to sign in with their Facebook account. The system then shows the user a dynamic activity feed, which includes real-time updates on what their friends watched and liked.
The key to all of this is data aggregation: the more, the better.
Gathering profiles can be done anonymously by relying on cookies, but results will be better with user registration. Here, the video player constantly communicates to the host platform what the user is doing.
Every action, or click stream, is noted and aggregated. For example: the user is browsing; adding a movie to their favourites list; playing a video or choosing a different one.
"This behaviour can be analysed to find patterns and improve the discovery experience for individual viewers, but also of the service as a whole," says Shai.
In some cases, additional components like a data management system will offer the OTT operator third-party data that can be purchased from companies like eXelate (now Nielsen), Bluekai (now Oracle) and Lotame.
These companies aggregate information about users from the likes of websites and credit card companies and index it into segments that are relevant to marketers.
Content providers and product owners often have to balance user behaviour against a need to push and promote valuable content that defines their brand.
"Personalisation has historically surfaced all content equally without accounting for the commercial, brand or editorial value of the content," says Williams.
"By augmenting personalisation with content owner needs, it is possible to imagine a product where users get heavily targeted content that satisfies both themselves and the business need."
Not only will the usefulness of data vary in quality and interpretation, but "sharing data is only as good as the commercial agreements the parties are bound by", says Alex Drosin (below), North America president of multiscreen video technology provider Massive.
"Everyone is eager to optimise data to increase subscription levels but the reality is that this is limited to how much they can gather."
Netflix and Amazon hold another advantage over broadcasters whose online service isn't their primary product or output: their own delivery network.
"This means they can analyse everything that's delivered to each user," says Appelquist.
"Whereas, a supplementary online service with fewer users is more likely to be renting space on a third-party delivery network to deliver its content, so doesn't have access to those numbers."
Edgeware suggests broadcasters build their own content delivery network. It illustrates a business case to show that implementing one becomes worthwhile when an average 250,000 users watch content on a service for a minimum of an hour a day.
BBC iPlayer has almost 8 million users watching for an average of 30 minutes a day – or just shy of 4 million who watch for an hour.
"The BBC has the amount of requests for content that would justify building its own network," says Appelquist (below).
"It will have complete access to the analytics of its users, letting it compete with the likes of Netflix."
Recommendation engines are built using machine-learning algorithms, which process raw actions forwarded by the client application on a user's device and are based on past behaviour.
The next stage is to use cognitive computing to examine the same click stream, but to divine user intent ahead of the next action – ideally leading to serving more relevant content and ads.
ContentWise chief technology officer Pancrazio Auteri calls this research "in-session predictions" or "intent-based recommendation".
ContentWise is also helping clients, including Sky, experiment with voice-based discovery via digital assistants like Amazon Alexa and Google Home.
"Users don't like to have a single choice imposed, nor to have to scroll or browse too much choice, so with voice commands, we return a small number of options," says Auteri.
Typical commands are requests about a specific team, channel, celebrity or news topic. AT&T-owned DirecTV has integrated voice control from Alexa but this does not necessarily mean an Amazon takeover.
"They are using Alexa just as the interface while retaining the existing logic of content recommendations based on their library from the ContentWise platform," says Auteri.
As virtual assistants are fine-tuned through analysis of natural language, accents and conversations, operators will turn to voice as the de facto interface between human and service.
Pietro Berkes, principal data scientist at digital security and media solutions firm Kudelski Group, says that virtual assistants will understand viewers' preferences and respond to vocal commands, enabling content discovery from multiple sources.
He says: "As traditional media becomes increasingly connected, AI will enable content providers to interact with end users. AI assistants will help consumers select personalised camera angles for sport events and they will deliver automatic summaries of the latest news and missed TV shows."
Some think personalisation is about context, predictable desires and suggestion as much as it is about algorithms.
"We are all wired differently and even if you can afford to build the world's most amazing personalisation engine, you can still get it seriously wrong – for example, by serving ads that are not relevant," says Joe Foster, chief executive of multiscreen VoD platform provider Easel TV.
Personalising the experience could be as simple as the consumer promoting menus, changing available skins and other settings to tailor the experience themselves, he suggests.
"It doesn't have to be all about algorithms."
Technology providers
Easel TV
Customers: Virgin Media; 4OD
Suggested TV, Easel's cloud-based software- as-a-service, boasts a range of tools for user management, content management and promotional activity.
"Our background and experience in digital television has enabled us to build a 'televisual experience' and evolve it to provide an optimised user experience for each individual screen," says chief executive Joe Foster.
The Suggested TV platform can distribute a mixture of Subscription (SVoD) and Transactional (TVoD) video on demand content separately, or within the same service.
Electronic Sell Through (EST) is currently being developed into the platform.
Kaltura
Kaltura's unified back-end for video, business rules and household management is unique in providing a "full picture" about the user journey, according to director of product Iddo Shai.
"For example, we usually authenticate each user at the beginning of the video session," he explains.
"Then the app offers them the option to continue watching a show from where they left off [even if it was watched on a different device]. If the user is looking for something new, we can show recommendations.
"If the user samples three movies before settling on one, we can track it."
Ostmodern
Ostmodern's Skylark product comprises an enterprise-level CMS, an API, which organises content, and a suite of connectors that integrate with internal and third-party systems.
It handles scheduling, ingest and data, providing editorial teams with the ability to curate recommendations while offering a considerable degree of personalisation.
"Editors can be informed of trends and behaviours within Skylark to understand what content they should be pushing and where," says chief executive Thomas Williams.
"While this often requires manual creation, a CMS should understand user behaviours to help editors make more informed decisions."
Recommendations presented to the user can be augmented with editorial weighting of content to ensure that valuable content gets the correct exposure.
"Editors can still curate and build views of products with content groups they require, but add personalisation on top of these views to enable the surfacing of the most relevant content in this group."
Massive
Customers: Channel 5; Sony Pictures
Typical approaches to user interface design are "rigid", says North America president Alex Drosin, lacking the flexibility to change if, for example, the commercial goal changes.
"The app should be able to update special offers, discounts or different price points in real time and without going offline," he says. Massive's Axis technology allows broadcasters to do just that.
The cloud-based platform enables the delivery of video apps across devices, with a common user interface.
"You can tweak or completely update the look and feel of apps, by the minute, and without requiring users to install updates," says Drosin.
Contentwise
Customers: Telefonica; Sky
ContentWise provides software building blocks for marketing and editorial teams to configure according to business goals or editorial style.
A typical home page for an OTT service might include six themed carousels.
Clients can tailor each of these for different users based on user-defined preferences and analysis of consumption habits. Someone who likes sport or animation, for example, will be shown relevant content.
"We can populate the screen based on general content themes and have this change dynamically based on device, location or time of day – which might suggest another user – or around a breaking news topic.
"You can even create a neighbourhood- based context," says chief technology officer Pancrazio Auteri.
Edgeware
Customers: PCCW (China); KPN
Edgeware offers broadcasters and content owners a mechanism for distributing TV over their own content delivery network (CDN) instead of hiring capacity on a third-party CDN.
It has three layers: content control, network services and delivery. The former two are run in the cloud and the latter on Edgeware servers, which enables caching, repackaging, pause and play functions, ad insertion and encryption.
"With the right infrastructure, broadcasters can also take advantage of user analytics to fi ne-tune services," says chief technology officer Göran Appelquist.
"This means they can monitor things like band width consumption, bitrate per session and session quality. It also lets them monitor IP network changes – if a user goes from wi-fi to 4G, for example – to gauge on what device and where their content is being watched."
TV App Agency
Customers: Blockbuster; Wuakitv
"Offering the capability of content tagged as 'already watched', even on a different platform, is key to being able to optimise the user experience," says TV App Agency co-founder and director Bruno Pereira.
Its TVA 360 analytics product does this by aggregating personal data to create groups for targeting.
"We can then target users more efficiently. We use that data to create dynamic playlists in the TVA aggregator, based on device, region and so on," he explains.
"The OTT personalisation challenge is how to float between devices that offer one-to-one personalisation, such as mobiles and smart TVs."