Manufacturers are competing to be the first to offer workable UHD RF camera links, but the technology is still at least a year away from the market.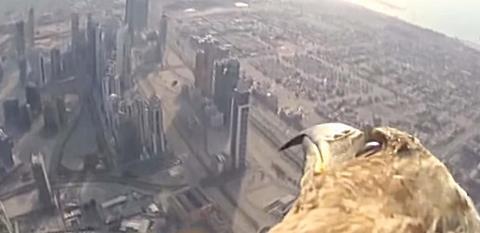 RF cameras are a staple of live broadcasts, with wireless positions offering producers flexibility, portability and unusual angles.
The transmission units for HD 1080i or 1080p signals are small and light enough not to over-burden handheld camera operators, and the technology has advanced to open up new possibilities for live streaming from body-worn cameras.
For example, the Solo 8 transmitter designed by RF specialist Cobham and used with the NanoVue HD receiver has been fi tted on everything from surfboards to drones, and was used by ESPN as a headmounted 'RefCam' to follow the gaze of basket ball referees.
Combined with a Sony Action Cam and strapped to the back of an eagle (combined weight 300g), it also captured the bird's two-minute flight from the top of Dubai's Burj Khalifa for animal welfare organisation Freedom Conservation.
Broadcast RF encased the unit with a miniature camera onto bikes for live-streamed rear-view shots during the recent UCI Track Cycling World Championships.
Fellow links specialist Vislink has teamed up with GoPro to perform a similar feat for broadcasters wanting to incorporate footage from athlete-worn or gearmounted Hero 4 cameras into live broadcast. To date, GoPro footage has been restricted to a post-production workflow with memory cards shuttled to an OB truck for replay.
Links are all about the quality of compression, which reduces the artefacts in the picture crunching data down, sending it over a radio frequency and decoding back to its original format at a receiver.
Technical challenge
The algorithms used for broadcast quality HD RF links have advanced to less than one second delay and can be used uncompressed at 1080p 60 for monitoring.
But the leap to UHD and 4K is a massive technical challenge.
With four times the resolution of 1080p, UHD results in four times the amount of data, quadrupling the amount of bandwidth required to transmit compared with HD.
"We can send 4K wirelessly now over some type of IP link but there will be a lot of latency in it, which is unworkable for situations like live sport," says Scott Walker, co-founder of Boxx TV.
"Most people are looking for one frame or less delay."
One answer lies in better compression techniques.
Just as the industry has moved from MPEG2 to MPEG- 4/H.264 in recent years, the goalposts are shifting towards H.265.
"Using H.265, you can send the same amount of data down half the bandwidth, or twice the amount of data down the same bandwidth," says Ali Zarkesh, vice-president of product management at Vislink.
The technology is still in its infancy though, not least because chipsets need to be built fast enough to deal with the far higher throughput of data.
Broadcasters wanting to launch UHD sports services with RF options will have to find workarounds in the interim.
According to Cobham head of broadcast sales JP Delport, one route is to transmit 4 x 1080p video streams simultaneously on different frequencies and stitch the signals together on the receive end for a UHD output.
"This would require four transmitters on the back of a camera, which will add significant weight and could cause cameras to unbalance - not to mention Steadicam ops to moan," he says.
Another option is to use available links and transport 3G at 1080p 60 then 'up-res' the signal.
But the technical problems are far from being solved. Nonetheless, several manufacturers are expected to show rack-mounted 4K UHD RF units at NAB.
HD RF developments at NAB
Cobham says it is not developing an H.265 solution but is intent on making its H.264 encoders even better.
The vendor is, however, showing a prototype compact software defined radio (SDR), with a pair of connectors configurable as a dual HD encoder, dual HD transmitter or one receiver, one transmitter.
As with other areas of the broadcast equipment industry, RF links are moving away from black boxes into IP and software.
"It will be the first SDR in this form factor and opens up a massive market opportunity," says Delport.
I-Movix is extending the capabilities of its X10 UHD RF Ultra Motion system with wireless shooting.
While the X10 is a 4Kcapable camera, the RF slow-motion images up to 2,000 frames a second are only supported in 1080i.
Meanwhile, Boxx is introducing Atom, a miniature version of its Meridian video assist unit offering 1080p 60 transport at zero delay.
Boxx says it is so light it could be velcroed to the side of a camera.
Vislink claims to have the first 4K-capable H.265 compact lightweight encoder.
The DV5300 will handle H.265 encoded 4K and one channel of H.265 1080p, plus a channel of H.264.
"We are the first to provide all of this capability for contribution encoding," says Zarkesh. "It can be used for SNG, ENG and IP networks."
Using Vislink's modular design, the H.265 encoder may eventually be used in camera back applications, but its initial iteration will be shelf-mounted or housed in a rack.
"We believe the market will be moving towards small H.265-capable camera back systems with low delay over the next 12 months," says Zarkesh.
Laurent Renard, chief executive of slo-motion camera systems developer I-Movix, thinks the solution may work for 4K UHD golf coverage. "Typically, there is someone carrying a pole with the transmitter on next to the camera so weight is less of an issue," he says.
Race to be first
Current RF links are either routed over the standard DVB-T 8Mhz radio channel or over the licence-exempt 5.1-5.9 GHz band used for public wi-fi.
Vislink, which develops products for licenced frequencies, claims that efficiency gains can be made by deploying its LMST (Link Modulation Scheme for Terrestrial) RF microwave links.
The second-generation DVB-T2 will also offer a higher data rate than DVB-T or a more robust signal for microwave links.
BBC R&D is reportedly developing a system that unites two 8Mhz carriers to double the bandwidth for a 4K link using DVB standards.
Walker believes licence-exempt developers (like Boxx and Cobham) are more likely to provide a wireless 4K solution first because wi-fi doesn't have the same bandwidth limitations as licenced frequencies.
"With the new 802.11 ac [IEEE protocol] you can go to 80Mb/s bandwidth and transport 4K relatively easily," he says.
"But it's a double-edged sword, since you would need to operate in environments where you have control of the spectrum."
This can include some studios and sports stadia, provided the concrete structure blocks competing spectrum from outside and the broadcaster works closely with the venue's IT department to avoid congestion from localised wi-fi.
"The technical challenge is to reduce the heat of the package so it doesn't impact the camera, and to lower the power consumption suitable for battery operation," says Walker.
"The other issue is latency. Using H.265 requires an enormously complicated algorithm to compress and decompress the signal, which adds latency, making it difficult to achieve sub a couple of frames.
If you have more than two frames delay, the picture is as good as useless in a live sport or ENG application."
Like Walker, Jon Landman, vice-president of sales at Teradek, believes it will be at least another year before UHD wireless units hit the shelves.
"The question is, is it better to have 4K resolution at such a low bitrate, like 1Mbp/s, that it will look like SD? Or should you aim to stay true to the concept of advancing picture quality and wait until we have the technology that delivers on the promise of 4K?" he says.