With big budgets comes big responsibility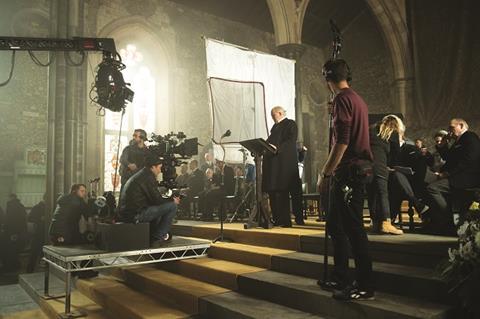 Left Bank Pictures' epic costume drama The Crown chronicles the lives of the British royal family, and post-war Britain, from 1947 to 1956.
Written by Peter Morgan, it focuses on Queen Elizabeth II as a 25-year-old newlywed faced with leading the world's most famous monarchy while forging a relationship with the larger-thanlife prime minister, Winston Churchill.
With the British Empire in decline, the political world in disarray and a young woman about to take the throne, it is the start of a new and uncertain era.
Reputed to be the most expensive TV series ever made, with an unconfirmed budget of £100m, the 10-part series will rightly be lauded for its exquisite (and remarkably accurate) costumes and sets, the quality of its writing and directing, and the scale and drama afforded by its cinematography and score.
But the Netflix Original also benefits from a 4K post-production process that showcases the best of British technological ingenuity.
Soho-based studio One Of Us completed 428 VFX shots for The Crown using Maya, Nuke, Photoshop and photogrammetry software Enwaii.
Primarily focused on creating a believable world that supports the narrative, it was exclusively invisible, photo-real effects work that included digital set extensions, environments and crowd replication for various scenes, including the royal wedding of 1947, the funeral of King George VI and the Queen's coronation.
Computer-generated versions of period aircraft and Buckingham Palace and Downing Street were created as part of this work.
Pivoting around real events, The Crown makes clever use of archive footage to tell its story. Some footage in the series is genuine, and some was shot especially for The Crown, and then manipulated to look like archive footage.
In one instance, for the coronation, actress Claire Foy, as Queen Elizabeth II, was composited into real archive footage.
"The archive footage used in the show informed how things ended up looking, especially the royal wedding," explains VFX supervisor Ben Turner.
"The Crown is pretty accurate in its depiction of what happened in real life. We carefully referenced the archive throughout to ensure that we were getting the correct look for things and that we were accurately matching the layout of people in Westminster Abbey.
Hopefully, the audience will not pay any attention to the VFX work we've done." CG supervisor Oliver Cubbage says they were careful to make the VFX as photorealistic as possible, using photos as a basis for everything they built. He says: "For Buckingham Palace, we took our own photos and, using Enwaii, were able to construct a model.
We then projected the photographs back onto the model so that we maintained all the correct proportions and textures.
Once those models were rendered out, we would add them to the shots and then provide additional detail that might not have been in the photographs." That detail included a lot of subtle work to make modernday Buckingham Palace look as it did in postwar London. "We added plenty of dirt and grime,"says Cubbage.
"Buckingham Palace at that time was very black but we played around with it so that the building didn't get lost in the grime. We had to make things look aged, but not so aged that they become unrecognisable."
Thanks to The Crown's substantial production budget, One Of Us was able to take a feature film approach to the VFX.
But with big budgets come equally big expectations.
"Yes, the show has a huge budget, but it also has huge ambitions," says Turner. "These sorts of things do cost a lot of money. We have treated it more like a 10hour movie rather than a TV series. I didn't feel we were under any additional pressure. It was more the expectations that we placed on ourselves.
"It doesn't get much more iconic than 10 Downing Street, Buckingham Palace or the coronation. I felt like there was a pressure to get it right, but that is how I would approach any project."
Recreating the Queen's coronation provided an interesting test, not least as photography is banned inside Westminster Abbey.
Instead, Ely Cathedral doubled as the Abbey. "What we ended up with is an amalgamation of the Abbey and Ely," says Turner.
"The actual coronation scene was shot on a green screen stage at Pinewood Studios.
The rest plays out through the BBC's footage from the time. Creating the scale of the Abbey - but without being able to go in and photograph it - was certainly a challenge."
Audio post: a fluid and flexible approach
Soho facility Boom Post completed audio post-production on The Crown.
As supervising sound editor Lee Walpole explains, to accommodate creative changes, a fluid and flexible approach was required and the cuts had to remain open until quite late in the post process.
The Crown was pre-mixed on Pro Tools 12 using Avid D-Command consoles.
"Once the picture had locked, the pre-mixes were reconformed, with dialogue and music then being final mixed on a Neve DFC while the effects remained inside Pro Tools and were mixed on an Avid S3 surface," says Walpole.
Boom's Stuart Hilliker and Martin Jensen mixed the dialogue and music in alternating blocks, with Walpole mixing the effects.
Various iZotope and Waves restoration tools were used to clean up recorded sound and ensure that original performances could be preserved and ADR kept to a minimum.
For the sound design, the team wanted to create a subtle sense of location and period, keeping it atmospheric and active, but never distracting from writer Peter Morgan's dialogue.
"Wherever appropriate, we ensured that the soundtrack opens up with scale and weight to complement the cinematic values of the production," says Walpole.
The Crown was shot in 4K using Sony F55 cameras. To maintain the best possible quality throughout the post-production process, Netflix requested an uncompressed 4K workflow and delivery, a set-up that requires serious horsepower.
Richard Wilding, the general manager of technology at Molinare, the facility that completed picture post-production, worked with the Left Bank Pictures production team to make sure everything went to plan.
"4K work presents an increase not only in media storage but also the performance required of the grading and editing systems," he says.
"Netflix's request for an uncompressed data workflow added to both those challenges. We utilised our new high-speed Isilon storage cluster and the latest generation Flame editing and Baselight grading systems to complete the work. Without these, it would not have been possible."
For archival use, and to future-proof the programme, Netflix also asked for a separate ungraded version of the series in just camera colour space.
"Having discussed it with Netflix, we decided that this was the best way to preserve the original shot content and to keep everything that the camera captured," explains Wilding.
"All the visual effects were applied to the original ungraded shots so that Netflix now has a complete ungraded master should it decide to repurpose in the future. Modern cameras capture more than can readily be displayed with current technology, so this will allow them to regrade in the future to encompass wider colour gamut and High Dynamic Range."
Molinare online editor Gareth Parry was tasked with carrying out a detailed spotting session, completing paint-outs and removals, creating in-picture titles and end cards, and doing a final review of the graded files before delivery.
His job was made more complicated by the uncompressed 4K workflow and the need for an ungraded version for archive. This was also Molinare's first 4K delivery to Netflix.
"Theses challenges were responsible in large part for us opting for a feature film style post workflow," says Parry.
"In a traditional TV workflow, online would pass a conform to grading, who would pass a graded sequence back to online for finishing. But over 10 episodes, we knew we could not risk potentially having three copies of each show as uncompressed DPX files on our storage. Instead, we chose to complete as much work as possible before the grading session began, and then use Baselight as the hub of the show."
The shows were conformed in Baselight, where problem spotting also took place on both the graded and ungraded footage.
Flame was used to complete the online work, with final review, title addition and sign-off done back in Baselight. Parry also worked in collaboration with One Of Us to create some of the bespoke 'archive' sequences that feature throughout the series.
"I had great fun taking pristine 4K digital footage all the way back to projected 16mm film newsreel," he says.
Having won what he describes as a "good old-fashioned grade-off " against another Soho facility, Molinare's Asa Shoul was handed responsibility for grading The Crown.
The preparation work entailed plenty of tests (and retests) before the grade could begin in earnest, as Shoul explains.
"I'd researched films and images from the 1950s and had graded the movie The Queen, so I felt like I knew the kind of look we could start with," he says.
"Cinematographer Adriano Goldman wanted to try a very desaturated look and while it looked bold, with the makeup they were trying, it made the Queen look pale."
It took two further costume and makeup tests to get it absolutely right. "Adriano was terrific at getting all the different departments involved. That meant that makeup could nail the right lipstick shade, without me having to isolate it in the grade, and costume could ensure that none of the outfits looked too garish or not of the right period," Shoul says.
Shoul graded the series using a sixth-generation Baselight with the output set to true 4K.
His first move was to use a percentage mix of a Kodak LUT (Look Up Table) to emulate film print and take away the 'digital' look from the pictures.
Describing the overall look of the series, he says: "We wanted practical lights to be low, and for people to be naturally dark if they were deep inside a room away from a window. Although it is a modern drama, I referenced House Of Cards as it has a good look for dark interiors and I liked the way they isolate characters within their homes."
With Ole Bratt Birkeland and Goldman lensing the series and four different directors (Stephen Daldry, Philip Martin, Benjamin Caron and Julian Jarrold), maintaining consistency in the grade throughout all 10 episodes was a big challenge.
"Using the Baselight gallery, I stored 50 main reference images and another 200 for characters and locations," says Shoul.
"I had various different episodes open at the same time, sometimes four at once, so I could compare scenes and match them up."
The Crown is available to watch on Netflix now