BFI and Bafta's guidelines need industry buy-in to effect change
Even the most hardened cynic will struggle to deny that the dialogue around the treatment of women in film and television has irrevocably changed in the past four months.
This transformation is palpable. It's in the jokes we don't tell any more, the new-found confidence to dig deep and speak up, and the belief that someone – indeed, many people – might just have your back if, and when, you decide 'enough is enough'.
The BFI and Bafta's set of principles and guidance is a first step for an industry showing us that it has our back, too.
It would be a mistake to think of it as a static, finished document – the definitive solution to our problems around bullying and harassment. Rather, consider it a working framework that will evolve to mirror the changing needs of the screen industries.
"This set of principles will need wide-ranging support from broadcasters and indies if they are to have the impact we need them to"
However, for these principles to effect even a modicum of change, they need to be rigorously enforced. A manifesto is little more than a list without the necessary buy-in and, as such, these principles – regardless of how well-intentioned – will need wide-ranging support from broadcasters and indies if they are going to have the impact we all need them to.
This can happen in several ways, but one of the most important is ensuring that they are written into employment contracts, so that if someone breaks these guidelines, they are effectively breaking their contract.
Furthermore, if an indie is seeking a commission from a broadcaster, why not allow the principles to inform the conditions of the working agreement? Or why not go even further and have them enshrined as part of the terms of trade?
Ultimately, the principles will do nothing unless we make them work for us – but it's going to take everyone getting behind them to achieve that.
What is heartening is that another major piece to this puzzle is taking shape: Time's Up UK. It would be easy to chalk up this movement to celebrities paying lip service to 'the cause' but, in fact, the barely two-month-old Time's Up campaign in the US has raised around $20m (£14.4m) for its legal defence fund.
With plans now under way to launch a similar fund here, perhaps Time's Up UK – bolstered by the star power of its celebrity feminists – is exactly what the British screen industries will need to ensure that the set of principles is enforced, and that the workforce receives the necessary upskilling to deal with bullying and harassment on and off set.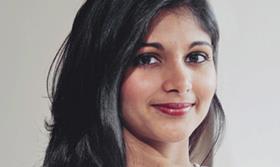 Manori Ravindran is the international editor of Broadcast