As the broadcast industry prepares to descend on Amsterdam for the annual media technology conference and exhibition, Michael Burns picks his way through the product announcements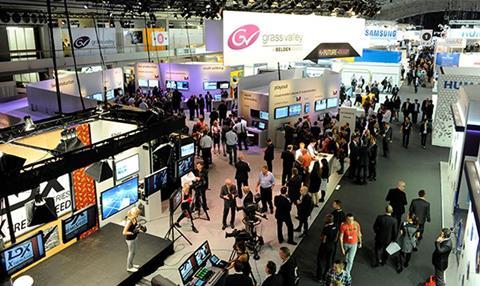 Create
Cameras
Canon (Hall 11 Stand E50) will have its entire 4K range on display in Europe for the first time, comprising 4K lenses, sensors and reference displays in a 'glass-to-glass 4K' showcase. In terms of new models, there will be the EOS C300 Mark II, a 4K and UHD update for the popular HD video shooter, and the XC10, a low-cost 4K/Full HD 4:2:2 video and 12MP stills model.
Also on show is the new ME20F-SH, a multi-purpose video camera capable of capturing full-colour images in extremely low-light environments. Boasting a maximum ISO in excess of 4 million, the ME20F-SH is built to be as small as possible while delivering high-quality professional grade full HD footage, according to Canon. It uses Canon's EF mount with Cinema Lock to take interchangeable lenses, and includes Canon Log and Wide DR settings for wide dynamic range capture.
As well as its latest 4K models, Sony (12.A10) will be showcasing kit that will enable ENG crews to wirelessly stream live footage directly from cameras as they shoot. Sony's wireless adapters and camcorders will allow streaming to broadcast stations or mobile production units via 3G, 4G, LTE, or Wi-Fi transmission to its PWS-100RX1 Network RX Station.
Codex (11.G54) is showing the Codex V-RAW Recorder for the VariCam 35. This enables the recording of 4K Raw at up to 120fps to the Codex Capture Drive 2.0 as well as powering the camera.
Arri (11.F21) is remaining tight-lipped until the show, but it will be showcasing several cameras at IBC, among them the flagship Alexa 65, the Alexa SXT and Alexa Mini, as well as its lighting fixtures and its selection of cine lenses, such as the new Anamorphic Ultra Wide Zoom.
Ncam (11.E55) is also getting into the PTZ game, bringing out a positional tracker system for fixed position cameras, designed primarily for broadcasters wanting to use virtual graphics or augmented reality. "The system picks up tiny changes in the camera body," says Ncam co-founder and chief executive Nic Hatch. "Platforms on a high tower, crane or cherry picker will tend to move about a little, and encoded systems are typically unable to track these movements, so the graphics no longer lock to the video. The Ncam PTZ software will detect these movements and maintain alignment."
Ikegami (11.A31) is showing the Unicam UHD 4K-native 3-CMOS 2/3-inch camera for 4K studio and 4K field/OB truck systems. Uncompressed RGB 4:4:4 baseband is delivered from the camera head to the control unit. In a demonstration of live 4K, the Ikegami HDK-97ARRI broadcast-style production camera with digital cinema characteristics and HDK-97A 16-bit full digital 3G HDTV portable camera will be exhibited with the BS-98/CCU-980 hybrid 2K/4K optical fibre links. Ikegami's fourth-generation 8K camera, the SHK-810, will also be at IBC with an 8K monitor. It is also displaying a robotic camera system that uses a multi-purpose Ikegami HDL-45E head-mounted on a pan/tilt unit.
Lenses
IBC is set to dazzle with the amount of new glass on display. The 65mm Macro Anamorphic/i 2x prime lens (below) from Cooke Optics (11.D10) has a close-up magnification ratio of 4:1:1 and a close focus of 13.75cm from the front of the lens. Cooke will also reveal more details about its forthcoming Anamorphic/i Zoom lens and is demonstrating enhancements to its /i Squared Technology.
P+S Technik (11.G35) is displaying its latest cine lenses and lens rehousings, such as the front anamorphic PS-Zoom 35-70 CS. Designed for CinemaScope productions using a 16:9 and Vista Vision sensor format, it offers a squeeze factor of 1:1.45 for anamorphic qualities such as barrel distortion, flares and shallow depths of field. Also new is the spherical, short PS-Zoom 18-35, a lighter lens in a robust cine-style housing with cam-driven focus mechanics as well as interchangeable mounts and focus rings.
The first two lenses in the 4K Ultra HD Series for sports and entertainment applications are on show from Fujifilm (11.C20). The UA22x8 is the first portable zoom lens in the series, with a 22x zoom ratio and a focal length from 8mm in wide angle to 176mm in telephoto. With an 80x zoom and optical image stabilisation, the UA80x9 covers focal lengths ranging from 9mm in wide angle to 720mm in telephoto.
OB and audio
Hitachi (11.D39) will give a European debut to its new OB-Box concept at IBC. It is described as a fully featured modular OB set-up, which is delivered to the customer and then mounted onto a vehicle's chassis using a proprietary fixing kit. It comes in three different configurations that support four, eight and 12 production cameras.
Broadcast Solutions (8.A84/0.B01) will show the first 4K member of the Streamline OB Van family, a compact pre-engineered OB Van with up to eight cameras. It is also presenting Robycam for the first time, a cable camera system for live broadcasting, outside or in the studio. It consists of carbon fibre gyro-stabilised remote heads and motion-control systems that allow for fast and precise camera movements.
Launching at IBC is the Paradiso from Glensound (8.E72). It's a three-commentator mixer, with three independent monitoring positions. It has four talkback outputs and eight headphone monitoring inputs on each commentary position. It builds on the single user Dante-based Inferno commentary box. The Paradiso can be used as a standalone commentators' unit without connecting to a Dante network, as the audio is also available on rear panel XLR connections.
Panasonic's 4K kit on display
Panasonic (9.C45) has several 4K models on show, among them the AK-UC3000 4K studio camera, which has a sensor that outputs a UHD signal up to 3840 x 2160/60p. There's also the AG-DVX200, a large-sensor 4/3-type handheld 4K camcorder that offers UHD up to 3840 x 2160/60p recording, and the AK-UB300, a multi-purpose 4K box camera (pictured) for remote studio, weather and sports broadcasting.
Panasonic is also showcasing the AW-UE70, a pan/tilt/zoom (PTZ) camera, which delivers 3840 x 2160 resolution at 25p via HDMI and is capable of 4K IP streaming and in-camera 4K recording. Available from October, its features include Panasonic's dynamic range stretch (DRS), advanced DNR, HDR mode and a night mode for monochrome shooting in almost total darkness.
Upgrade for JVC camcorder
JVC (11.G30) is showcasing a "digital cinema" upgrade for its flagship GY-LS300 4KCAM handheld Super 35 camcorder (pictured). Version 2.0 firmware adds a JVC Log mode that aims to duplicate the look of film, new Cinema 4K and Cinema 2K recording modes and a Prime Zoom feature that allows zoom capabilities when using prime lenses.
Manage
Connectivity and storage
The broadcast industry's battle to tackle the massive wave of data, which has increased exponentially thanks to the rise of 4K, receives new armament at IBC.
Blackmagic Design (7.H20) has a new 12G-SDI 60p product range on show. It includes the ATEM 2 M/E Production Studio 4K, an Ultra HD 2160/p60 switcher, the Smart Videohub 12G 40x40 video router, Teranex Mini converters and HyperDeck Studio 12G, a ­professional solid-state disk-based broadcast deck that can record SD, HD and Ultra HD up to 2160/p60.
In the Elicium Hall, Sony is demonstrating how its IP-based technologies will open up new possibilities for broadcasters, and how IP can help customers create, secure and distribute their content over a range of platforms. There will also be media management and archive solutions on show, particularly following Sony's recent acquisition of Memnon, the digitisation and digital archive preservation specialist.
Object Matrix (6.C28b) will launch MatrixStore as a hosted storage service at IBC, taking its on-premises nearline archive solutions across a wide area and across multiple sites.
"Deployed as hosted service only, or as a hybrid mix of on premises and hosted, the solution provides a more open and vertically integrated offering, but at Amazon and Microsoft Azure economics," says Object Matrix chief executive Jon Morgan.
The company is also launching a web-based browser application that enables users to search for, examine, add metadata and restore content that is protected in MatrixStore object storage. Fraunhofer (8.B80) is showing the first real-world implementation of the Lici codec within keyboard/video/mouse (KVM) solutions, showcased with partners IHSE and Viscon. Lici adapts image data streams to the available infrastructure and bandwidth while maintaining resolution and dynamic range enhancements. The result is visually lossless transfer of 2K, 4K and 8K content for 30Hz and 60Hz.
New IP capabilities are on show from Artel (2.A20), available in DigiLink's HD-SDI over IP gateway with in-band management and Gig-E transport. This module uses SMPTE 2022-5/6 for transport of uncompressed HD-SDI over managed Ethernet IP networks.
Artel is also introducing DigiLink's new dual-port L-Band demodulator. Capable of receiving up to two L-Band signals and converting them to DVB-ASI for transport, this module also supports ETSI TS 103 129 Carrier ID monitoring.
Also being introduced is the Fiberlink six-channel HD/SDI/ASI multiplexer. This TX/RX pair of 1-RU chassis aggregates up to six asynchronous HD-SDI, SD-SDI, and DVB-ASI video feeds into a single wavelength for transport across fibre or managed optical networks. It also doesn't require any configuration.
A scaled-down version of the European Broadcasting Union (EBU) (10.F20) and Belgian public broadcaster VRT's IP-based live broadcast production set-up will be shown at IBC. The studio will be exhibited as a proof-of-concept demonstration of the live TV production studio at VRT's premises in Brussels, which uses IT-centric hardware and software.
It is part of Sandbox+, an international joint platform for collaborative innovation put together by VRT, EBU and digital research ­centre iMinds.
The multi-vendor system uses open standards – in this case SMPTE 2022/6, AES67, and PTP – to transport broadcast feeds via SDN. Industry technology partners participating in the project include Axon, Dwesam, EVS, Genelec, Grass Valley, Lawo, LSB, Nevion, Tektronix and Trilogy, which provide all the elements of a live production chain driven by IP.
"While this project is about producing live content via IP, it's also a great measure of the added value IP-based production workflows bring to functions like sharing resources, remote production and automation," says VRT head of technology and operations Mick De Valck. "There's been talk for a long time about what individual vendors can offer in IP production, so we wanted to bring together those parties to design a state-of- the-art system which relies entirely on IP."
Post Production
On the post-production front, Blackmagic Design (7.H20) will demonstrate version 8 of its Fusion Studio VFX and compositing suite and the latest version of its high-end grading app, Resolve.
DaVinci Resolve 12 marks a major upgrade with more than 80 new features for professional editing and colour grading, including a revamped interface, multi-cam editing, new media management tools and an entirely new professional audio engine.
Forscene (8.B38e) is showcasing several developments to its cloud-based video post- production platform. This includes integration with products from Deltatre and Microsoft's Azure cloud computing platform to provide the first completely hardware-independent solution for the post-production and distribution of digital rights content.
Forscene's ability to publish sub-clips and full highlights packages, including graphics and multilayer edits, directly to social media platforms and content distribution networks has been improved and expanded to include Twitter.
To facilitate native ingest of rushes, the platform now has the ability to sync separately recorded video and audio original source files, and the multi-cam logging tool has been developed to include multi-cam editing.
RT Software (7.F33) is adding to its range with Tog-Vista, designed to deliver high-quality HD stitched output from two 4K cameras in a single static mount. The system allows production companies to generate key shots during the game and to zoom in to areas of interest as an analysis tool. The software, running on a single, standard Dell workstation, stitches the two cameras together to create a 7680 x 2160 canvas.
Adder to launch DDX matrix
Adder (7.C30) is launching the AdderView DDX30 high-performance KVM. The compact DDX matrix has a choice of DVI and DisplayPort transmitters. With extension distances of up to 60m, via the switch, over a single standard CATx cable. It also features transparent Extended Display Identification Data (EDID) management, full-speed USB, and a GUI with thumbnail displays of computer sources. The KVM matrix includes 30 ports that can be shared and scaled between users.
Colour grading boost for Mistika
The latest developments in Mistika on show from SGO (6.A11) include improved colour grading features to make the most out of HDR images, linked to the Mistika Precision finishing control surface. An entirely new media management sub- system will be launched, along with new features that allow transparent migration between colour spaces. SGO is also to be found on the Canon stand (11.E50) to drive an end-to-end HDR-4K 'glass-to-glass' colour-process workflow demonstration with a Mistika system.
Deliver
The third part of the IBC offering is distribution and delivery. Thomson Video Networks (14.A10) is set unveil the second release of its MediaFlexSuite, aimed at simplifying operations across multiple delivery platforms. Combined with Media FlexOS, the suite is able to manage branding and compression resources based on priorities for deployment speed, video-quality requirements, bandwidth optimisation and content customisation, according to the company.
Thomson will showcase new software releases for its ViBE EM4000, ViBE VS7000, and ViBE XT1000 HD/SD encoding systems, enabled by the MediaFlexSuite services management system for broadcast and multi-screen content delivery. The software features new algorithms implemented in its core compression engine, which has been designed to improve compression performance by 10% for HEVC and MPEG-4 AVC encoding and by 5% for MPEG-2 encoding.
The French manufacturer will demonstrate the encoding of a UHD HDR TV signal in HEVC based on its ViBE 4K real-time encoding solution. The workflow takes a UHD HDR signal from an SMPTE 2084-compliant broadcast feed and processes it to provide a standard UHD HEVC Main10 compressed stream with specific HDR information.
The company's new SingleFeed capability for both the NetProcessor 9030/40 multiplexing and transport system and the RD1100 receiver/descrambler, designed to simultaneously feed DTH receivers and DVB-T2 transmitters with a single multiplex, will also be unveiled.
Making its debut at this year's IBC is Thomson's new FUZE-1 Playout System. This offers a range of features for playout applications, such as linear TV channel playout, ad insertion, mosaic channel playout, branding, time-shifting, disaster recovery, censorship and EAS insertion. The company will also take the opportunity to launch its new MD Series of modular, high-density integrated receiver/decoders (IRDs) and descramblers,as well as announce support for HEVC/H.265 decoding in its RD4000 and RD6000 IRDs.
Imagine Communications, situated in the new Amtrium Hall (4.AMT), will introduce a unified control surface to bring what it calls "new levels of efficiency" to master control rooms. This will be in addition to demonstrating new enhancements to its ADC and D-Series automation systems, as well as Versio Integrated Channel Playout running on 1RU commercial-off-the-shelf equipment.
Aveco (3.B67) will demonstrate Astra Studio 3 (pictured), its third-generation news production automation system. Offering multi-studio production automation, new features include floating shots that provide flexibility in handling a director's breaking news requests outside a planned rundown. MAM integration allows video search results to get on air instantly outside of a rundown during breaking news and includes the ability to integrate with multiple third-party MAMs. Other features include one-button release of CG control during times of breaking news and a new Template Editor used to develop and modify story templates that specify how a story is presented.
ChyronHego (7.D11) is introducing Channel Box Prime. Re-engineered for a 64-bit environment, with a dedicated rendering engine and scene designer, Channel Box Prime is geared to broadcasters' specific requirements for channel branding and playout, according to the company. It offers features such as Warp Effects, an effect that integrates with third-party modelling and rendering tools such as Adobe After Effects and 3ds Max from Autodesk.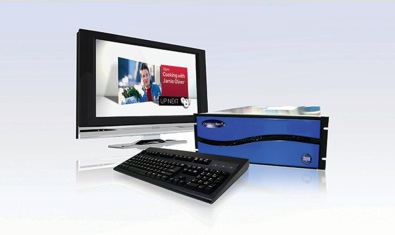 ChyronHego is also debuting the Lyric64 graphics creation and playout system, setting it in a 4K environment and in an advanced video wall application. Lyric64 includes an updated interface with point-and-click access to data using ChyronHego's Advanced Data Object technology.
Also new is the Studio MediaMaker automation system, which works as a standalone system for smaller or non-traditional broadcast organisations. It also provides integration to any MOS-compatible newsroom computer system, if required, with templated file-based delivery of content to internal MAMs, transmission servers and websites. Paint 6.1, an update of its telestration solution which features comprehensive support for 4K productions and integration with EVS systems and workflows, will also be on display.
Vizrt (7.A20) is showing the latest version of Viz Engine, a 4K multi-channel server with cloud-based graphics hub. Furthermore, Viz One 5.8, delivering improvements to the MAM system that include multi-level asset search and an upgraded Studio Media Player, will also be on show. There's also Preview Desk, a tool enabling editorial decisions to be implemented during live production; Viz Mosart's new Show Maker feature for live productions that need simple story scripting without a large MOS workflow; and extended design features for Viz Libero, such as tracking markers, player highlights and in-depth analysis tools.
IBC launch for SocialMediaBox
PlayBox Technology (8.B70) has chosen IBC as the launch venue for the full version of SocialMediaBox. Available as a standalone solution or integrated with the TitleBox channel branding system, SocialMediaBox enables comments from multiple websites or social networking feeds to be processed quickly and efficiently into a single, ready-for-broadcast stream. SocialMediaBox is controlled using a standard web browser, using SQL-based data storage and supporting multi-user access as well as multiple outputs. A single SocialMediaBox account can be deployed across several television shows and channels.