Sports producer lines up production innovations for the world feed of first ever SailGP global championship
Sports indie Whisper Films is gearing up to produce round one of SailGP, a fast-paced new global sailing championship.
The catamarans competing in SailGP are the fastest and most technologically advanced class of race boat in the world, anticipated to reach speeds of up to 100km per hour (50+ knots).
The year-long competition kicks off on 15 February in Sydney, Australia, and Whisper's surrounding broadcasts aim to capture it with some innovations in international sports production.
Season one of the global championship will feature five rounds in Sydney, San Francisco, New York, Cowes and Marseille. Each has two days of action, and will be contested by six national teams - the USA, Great Britain, France, Australia, China and Japan.
Whisper will deliver two 2-hour live racing broadcasts for each round of the championship. These will include an international world feed, as well as a fully-presented world feed with Ed Leigh as the main presenter.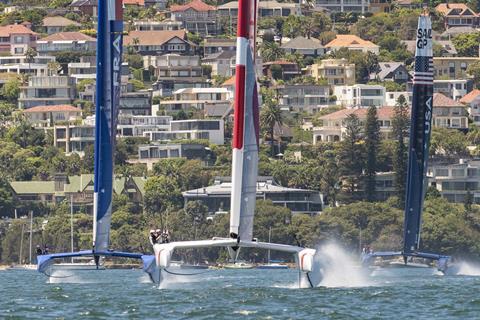 There will be a Japanese feed and a Mandarin feed, as well as highlights packages from both days of racing (26" Fri and 52" Sat), daily VNRs for news channels in three languages (ENG, CHI, JPN), plus a supply of material for digital channels.
In what is said to be a first for international sports broadcasting, Whisper Films and SailGP will deliver a complete, fully produced programme into China, including end-product graphics and commentary. It is one of the first times a full international sports production has been taken by the country in an agreement designed to help SailGP maintain global presentation continuity.
Whisper will be using a variety of media technology to help bring the story from the water to viewers. Productions will feature an augmented version of patented LiveLine Fx technology - with tailored versions for Japanese and Mandarin audiences - to visually communicate the competition.
In addition, drones and helicopters will be used to capture the racing action on the water, superseding traditional chase boats, which are unable to match the high speeds of the F50 wingsailed catamarans used in the championship.
For round one, a fibre optic cable has been laid underwater to connect Shark Island, where the presentation will take place, to the Sydney Harbour mainland (1km), to facilitate communications. Whisper will be using RF links from all its onsite cameras to produce the shows and will be working with TimeLine TV, who are helping to deliver the technical elements.
For the presenter-led feed, Ed Leigh will be joined by double Olympic winning sailor Shirley Robertson for analysis and co-commentary, while the lead commentator will be Alastair Eykyn. For each round they will be joined by a local expert; in Sydney this will be Olympic silver medallist, Lisa Darmanin.
Whisper Films is also the producer of Channel 4's Formula 1 coverage and the BBC NFL show.