Blackmagic Design has unveiled three new products targeted at creators of live content for the web.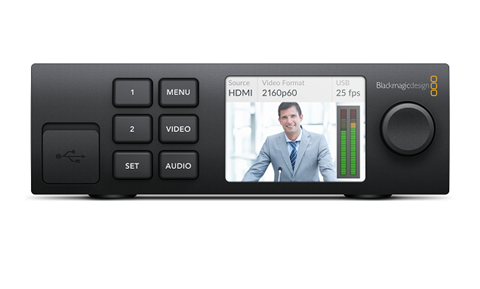 The ATEM Television Studio HD, HyperDeck Studio Mini and Blackmagic Web Presenter were revealed last night by Blackmagic Design chief executive Grant Petty.
He said: "With services like YouTube Live, Facebook Live, Twitter's Periscope and more we think these new products will assist a whole new generation of web broadcasters to create innovative live programming.
"Of course, these new products are also ideal for traditional broadcasters, AV professionals and new developing markets."
The ATEM Television Studio HD is an 8-input, live production mixer with broadcast level features for studio-based live productions and streaming, Blackmagic design said.
The mixer's features include camera control, integrated talkback, multi viewer, DVE and up and downstream keyers.
It is shipping now for $995.
Also unveiled last night is the HyperDeck Studio Mini.
The broadcast deck has dual SD card ports for non-stop recording for SD, HD and Ultra HD formats up to 2160p30.
The HyperDeck Studio Mini is available now for $695 from Blackmagic Design resellers.
The Blackmagic Web Presenter is a compact unit which accepts both HDMI and SDI sources.
It can downconvert to 720p and outputs a signal that a laptop or computer recognises as a USB-webcam.
The Blackmagic Web Presenter is available for $495.
Blackmagic said that all of the products are shipping now.