With the BBC licence fee frozen and the YACF culled, this vital part of the industry needs as much support as it can get
Throwing a kid's party is one of life's most chaotic, creatively demanding, emotionally frantic yet ultimately rewarding experiences. Producing kids' TV is much the same.
When things are going well, and kids are simultaneously laughing and learning, you achieve a level of production zen and creative nirvana, where everything becomes clear. You're making telly that's making a difference.
But just like at that party, it only takes one balloon to burst unexpectedly before you're snapped back to the reality of how fragile this world really is.
The cancellation of the Young Audience Content Fund (YACF) and the BBC licence fee freeze were like a government-sized pin to that giant, confetti-filled balloon, leaving the kids' sector dismayed and asking, 'Why?'.
Children's TV is hugely important to our entire creative economy. Some British kids' properties have become commercial juggernauts, with brands such as Peppa Pig, Hey Duggee and Teletubbies popular around the world. Others, such as Something Special, My Life and FYI, have helped build a more curious and inclusive society.
Children's TV's forward-thinking, risk-taking, norm-defying form has launched countless careers. From stars such as Reggie Yates, Ant and Dec, Sandi Toksvig and Krishnan Guru-Murthy, to the thousands of off-screen alumni, among whom I proudly count myself.
There are also scores of diverse and regional indies, all of which have had their breakthrough on young people's programming and gone on to win accolades and investment, building a future not just for kids but for the entire production community.
But while we all love to feel nostalgic about kids' TV, the past isn't always quite how we remember it. The necessary but crippling ban on junk food ads in 2006 forced commercial broadcasters to wind down their kids' content commissioning, and the BBC became pretty much the only show in toy town.
When the £60m YACF was announced, it was seen as a moment of genuinely smart intervention. In its short life, Jackie Edwards and her team funded 144 development projects, including one with us at Gold Wala, and co-funded 55 productions, with more to come before the scheme's full closure.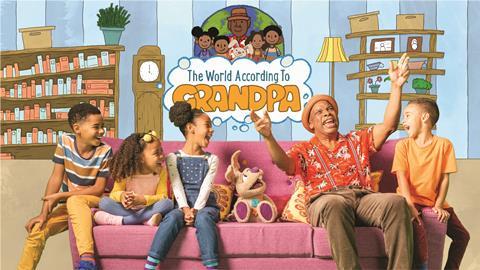 At the Broadcast Awards 2022, the Best Pre-School Programme category was dominated by YACF-backed projects, including Go Green With The Grimwades, Milo, Odo and the winner, The World According To Grandpa.
Karen Bradley, culture secretary when the fund launched, said at the time: "High-quality children's television plays a vital role in stimulating learning and giving young people a greater understanding of the world. Significant investment will give our production sector the boost it needs to create innovative content that would otherwise not be made."
It is not clear why our current culture secretary does not agree – perhaps a trip to Peppa Pig World would sway her.
Regardless, the party goes on. Streamers have realised that kids' and family content is helpful in countering churn. Home schooling during lockdown led to an outpouring of public love for the breadth and depth of children's content, from BBC Bitesize to Disney+. And the market has finally started waking up to the power and influence of teenage audiences.
"If the UK wants to keep its place as a world leader in children's content, it needs advocates and champions from all sides"
With that backdrop, I took up the post as chair of the Bafta Children's and Young People Committee, and I couldn't be more excited to champion and celebrate kids' content, including the return of the Bafta Children's Awards this year.
But the risks of a diminished British kids' TV sector remain great. If the UK wants to keep its place as a world leader in children's content, it needs advocates and champions from all sides - producers, practitioners, audiences and government.
So whoever you are - help us hang a banner for education, pull a popper for animation and bake a cake for youth. Let's all give kids the party of their lives.
Faraz Osman is managing director of Gold Wala