Avalon secures six-series deal for former Dave show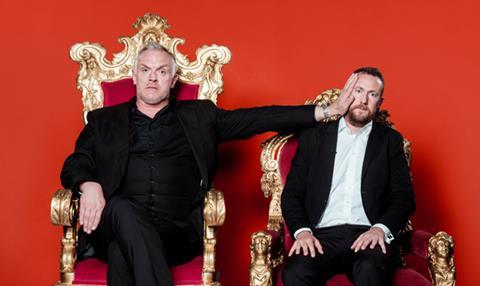 Channel 4 has become the new home of Taskmaster after securing a six series deal of the long-running show with Avalon.
The broadcaster swooped after the entertainment show's contract came to an end with UKTV-owned Dave after nine series.
The deal runs for three years and new episodes will arrive on C4 from late 2020 and be repeated on E4.
Hosted by Alex Horne and Greg Davies, the last series of the show consolidated to 1.1m (4.6%).
Taskmaster began its life as a live show at Edinburgh Festival Fringe and has been running on Dave since 2015.
C4 director of programmes Ian Katz, who ordered the series with E4 controller Karl Warner, said: "Taskmaster is anarchic, original and a brilliant springboard for new comic talent. It's everything we look for in a C4 show and like millions of others, I'm a massive fan so I'm delighted it will soon be taking its place in our unrivalled slate of scripted and studio comedy."
The decision was announced on Twitter by co-creator Horne, who wrote: "Taskmaster is moving. To Channel 4. I promise the show won't change & there'll be the same amount of personal and professional humiliation. Thank you to everyone at UKTV for looking after us so brilliantly for nine series."
The show's executive producers remain Alex Horne, Richard Allen-Turner, Rob Aslett, James Taylor, Jon Thoday and Andy Devonshire, who also acts as series director. Andy Cartwright will also continue as series producer.
Thoday added: "I would like to thank Steve North, Richard Watsham and Hilary Rosen at UKTV as well as all the other people who have helped make the show such a success."
Taskmaster was crowned Best Entertainment Programme at the Broadcast Awards 2018 and this week made the shortlist in the same category for 2020.
UKTV director of commissioning Richard Watsham said it is unsurprising the "mould-breaking" show attracted the interest of rival broadcasters.
"Everyone's children leave home eventually, but that doesn't make you any less proud of them and we are certainly proud of the success of Taskmaster and our role in developing, launching and growing it.
"Thankfully, as Taskmaster demonstrates, the team here are second-to-none at creating quirky and innovative, comedy entertainment hits. We have more slots to fill than ever before, our strongest ever pipeline of new shows coming through and we're looking forward to launching the next generation of brilliant ideas on Dave."