Getting five young social media-obsessed girls to put down their smartphones and move into a convent for a month was a reflective experience for all involved, says Hannah Springham
Production company Crackit Productions
Commissioner Guy Davies
Length 4 x 60 minutes
TX 10pm, Thursday 19 October, Channel 5
Series director Coco Maclehose
Executive producers Elaine Hackett; Hannah Springham; Rebecca Bayatti
Casting executive Dawn Panton
The obsession with selfies, Snapchat and smartphones continues to grow. Our teens seem lost in it; in fact, we all do. How do we escape? And what's the TV concept that captures it?
Developing ideas in the summer of 2016, we came across an article that claimed that more young women are joining Catholic orders than at any point in the past 30 years.
Meanwhile, only 17% of millennials described themselves as 'moral'. We wondered if there was a correlation.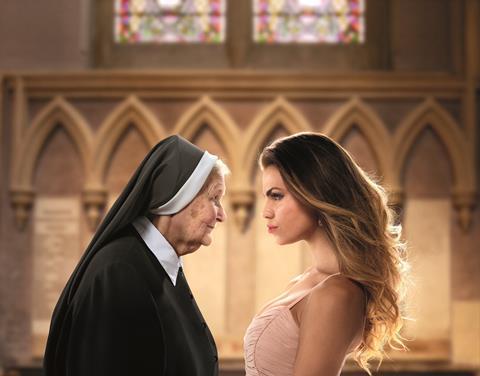 We picked up the phone to Father Christopher in the Catholic Church's National Office for Vocation, who agreed that there was probably a link and was interested to hear more.
We had the purpose of our series: to place members of the social media-obsessed generation in a new environment, where hedonism is replaced by humility.
Our pitch to Channel 5 was to take a group of young people with bad habits and put them in black-and-white ones for a month.
Our pitch to Father Christopher was not so simple: ask a convent to open its doors to a group of modern young women who worship their smartphones and the party lifestyle – and provide a spiritual retreat towards 'morality'. He seemed keen, but slightly amused.
He clearly received a lot of TV enquiries, but the last time they'd let the cameras into a convent was more than a decade ago.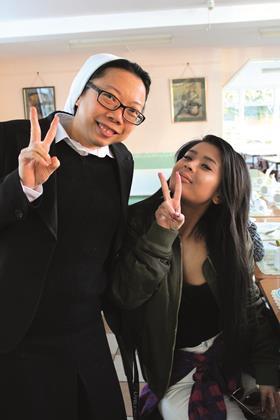 We understood the serious level of trust we needed to establish to fulfil our vision, all the while respecting the wishes and boundaries of the convent and the Catholic Church.
C5 was instantly enthusiastic and agreed to fund a taster tape – but only once we had found our nuns. We knew this would be a lengthy process, but we believed in the idea wholeheartedly.
We committed development budget to fund our extensive search for nine long months. We contacted more than 100 orders and our casting exec and I drove all over the UK, M&S biscuits in hand, meeting many inspirational women in habits.
"The Daughters of Divine Charity were the right balance of open, witty and insightful. They had a rare, beautiful, refreshingly real quality"
Some sisters wouldn't see us but many were supportive. Most were nervous about cameras.
We knew the minute we met the sisters at The Daughters of Divine Charity at Swaffham that they were the right balance of open, witty and insightful. But crucially, they also had this rare, beautiful, refreshingly real quality.
They had to agree to five party girls staying in their tranquil convent for a month, not to mention cameras and interruptions and a whole TV crew. The sisters prayed, and the deal was sealed just before Christmas.
Relevant signposts
C5 didn't want a show that was just about religion but it became clear that the vows of poverty, chastity and obedience are relevant signposts for young people trying to survive in a social media-addicted 2017.
Two months later, our pack of girls landed in Swaffham. Initially, they were shocked by life inside the convent. However, through incredibly frank conversations with the nuns, about everything from relationships and body image to one-night stands, they formed a real bond.
It was important to the sisters that they had enough time to talk through important things with the girls, both on and off camera.
Hannah Springham - My tricks of the trade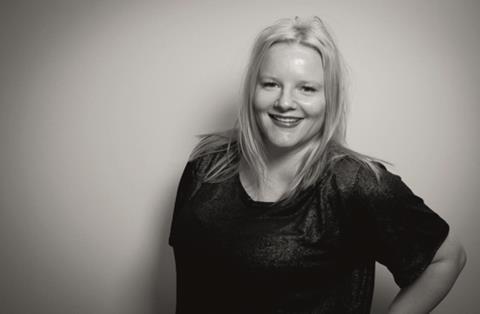 The Catholic Church gets two calls a week from TV producers. You have to bring them an idea they haven't heard before with a real 'why now' purpose behind it.
Pester them – a lot.
Be passionate and honest.
Visit a lot of nuns – and pray.
Find an agreement with the Church and work for their support for a taster tape in principle. Then make a tape that not only the Church loves, but Ben Frow too.
Pray some more.
Visit the nuns again the week before Christmas and let them see the whites of your eyes
Don't let the nuns down.
Capturing those moments wasn't always easy – corridor conversations were often snatched on the way to prayer – but I believe this is why it became so much more than a TV show for all involved.
Gabbi, Rebecca, Paige, Tyla and Sarah went through one almighty experience. C5 even thought we'd delivered the wrong press stills when they saw the 'after' images.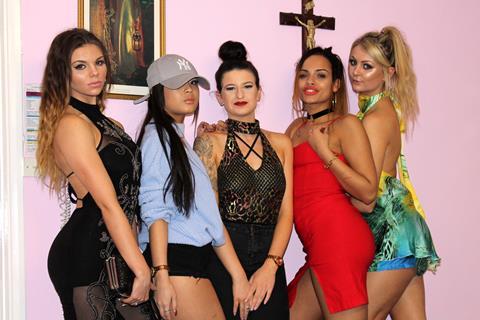 These girls didn't just take off their make-up and switch off their phones; they opened their hearts, let out their demons and tuned into their souls.
Forget yoga retreats and self-help books, we'd strongly advise a short stay in a convent for anyone who needs to lose their bad habits and consider the bigger picture.
The process has opened up new possibilities for the sisters too. One said she had no idea that she could reach non-religious people of that age group, particularly non-Catholics.
Spending time with a group of people who live vastly different lives to most was a reflective process for all involved. In the fast-paced and cut-throat media industry, perhaps it's important that we're all a little more mindful of our own habits, good and bad.
CAPTURING THE QUIET LIFE
Coco Maclehose, Series director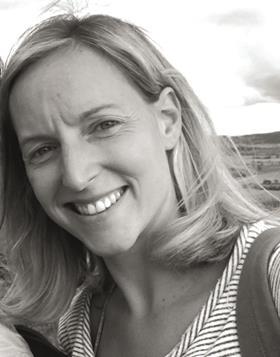 As a famous nun once sang: "How do you catch a cloud and pin it down?" It's surprising how quickly sisters in habits can move.
With 11 nuns and five girls to cover, there were technical issues from the outset. Although large parts of the day were in silence, we still needed to hear our characters, and with so many people, sound was a challenge for a self-shot series.
We opted for the Wisycom wireless microphone set-up, which allowed us to capture clandestine whispers under the altar and cover group sessions with 10 or more people, some of whom were very loud.
ROTATING CREW
Most scenes were cross-shot on Canon C300s. At times, we would have benefi ted from having more cameras – a rig in the main living quarters may enhance further series.
Having the self-shot camera crew on rotation allowed us to film midnight kitchen raids, blasphemous outbursts when convent life got too tough, nuns playing basketball and a lot of twerking – nuns included.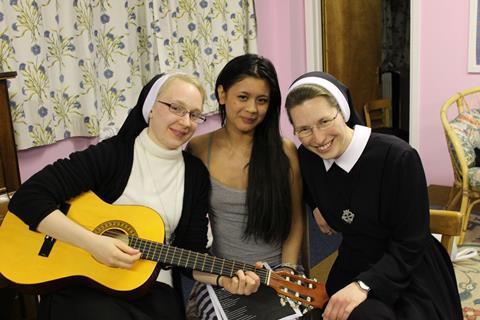 The sisters, who largely live behind closed doors, were novices to the media-frenzied world we inhabit and for them, life in front of the lens was a completely alien experience. But they embraced the filming process with vigour and we learned to adapt our methods to their way of life.
This meant capturing things as they happened, during intimate chats while peeling carrots or washing clothes.
At times, the sisters struggled to keep the eyeline, preferring to chat to a real person rather than a round lens. But this was a forgivable quirk that showed the genuine innocence of the sisters.