James Graham on how his political drama tries to make sense of the EU vote from all perspectives
Brexit: The Uncivil War
Production company House Productions
Commissioner Beth Willis
Length 93 minutes
TX 9pm, Channel 4, 7 January
Executive producers Juliette Howell; Tessa Ross; James Graham
Director Toby Haynes
Writer James Graham
Producer Lynn Horsford
Co-producer Peter Gallagher
Director of photography Danny Cohen
Casting director Nina Gold
Production designer Ed Turner
Editor Matt Cannings
James Graham says that the UK's EU referendum vote "will be infused into the DNA of all art for the next decade".
For that reason, he wants other writers to "take the Brexit baton" following tonight's broadcast of his Channel 4 drama Brexit: The Uncivil War, which details what he calls the "origin story" of the historical vote.
Speaking at a December screening of the two-hour film on the day before MPs were first set to vote on the UK's Brexit deal, Graham says: "I feel lucky we are one of the first out of the gate to be willing – and possibly stupid enough – to try to do this. It is an opening gambit and others should take the baton from us and keep going as more things get discovered."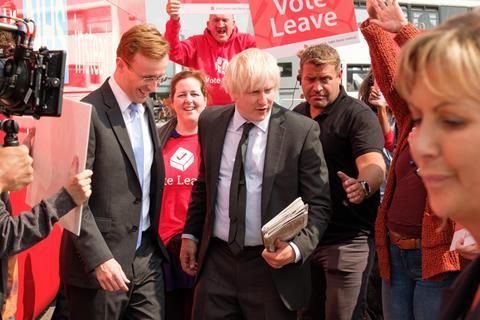 Brexit: The Uncivil War centres on Leave campaign strategist Dominic Cummings in the run-up to the vote. Cummings was a key architect of the Brexit vote, yet has been one of the least-known figureheads from the campaign.
His unfamiliarity to a mainstream popular audience, compared to key Brexit spokespeople such as Michael Gove, Boris Johnson and Nigel Farage, is what attracted Graham to focusing on his role in winning the leave vote.
"If you're going to interrogate what decisions were made and who was responsible for those decisions, the responsibility is to put the strategist behind the scenes in the spotlight," says Graham.
The writer, who previously profiled media mogul Rupert Murdoch in his Olivier-award winning play Ink, believes central protagonists should be "surprising, transgressive and disruptive".
He says Cummings is a divisive character, with some viewing him as a "genius" for recognising a global mood that was anti-establishment and anti-populist before anyone else, and others regarding him as pseudo-intellectual.
"I will leave the audience to decide," he says.
"We are one of the first out of the gate to be willing, and possibly stupid enough, to try to do this"
James Graham
The Vote Leave campaign director is portrayed by Benedict Cumberbatch, who brings a "Sherlockian cerebral-ness" to the character, as well as star appeal, according to Graham.
"It is important to get names like Benedict in a political drama so you can reach a popular audience," he adds.
Contrary to media reports that Cumberbatch, a vocal Remainer, wanted to paint Cummings in a darker light, Graham says the actor worked to find the humanity in the character and was "obsessed" with ensuring the drama "wasn't too one-sided".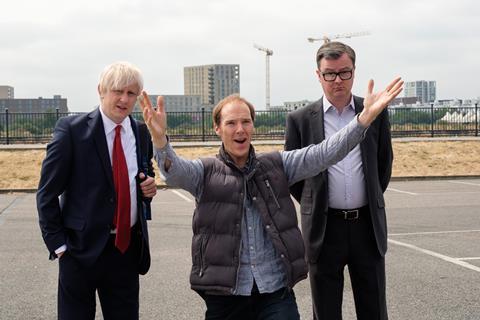 Cummings is depicted as both visionary and unpopular, brash and skittish. His brazenness in front of the Vote Leave board as they question his digital-heavy approach to the referendum campaign is subverted by a shot of him nervously wiping sweat from his neck in juxtapositions that build the dimensions of his character.
Graham explains: "You need a three-dimensional portrait of these people that goes beyond a caricature and just their politics. One of the powers of drama as it applies to real-life events is you get to humanise people who often don't appear to be human."
Both Graham and Cumberbatch met with the real-life Cummings after convincing the strategist that the drama "wasn't a stitch-up", he adds.
"Understandably, his suspicions were that it would be a Remain show written and led by Remain people for a Remain audience," Graham says. "I hope none of that is true – we want a broad coalition of viewers who voted differently to feel like they are welcomed into the show."
The writer held a "neutral-ground meeting over pizza" with Cummings, who he says talked "openly and honestly" about the campaign. "I don't want Dominic Cummings to sit through this easily, but I do want him to think that his viewpoints have been represented fairly," he adds.
A never-ending story
Following last year's discovery of data misuse in the referendum, particular focus is given to Cummings' discovery of AggregateIQ, a Canadian digital marketing firm that targeted social media users on behalf of the Leave campaign. Cummings spent 40% of the campaign's total £7m budget on the firm and has credited its work with winning the vote.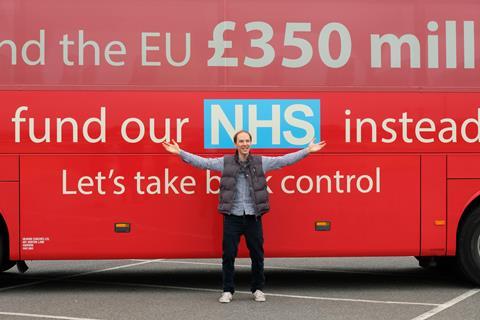 However, in recognition of the constantly changing nature of Brexit, Graham has focused on attempting to capture the mood of the nation in the run-up to the campaign rather than dissecting its many elements. "The choice we made as a creative team to isolate it around the run-up was to protect it from the changing nature of events and give it a universal resonance no matter what happens," he says.
The campaign's key moments are covered, such as the red Leave bus with its refuted claim that the UK was sending £350m a week to the EU. Cummings is also seen conducting interviews in working-class homes and pubs to take the temperature of those often overlooked by Westminster, the results of which informed the campaign strategy and its now infamous slogan: 'Let's take back control'.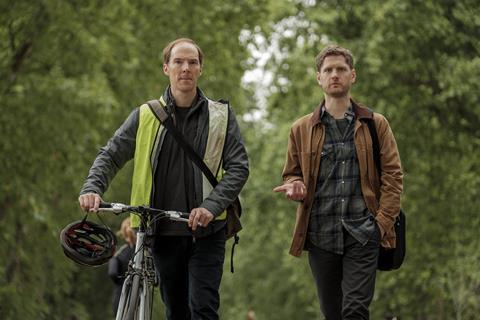 Graham calls it a "genius slogan" that was "vital" to the campaign's success. "I was inspired by the intellectual basis for it," he adds. "These things do seem simplistic on the surface but the amount of research, polling, use of data, strategy, philosophical and political interrogation of the nation and its history are all bundled up into that one message."
"I want it to function as a thriller, comedy, human drama and political mystery."
James Graham
Cummings' laser-focused approach is contrasted against Remain campaign leader Craig Oliver (Rory Kinnear)'s battle to come up with an equivalent consistent message. Moreover, while Leave's prominent spokespeople feature in the film – including Gove, Johnson, Farage and UKIP donor Arron Banks – Remain's are notably absent. David Cameron and George Osborne were included in his first draft but later cut.
Inspiration and artistic licence
The drama draws on accounts taken from Oliver's book Unleashing Demons: The Inside Story of Brexit, as well as Sunday Times political editor Tim Shipman's book All Out War: The Full Story Of How Brexit Sank Britain's Political Class.
However, Graham took artistic licence in two key fictionalised scenes: a scene in which Cummings and Oliver share a pint in the heat of the campaign, and the final scene in which Cummings appears in front of an enquiry. "It has to work on a level of entertainment," says Graham. "I want it to function as a thriller, comedy, human drama and political mystery."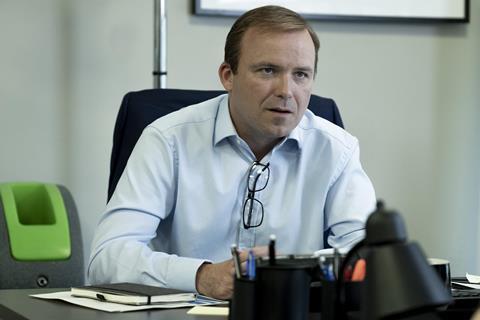 Graham has a background in political drama, having penned six government-focused plays. Brexit: The Uncivil War is his second film for C4 following 2015's Coalition, which explored the formation of David Cameron and Nick Clegg's coalition government in 2010.
He surely could not have envisaged nine years ago what has happened to the UK's political landscape since then. Just as he hopes, other screenwriters will surely pick up that Brexit baton and run with it as 2019 wears on – there's more than enough material.
Toby Haynes, director
Reading James Graham's script for the first time was a very exciting experience – I knew immediately this was an essential drama.
We prepped the film in just five weeks to accommodate Benedict Cumberbatch's schedule, which was a squeeze but, in some ways, it made it all the more exciting – the quicker we could finish it, the quicker it might go out. We were all on that mission.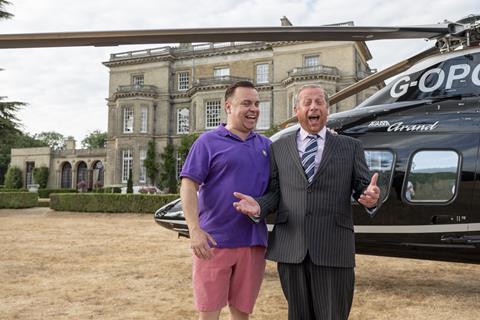 It was refreshing directing something that was contemporary that couldn't be more topical. Every morning, you'd hear new developments in the Brexit saga; you read it in Metro, taxi drivers would talk to you about it – you couldn't get away from it.
The casting process was challenging. We decided that looking exactly like these well-known public figures was less important than the actor's ability to inhabit the essence of that person – to make them feel like real humans. Nina Gold and Martin Ware did a wonderful job and we got the most amazing cast together.
Benedict was keen from the outset not to make this a partisan piece and was very concerned about treating Dominic fairly and accurately, all the way to that hairstyle.
That really was a defining moment – just three days before we started shooting we tried cutting into his crown a bald spot and nibbling at his temples but it was starting to look weird. Ben and I looked in the mirror and he just said, "shave it all off", so we did.
The shoot itself was even more pressurised time-wise, but we had the most fantastic hard-working cast and crew, and all really enjoyed the process of filmmaking at speed.
James was around most of the time and we were endlessly discussing motivations, timelines and politics. He's also a wonderful collaborator and very open to new ideas. For example, I had been struggling with what our opening image was – I don't like voice over black – so wanted Benedict to be on-camera for those lines. But where?
The week before we started shooting, James told me a story he'd heard from one of Dominic Cummings' colleagues in the Leave office. Cummings would hold up in the stationery cupboard for hours on end writing his mind-map on the back of the door there. I thought that was a terrific image – the man who changed the world from inside a cupboard.
The edit was no less intense, but Matt Cannings is a big talent and would wrangle these immensely complex sequences over a weekend, so each Monday morning I'd be coming in seeing new stuff in unexpected ways.
The sourcing of archive turned out to be one of the biggest challenges of the piece. It's incredibly time-consuming and chews up the man-hours just to inch towards what you want.
We went through a seemingly endless process of approvals and restrictions and a lot of it is in the hands of others – the assistant editor, the archivist and researchers – so coordinating all these moving parts was a bit of a nightmare, but worth it in the end.