Gok Wan and the staff of the Ava Rose bridal boutique proved a match made in heaven for our take on a much-loved format, says Jo Haddock
Production company True North
Commissioners Charlotte Reid; Deirdre Dowling (Discovery TLC)
Length 10 x 60 minutes
TX 9pm, 22 March, TLC
Executive producer Jo Haddock
Series producer Curtis Leighton Jones
Series director Dinkesh Miesuria
Post house True North Post
When TLC announced it wanted a northern spinoff of Say Yes To The Dress, True North jumped at the opportunity.
Taking on such a well-loved format with a devoted and loyal global audience – and stepping up the duration from half hours to hours – was a challenge we were delighted to take on.
First off, we had to find the right setting for our northern brides-to-be and their families – somewhere that felt lavish and in keeping with the aesthetic of the show, but also down-to- earth and northern to its bones.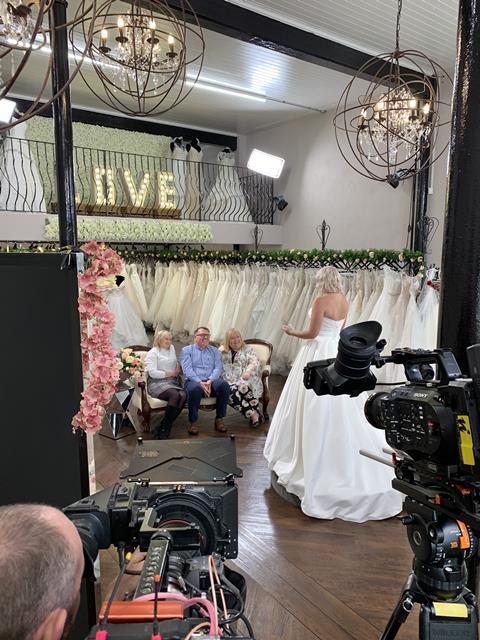 We also needed to find an embedded cast of consultants who had the potential to become returning characters in their own right. This was no small task.
Unearthing Paula Chappell and her unique family-run boutique in the Lancashire town of Colne definitely felt like finding 'the one'. It was as if this family of passionate, genuinely funny, dedicated women were just waiting in the wings to be discovered.
The fact that their boutique is in a former carpet warehouse over three floors – offering character, scale and style – was a huge bonus.
We had chosen the Ava Rose bridal boutique as our setting, but it wasn't until the talent was signed off that we felt Say Yes To The Dress Lancashire had the potential to deliver something special.
When Gok Wan came on board, we knew it would have a transformative effect on the casting. Once we started filming, we realised our brides' feelings were magnified by the intense scrutiny of their families and the pressure to find the perfect dress.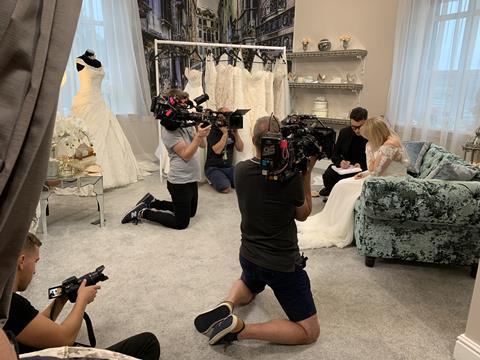 However, after working with Gok on the first series of How To Look Good Naked, I knew his warmth and generosity would put our brides at ease and make them feel comfortable opening up about their hopes, worries and insecurities.
We were coming across brides with incredible stories and wanted to find a way to dig deeper, without moving too far away from the wellestablished format beats.
Our schedule allowed us to film one dress appointment each day, along with all the master interviews we needed to tell the stories. This meant a 12-week filming block, embedding ourselves in the shop for three, sometimes four days every week.
From the start, the boutique team were incredibly accommodating. Even so, our crew of 15 were going to be working shoulder-to-shoulder with them, sharing the staff kitchen, their office and even their loo for 12 long weeks.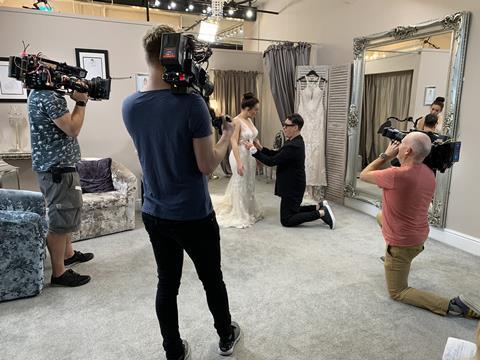 During filming, we wedged ourselves into every available corner and got used to hiding between rails of beautiful dresses. We converted a garage into the crew room. Gok's dressing room was a cupboard under the stairs affectionately called Privet Drive.
Filming was taking place in a very busy shop where members of the public wanted to choose their wedding dresses in complete privacy.
The Ava Rose team agreed to juggle their appointment schedule to allow us exclusive use of the largest of their fitting rooms.
Jo Haddock - my tricks of the trade
Hold out for people who share your passion. When you're in the thick of it, you need to be shoulder-to-shoulder with a team you respect and trust.
People will always underestimate the level of disruption a film crew will create. Spending time and money to build relationships pays off on so many levels.
Ignore instincts to cross fingers and hope for the best. When it's a format the channel knows, lean on them for support and keep them involved.
Take time to look after contributors. A few minutes extra on a filming day to explain every part of the process clearly is never time wasted.
It's a testament to the professionalism of our crew that our brides shared that fitting room with three camera operators, a sound recordist, our SD, location producer, make-up artist and runner, as well as Gok and an Ava Rose consultant.
We wanted to give Gok the time and space to build relationships with our brides and ensure that every dress was fitted and pinned to perfection. It was definitely not just a case of zipping up a dress and looking in the mirror.
Finding enough time within our filming days to allow our brides to try on multiple dresses before committing to one was a constant battle that we often didn't win, meaning days ran very long. 'Two dresses before lunch' was our SD's mantra – we managed that once.
Emotional journey
In the end, nothing could have really prepared us for the immense pressure-cooker of emotions that this format stirs up, and how exposed and vulnerable a bride feels each time she steps onto that podium to take the criticism and judgement of family and friends.
We captured absolute and genuine joy, relief, surprise and self-acceptance. Fears were overcome. Self-confidence soared. Mums, dads, siblings and friends delivered intimate, surprising, revealing and sometimes hilarious dynamics.
There were many times when we were all – crew included – moved to tears. Pretty much without exception at the end of every stressful shooting day, a relieved and happy bride saying 'yes to her dress' made those long hours feel very worthwhile.
GIVING THE SHOWA NORTHERN IDENTITY
Curtis Leighton Jones, series producer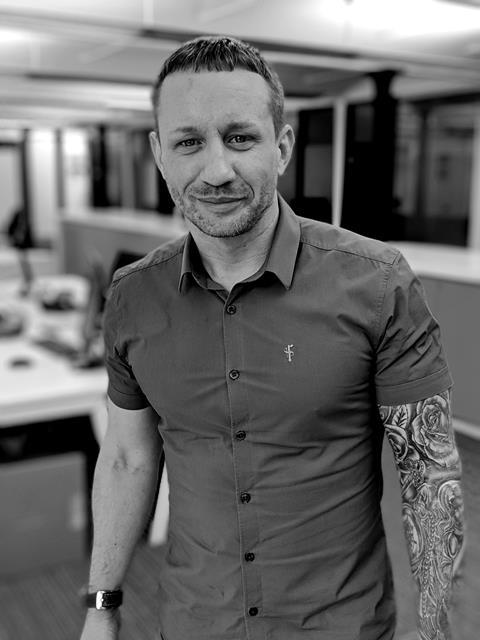 Our vision was to give our series a distinctive northern identity and charm, to capture the beauty of the dresses and location and be in the moment with our brides without overwhelming them with kit and crew.
The boutique is surrounded by Lancashire countryside and we knew the drone would help put the new home for Say Yes To The Dress on the map.
Using the DJI Inspire 2 with an X5 camera and a combination of 15mm and 40mm lenses, we were able to shoot dramatic, sweeping shots in 4K pro res from the rolling hills right into the heart of the mill town of Colne.
The drone also followed our car as it took the brides and their entourages to the boutique. Inside the vehicle, we rigged a number of GoPro 5s and COS11 personal mics suspended from the roof of the van and hardwired in a Sound Device 633 so we could capture their nerves and excitement.
To reflect the inner workings of the boutique, which was spread across three floors, we added a dolly, sliders and gimbals to the kit list. These toys packed a cinematic punch and gave us the opportunity to follow the staff as they went about their business.
We shot the main body of the show on three models of Sony camera (F5, FS7 and A7S), using a variety of lenses, from Canon CN7 and EF primes to Sigma 50-500. These allowed our crew to give Gok and our brides space without sacrificing those all-important big close-ups that reveal every nuance of their emotional journey.
They also allowed the crew to ensure the detail of the gorgeous dresses would pop and shine in every shot.