The Love Productions megahit is now on its second series for Channel 4, but it remains a tricky recipe to pull off
Crew members describe it as "a nightmare to cook in" and "hell on earth when it rains", an "incredibly noisy" place that plays havoc with echoing sound.
Few can nail precisely why The Great British Bake Off's tent – neither studio nor OB but an unlikely combination of the two, housing both a kitchen set and a gallery – is the right place to test the nation's best bakers.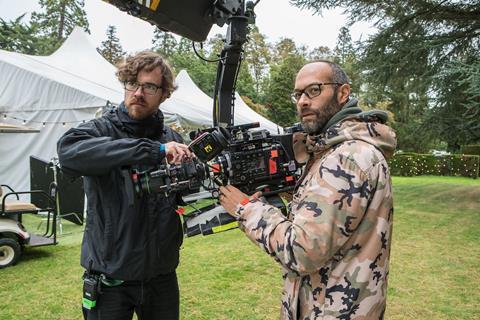 But the iconic location is a constant reminder of the modest roots of one of TV's biggest hits as a whimsical BBC2 show that uprooted each week for a culinary regional tour.
Wisely remaining anchored in one location since series two, The Great British Bake Off has been in its current Berkshire home for four years – and has since navigated a move from BBC1 to Channel 4, where it brings in around 9 million viewers a week.
"Some producers like to take the real world and shove it into a TV studio," reflects Love Productions chief executive Richard McKerrow, who famously shopped the idea around for four years. "We try to shape our ideas around the real world as far as we possibly can."
The crew treat it as a studio shoot, albeit an unusual one. There can be unbroken stretches of filming of up to five hours in which a 30-strong troupe of jib- and hand-held camera operators, story producers, food specialists and sound crew dance across a set bustling with up to 12 contestants, plus roaming judges and presenters.
"Occasionally, I'll go out to a big wide and there's 50 people standing back to back, trying to stay out of everybody else's shot," says series director Jeanette Goulbourn.
"You get to know the bakers' personalities, what their reactions will be. You're building a story, layer upon layer"
Kieran Smith, executive producer
It long felt an anomaly that Bake Off was commissioned out of factual, particularly once the educational inserts dropped away. Yet it's the combination of competition format points and documentary sensibilities, switching between multi-cam and handheld, that continues to shape this set-up.
"Once you get the set-pieces out of the way, it feels like a minidocumentary," says executive producer Kieran Smith. "We tell the story of each bake from beginning to end, the ups and downs, people's reactions – all the things we were told would be too boring.
"As you spend time with the bakers, you get to know their personalities and what their reactions will be. You're building up a story, layer upon layer."
CREATING A SUPPORTIVE ATMOSPHERE
Bake Off is the friendliest competition on TV, with group hugs and bakers helping each other when recipes go awry. The atmosphere is at least in part the result of a carefully cultivated culture of support that starts with the story producers.
"They build those relationships almost one on one," says series director Jeanette Goulbourn. "In the tent, it's a constant battle between wanting to send in story producers, getting everybody off the floor to get wide shots and having people interact with each other, which is when you can get magical moments."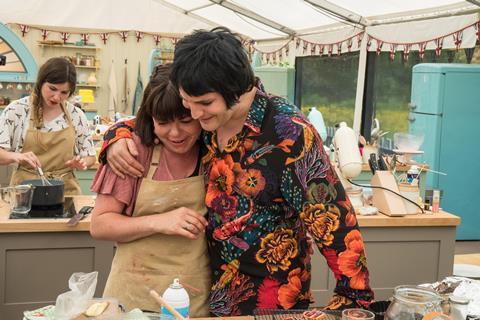 The bakers are rarely telly wannabes, which requires an extra level of sensitivity.
"There are moments when they might not want the camera on them," she says. "The story producer will ask the camera operators to stop and, where possible, we do stand back. It's incredibly tense when there's something stressful happening – it's horrible to watch.
"The bakers are emotionally invested and if something goes wrong, those emotions are real."
The bakers' well-being can be influenced by their place on set too, which is why they get moved around.
"If people are doing similar recipes, you weigh up whether they should be on the other side of the tent. Or if one person's really loud, should we not put them next to the quiet one?
"And you don't want them to think they've got a lucky bench. Some hate being at the front or the back; they have this theory that if they're middle-back, Noel is more likely to come and distract them. But they'll all be on every bench at some point."
Jib operator Arun Taylor says improvisation holds the shoot together. With precious little rehearsal or down time, the crew stay nimble to capture the unfolding drama.
"While we're doing a four-person shot at a counter, something crucial could be happening behind and someone will be asking the operators to take a step back," he says.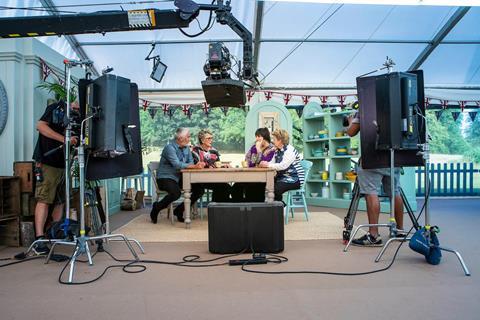 "Everybody's on the edge of somebody else's frame all the time – it's about that mutual respect, knowledge and awareness of what's going on. More than any other show I've worked on, it's not just the camera crew thinking about the angles – everyone has to."
Once cameras roll, he says: "It's like an avalanche – there's no stopping anything, really. As in a documentary, if anything happens, it happens."
Bakers meet only once before the first shoot, at dinner the night before. Stepping into the tent can be a heady experience, and the real-yet-not-real kitchen set-up discombobulating.
This is where the food team comes in. Home economist Faenia Moore likens day one to the first day of school.
"The more stressed they get, the more attention they need. By show two or three, some say they don't want you there, others never lose the attachment. It's a big deal: they've not used these ovens before, cooked in this space or shared appliances. It's a game of diplomacy."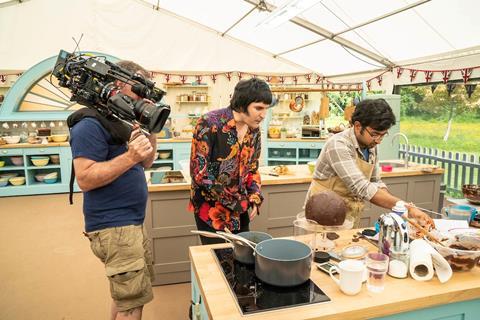 As contestants get knocked out, the camera crew can focus more intensely on each remaining baker without treading on each other's toes. The same cannot be said for sound.
"At the start, the ambient level is quite high but when you get to six bakers, suddenly conversations get quite isolated and carry across the tent; judges are conscious that their comments may carry too," says sound supervisor Richard Meredith.
"It's a balancing act to keep the ambient level high enough to give us the right bubble, but just low enough so we're not encroaching on each other's stories."
Sound operator Dave Hardy adds: "The quieter it gets, the more everyone whispers. Some are quite guarded about their family recipes, as they don't want to let them out to the world."
PRODUCING THE GOODS
Home economist Faenia Moore has a plea to anyone auditioning for the next Bake Off: "Don't bring cupcakes or quiche, please, ever again. Or pork pies. We're done."
Moore, who critiques baking standards at the auditions, admits to going "a bit Simon Cowell" after tasting aspiring contestants' sweet and savoury concoctions for eight hours.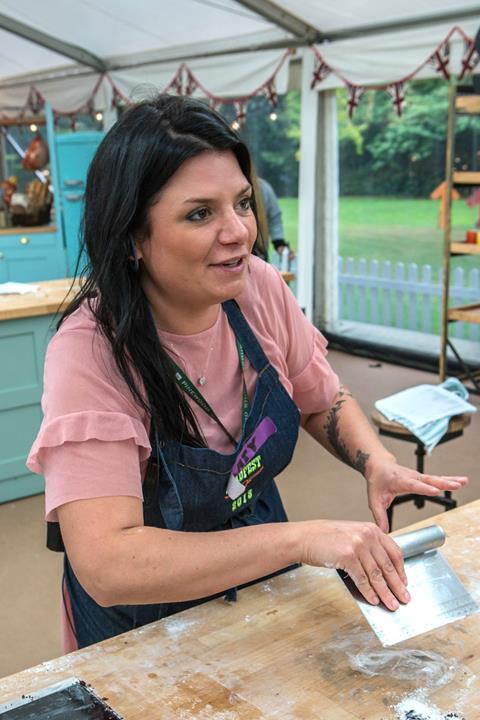 "You can tell within three minutes if someone's trying to bluff Paul Hollywood; it's like cheating a science exam," she says. "Sometimes you can sense the sob story coming on."
There's an argument that Bake Off raises the standard of baking, which then ups the stakes for each subsequent series. One happy side effect: hitherto rare ingredients become common household items.
"Nothing's sacred any more. It's like reading a thousand cookery books at once because the bakers all have different ideas," says Moore.
Bakers get to say where they want their ingredients to be sourced from, though unrealistic expectations of seasonality remain an issue; Moore winces at the memory of spending £70 on 600g of cherries.
Fellow home economist Katy Ross says: "If they shop at Asda, you buy their ingredients there because that's what they're confident with."
She recalls buying high-quality coconut essence for one baker, only to be told he didn't like it. "He brought his own really bad-quality stuff – it cost 50p from his corner shop."
One important element is the weather, which tests the crew both inside the tent and out.
"The view outside changes each week," says director of photography Sam Montague. "The bakers will sometimes suddenly remember where they are, stop what they're doing and look outside.
"The tent is the studio but the moment you step out of it, you have to have a location mentality. We put in a system to allow us to seamlessly move between the two scenarios. The tent has a studio talkback system and a studio way of recording everybody individually. Outside, we instantly flip into single-camera location mode."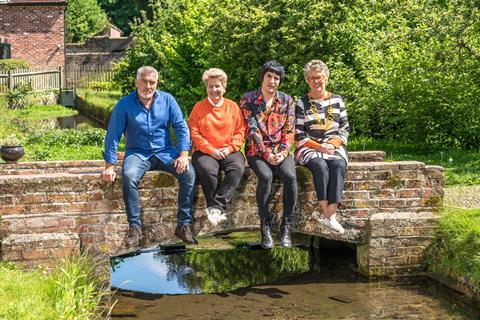 Inside temperatures can range from -6°C to 38°C, but fans and heaters are too noisy to use. And then there's the fact that it is a studio with windows.
"If it's raining and cold, the plastics on the inside windows are down, but if the sun comes out, it blazes and we have to put scrims on, otherwise everything outside turns white," says series producer Jenna Mansfield.
When Bake Off came to C4, some wags quipped that it had paid £75m for a tent. Notwithstanding that it actually bought a deeply experienced crew and rock-hard format, it also got something no studio can replicate: the atmosphere created by the tent.
As Goulbourn concludes: "These bakers really are living this little pocket of Bake Off. It's about being removed from reality."
EDITING THE ACTION
With nine cameras trained on multiple contestants over two eight-hour days, getting each episode of Bake Off into shape for an edit is no small undertaking.
For each show's three challenges, one timeline is assembled per baker – up to 36 in all.
The editing team takes on each challenge in three simultaneous edits, with producers giving a steer about that day's storylines. Voiceover is written as they go, and finessed later by presenters Sandi and Noel.
This three-act structure lends itself easily to C4 ad breaks, but the team has been careful not to be rigid in its exit and intro points.
"Early on in the first cut, we decided that we didn't want a build-up to the ads, then a recap when you came back," says executive editor Simon Evans.
"The first one we did was just somebody cleaning up their work surfaces. The breaks were already there in the format. Put the Bake Off logo up on someone eating crisps and it's a funny character beat."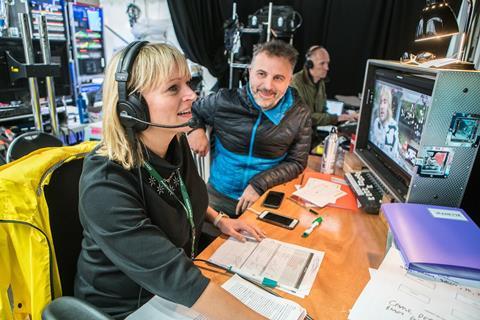 Rain and food mixers are the bane of the editors' lives, but carefully used, can punctuate the final cut, as can Paul and Pru's well-timed judgements.
"They're good at cutting to the chase," says Evans. "If one bake has many unfolding disasters, you might want to stay with the judging for 25 more seconds."
The 12-week edit continues while the series is on air, but the team can't afford to rethink edits in response to viewer reactions.
That said, says editor Helen Keen, "it's nice watching the social media feedback – you see people falling in love with the bakers thanks to a little moment you spent weeks seeking out."
CREATING STORYLINES
Giving each baker a fair crack of the whip in the early stages is a tall order, and the team has learned to tease out some obvious storylines early on and hold others back. They've also come to recognise the brief moments that deftly illustrate personalities.
"The way one baker looks at another can tell you so much about them," says Keen. "You play to the strength of the baker."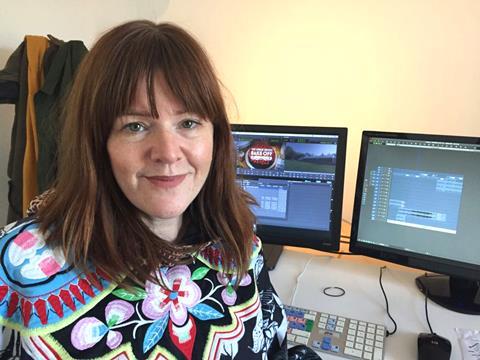 Keeping the energy up as the tent empties can be tough, but Evans says that once there is more at stake, the edit can linger on people in the moment.
"We try to treat it as a drama," he says. "Having a group of people waiting for something to happen can be great, but you don't have that luxury early on."
He says it's like being a wildlife film-maker. "They'll do something to tell you who they are, even in silence. You spot their 'tells' when they're nervous or worried."
Keen has worked on event pieces such as DIY SOS, but reckons Bake Off is "possibly the hardest edit" of all. "You're trying to tell a beautiful documentary story for each baker in a tent and in a format."
Evans agrees: "In the edit, if you're not making yourself laugh, cry or get goosebumps, you're probably not doing it right."