Turning around a show about supercars takes longer than one might think, explains Peter Wyles
Production company Barcroft Productions
Commissioner Hilary Rosen
Length 20 x 30 minutes
TX 8pm/8.30pm, Wednesdays from 10 January
Executive producer Peter Wyles
Producer/directors Steve Hobbs; Suneil Sahota
Series producer Michael Wood
Head of production Alison Seymour
Production manager Gurvinder Singh
Post-production manager Henry Burrows
'Good things come to those who wait,' says the proverb that extols the virtue of patience.
In the fast-moving - and unforgiving - world of pitching, it's a phrase that many of us mutter under our breath as we receive yet another rejection of a project that's been in daily development for the past four-and-a half-months.
'A good idea is never a bad idea,' we tell ourselves. And a charismatic and engaging expert is simply wonderful new talent waiting to embark on a TV career. And so it was with our new 20-part series for Dave.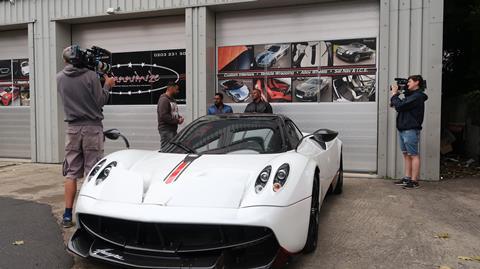 'Hang on a minute,' I hear you say. 'How on earth did you pull that off? A 20-part series with an untested new format and unproven talent? How would anyone commission this in such a 'conservative' British broadcasting climate?'
Well, it's all about teamwork, trust, perseverance and timing…
I met Yianni about four years ago. I'd been working with Richard Hammond on a BBC series, got to know a few people in the petrol-head world and began developing some car shows.
One of my APs spotted a video online, featuring a fascinating guy in north London who had set up Yiannimize, a business which customised top-end cars for Premier League footballers by covering them with high-quality vinyl.
He was transforming them into works of art – gold chrome Mercedes, black snakeskin effect Range Rovers and stealth black Lamborghinis.
The following day, I was sitting in Yiannimize's Enfield office with the owner, the hard-working and charismatic Yianni Charalambous. We bonded immediately – especially over football.
His first football customer was the (then) Arsenal defender Bacary Sagna. When Bac took his gloss white Range Rover to the training ground, the other players began to call Yianni to arrange for their own cars to be wrapped.
The nearby Tottenham team got in on the act, followed by other London-based players and then Premier League stars from all over the country followed suit.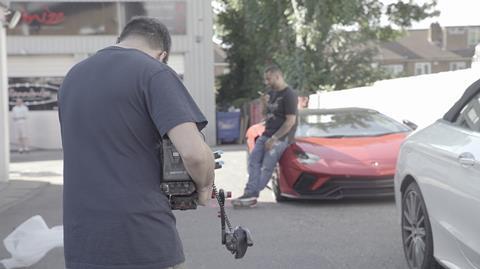 As the business took off, more celebrity clients followed including Harry Styles, David Haye and Gordon Ramsay. And then there were the City boys with bonuses to spend and the guys heading over from the Middle East for a summer cruise around Mayfair and Belgravia.
Yianni, with his infectious personality and endless charm, was the best advert for how to do customer service. He was clearly a very smart businessman – especially in how he utilised social media.
His workplace was like an extended family for a talented group of workers from all around the globe who referred to themselves as 'the united nations'. This had 'hit TV series' written all over it.
UKTV goes underground
UKTV wanted to meet him, but somewhere a little more incongruous than their high-rise office.
Director of commissioning Richard Watsham and deputy director of commissioning Hilary Rosen wanted the 'real' Yianni – so it had to be the underground UKTV car park in Hammersmith. It was the perfect place to get up close and personal with Yianni's orange Lamborghini Aventador.
Richard and Hilary liked Yianni too were looking for a new factual entertainment show for W [then Watch] but nothing quite worked. Yianni felt very 'Dave', but there was no slot up for grabs.
It could have been so easy for this to be one of those promising projects that never quite made it but over the next couple of years, Yianni and I stayed in touch.
During this time, Yianni's career branched out in another direction. His social media following exploded to 1.5 million Instagram followers and 1m YouTube subscribers. A full-time filming team were posting four films a week. Viewers loved watching Yianni and his team wrap a host of amazing cars.
Peter Wyles - my tricks of the trade
Treat putting together a production like a casting process – carefully choose your team. It's good to have a family atmosphere.
Be transparent with everyone. Yianni has an amazing workforce and the production team had to work closely with them.
When making a long series without a pilot, a shorter shooting period before main filming begins is vital. Edit this footage concurrently to iron out issues and organise a clear pathway for the series.
Never give up – trust your judgement.
Be clear with your points and trust your team.
A production office on location is vital for team harmony and to maximise filming opportunities.
Almost exactly a year ago, Hilary asked me to pop in to see her as she was looking for a new car show and was keen to discuss what kind of a show Yianni could be in.
The workflow at his unit was perfect for a TV series. Amazing cars were dropped off on a Monday and on Friday the owner returned to see the reveal. And at the centre of this was Yianni, a huge social media star who posted pictures and videos of these incredible vehicles.
Having made more than 100 of his own films, he was now perfectly at home performing in front of a camera. As production began, we worked with Yianni to transfer this skill to more of a documentary way of filming. He settled in immediately.
Perhaps the planets had aligned and the years between that first pitch in the UKTV car park and the commissioning of the series were meant to be…
And so Yianni: Supercar Customiser was born. We waited and it is certainly looking good…
Michael Wood - Series producer
I arrived at the North London workshop to find a hive of activity. Sports cars, supercars, even hypercars, were parked in the bays being readied for wrapping – a complex process in which a layer of vinyl is seamlessly laid over every panel and surface of the exterior bodywork.
Our challenge lay in capturing the atmosphere of multiple jobs taking place at the same time in a noisy workshop environment full of humour and noise.
The relationship between the production crew and the Yiannimize team developed quickly and was based on mutual trust. Before long, we had established that easy rapport which all documentary and factual producers dream of, but rarely achieve.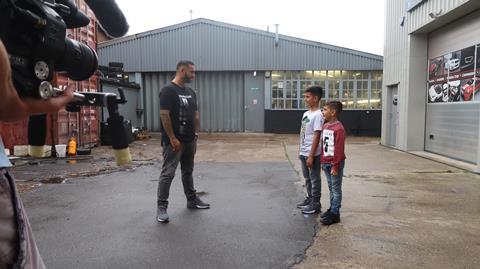 Based in an office inside the workshop, the production was at the heart of all the activity. Soon, instead of chasing stories, they were brought to us in advance and we could choose how to 'run' a particular car.
We were able to tailor the editorial so the audience could see the strength and depth of both the characters and stories available to us.
At the heart of the show is Yianni, a man who seems capable of arriving first, leaving last and always keeping up the energy and drive to be a top entrepreneur. He is the hugely successful social media face of the business with an amazing address book full of celebrities, footballers, musicians, actors and YouTube stars.
Behind the scenes, his right-hand man Bert provides the calm at the centre of the storm and keeps the business running smoothly. Their on-camera relationship quickly became a key building block of each episode.
Shooting the show was a huge challenge. With our eight-week shoot window, 20 episodes would need to be carefully coordinated.
Every minute counted, especially when we were dealing with high net worth individuals, celebrities and very valuable cars. The juniors, strippers and wrappers gave us amazing access and were generous with their time on- and off-camera.
When the wrap teams went for lunch the production crew continued shooting, lighting set piece stylised shoots of the finished cars.
Outside in the busy car yard, we snatched beauty shots of arriving supercars in between courier deliveries, motors being moved in and out of the next door garage and an occasional soaking from the local car wash guys. Somehow it all worked.
Yianni pulled in the best cars and characters and we used three shooters, supplemented with occasional additional cameras and an OSMO crewed from our core team.
Covering multiple stories in a four-bay workshop at the same time was tough, but the Sony FS7s and radio mics run from wi-fi dongles proved versatile.
With very little time to set lighting, we often tackled a mix of industrial lighting and daylight, but as the entire show was shot in S-Log, we had a lot of options in the grade.
The production team completed the shoot on time and in impeccable style, creating rushes with a mix of great documentary feel and high-end factual flair.
At one point five offline suites were working on multiple sites, but it stayed on track and schedule. With the audio, grade and onlines taking place under one roof at Halo, the series was guaranteed the best attention in post.