Bectu among bodies to pile pressure on chancellor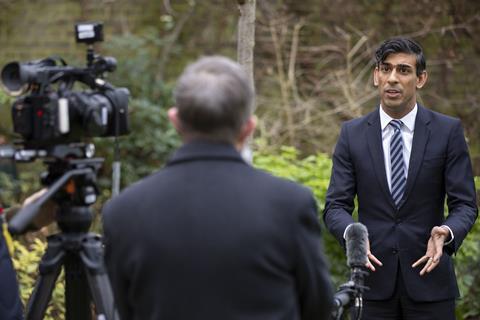 Trade unions are piling pressure on Rishi Sunak to help the self-employed in his forthcoming budget as a survey finds nearly half could be seeking a way out of freelance life.
The Inquiry into the Future of Self Employment was sent yesterday evening (11 February) to the chancellor, forged with the input of broadcasting union Bectu, freelancer groups and an array of business groups.
It calls for the ending of freelancer exclusion from the government's coronavirus support packages, almost a year after lobbying on the matter first started, with around 3m still believed to be falling through the cracks.
Many thousands of these freelancers work in the TV industry and past surveys have indicated around 10% are looking for a way out of the sector due to a lack of support.
Other demands include the extension of sick pay and paid parental leave, changes to Universal Credit and the pensions system and the hiring of a commissioner for the self-employed to coordinate policy efforts.
Sunak is due to deliver his budget next month.
Bectu head Philippa Childs gave evidence to the inquiry and yesterday said "workers in the creative industries have been left with little to no support from government schemes".
"There is a lack of understanding of how self-employment works in practise, which has led to schemes that don't fit the reality of working life for many Bectu members," she said.
The inquiry found 46% of 2,200 self-employed workers are "less likely" to be freelance in the future due to their pandemic experience.
Around three-quarters said they do not have sufficient rights compared to regular employees and almost all of believed the level of pandemic support was not a fair reflection of their tax contribution.
Wales
The news is better in Wales, where the Welsh government revealed on Wednesday it is to pay an £8.9m top-up to the nation's freelance workforce.
Freelancers who have already received support from the £63m Cultural Recovery Fund will receive an additional £2,500 to support them through the current period of "reduced activity".
The fund has already supported almost 3,500 freelancers, with Welsh deputy minister Dafydd Elis-Thomas hailing their "resilience and creativity during this period".
"We know we will need their professionalism, experience, enthusiasm and vision to help us come together and rebuild after the public health crisis has abated," he added.