'We've found a new twist by allowing darkness and fear to affect the gameplay'
PRODUCER Nippon TV
DISTRIBUTOR Nippon TV
LENGTH 60 minutes
BROADCASTER Nippon TV (Japan)
Japan is a country that pushes the gameshow boundaries, and Dark Doubt is no exception. Nippon TV moves into Squid Game territory with a format that preys on contestants' doubts and fears. The show tasks seven contestants with attempting to break out of pitch-black stages to clear missions within a time limit.
"Dark Doubt is a testament to how 'fear' is a universal form of entertainment that fascinates humans," says Tom Miyauchi, head of formats at Nippon TV, which commissioned, produced and owns the international rights to Dark Doubt. "Just as our format Mute it! brought silence to the entertainment arena, Dark Doubt turns its back on the traditional notion that gameshows are colourful and fun for those taking part."
Contestants must work together to navigate through the dark to escape each stage. Once a stage is cleared, the contestants must decide on a member of their group to expel. If they fail, two contestants are randomly expelled.
In a further twist, 'moles' are thrown into the mix aiming to sabotage the team's escape. Specific stages include 'Spot the Moving Statue', where contestants are shown three statues with a chain attached to their feet. They are given one key and, within a time limit, must decide which is not a real statue and lock that statue's chain to a fence. When the time is up, the fake statue begins to move.
Miyauchi says this and other rounds are structured to "give a chill down the spine". A digital clock counting down from 10 minutes puts pressure on the competitors, and an eyeball peers over them from a hole in the wall to add creepiness.
In a separate studio, a pair of celebrities watch the drama unfold and provide commentary. Viewers are encouraged to solve the riddles and to switch the living room lights off to view the show.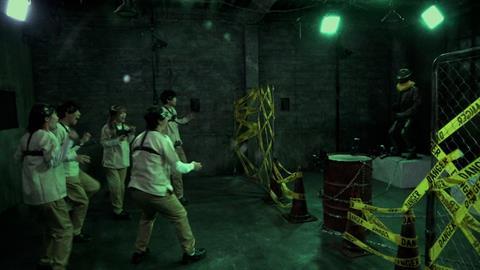 Dark Doubt is pre-recorded and requires a fixed-rig set-up of hidden cameras in non-studio locations. Settings include an abandoned house and hospital, a factory, school and even a cruise ship. A set could also be dressed as an alternate to actual locations.
Miyauchi says this adaptability means Dark Doubt could be considered by a range of buyers, while the "consistently dark and striking visuals" diverge from typical gameshow formats.
"It is highly scalable by setting out challenges in different locations," he adds.
The series is pitched as a more family friendly way of tapping into the game-induced horror of worldwide smash Squid Game.
"Guessing games and escape gameshows have been around for a long time and Japan is famous for horror with a focus on psychological fear," says Miyauchi. "We've found a new twist by allowing darkness and fear to affect the gameplay and relationships between the contestants. We want to create challenges that can be overcome with a brave and fearless mindset."
Targeting family-viewing, skewed towards younger audiences, the show has been a hit domestically since airing on Nippon TV last December. It captured a 35.6% share of 4-12s, 29.3% of men aged 20-34 and 31.5% of women aged 20-34, according to Nippon TV data.
Formats
1

2

3

Currently reading

Hot Picks: Dark Doubt

4

5

6