How ITV Studios pulled off a series of ambitious 60th anniversary specials under Covid restrictions
Production company ITV Studios
Commissioner Huw Kennair Jones
Length 3 x 45 minutes
TX Specials at 7.30pm on Monday 7 December, Wednesday 9 December and Friday 11 December
Directors Neil Alderton; John Anderson; Nickie Lister
Producer Iain MacLeod
Assistant producer Verity MacLeod
Writers Chris Fewtrell; Jan McVerry; Debbie Oates
Head of production Matt Cleary
Senior production manager Lee Rayner
Production manager Donna Henshaw
Post House ITV Studios editing and post-production team
When Coronation Street launched on 9 December 1960, it was met with critical disdain. "The programme is doomed from the outset, with its signature tune and grim scene of a row of terraced houses and smoking chimneys," wrote Daily Mirror TV reviewer Ken Irwin.
Inspired by working-class 'kitchen-sink' drama like Look Back In Anger and Room At The Top, creator Tony Warren placed Manchester accents and dominant women at the heart of the show.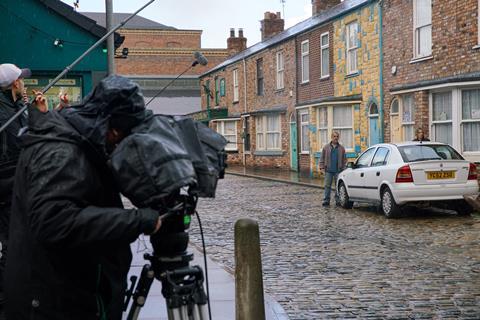 Granada TV executives weren't convinced at first. As the soap hurtles towards its 60th anniversary, a recent TV ad paid tribute to this doubt, showing Warren pitching his idea to unimpressed colleagues, who dismiss it as "boring".
Of course, Warren was right and Irwin was wrong. At the start of November, the Guinness Book of Records reaffirmed Coronation Street as the longest-running TV soap opera in the world and William Roache, who has played Ken Barlow since episode one, as the longest-serving TV soap star.
When producer ITV Studios (ITVS) began considering how best to celebrate the upcoming milestone, the big question was how to top the show's 50th birthday, when a tram fell from a bridge, killing Ashley Peacock and Molly Dobbs.
"We were talking about plane crashes, the whole of the north-west having a power cut for two or three days and tunnels under Corrie that collapse," says John Whiston, ITVS' managing director of continuing drama.
"There was a big question of whether to go live – and then Covid hit. That put a spanner in the works"
John Whiston, ITV Studios
One proposal would have involved telling different elements of the special's story from different perspectives on ITV, ITV2, ITV3 and ITV4. "There was also a big question of whether to go live – and then Covid hit," says Whiston. "That put a spanner in the works."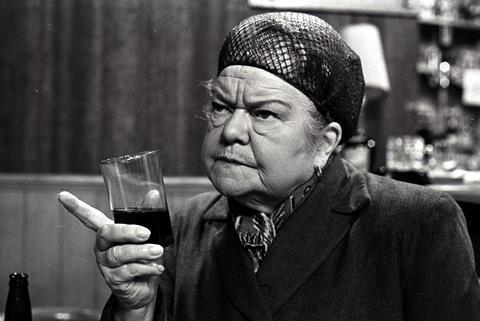 Coronation Street stopped filming just before lockdown hit in March, forcing ITV to use its stockpile of episodes carefully, dropping from six shows on air a week to three.
Those few staff who were not furloughed immediately sprang into action to work out if soap production could take place under lockdown conditions, with ITVS senior production manager Lee Rayner, his Emmerdale counterpart Nader Mabadi and Nikki Saunders, head of continuing drama at the BBC, forming an unofficial group to draw up pan-industry standards.
"We'd spend evenings on Zoom drinking beer and writing the rule book on how to make everything work," says Rayner. "We even spoke to the Neighbours team in Australia. It was a pan-industry 'what are we doing?' moment."
ITV prime-time ratings with & without Coronation Street (2019 vs 2020)
Slot
2019 rating(M)
2020 rating (M)
% change
MONDAY*
20.30pm
5.96
2.57
-56.6
WEDNESDAY**
20.30pm
5.55
2.36
-57.6
FRIDAY***
20.30pm
5.53
3.18
-41.4
*30 March-7 Sept 2019 / 1 April-9 Sept 2020 **3 April-11 Sept 2019 / 1 April-9 Sept 2020 ***3 April-4 Sept 2020 / 5 April-13 Sept
The soap restarted in June under strict social-distancing rules both on and off screen. "We have had people contract coronavirus," says Rayner. "We're in Manchester, where it feels like Covid is lapping at the walls of the Ship Canal and we only have sandbags. But those people who've had it didn't pick it up on the site and we've had no outbreaks."
The biggest change – and potentially the most confusing – was to the way directors work. Ordinarily, Corrie works in 12-episode blocks with three directors taking four episodes each. The directors move between studio, the Coronation Street set and location shoots as required.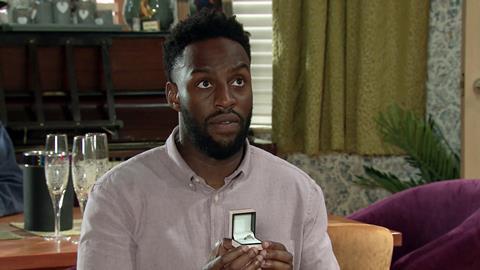 Post-Covid, each director has a domain – one is studio-based, one for the street, one on location – with their own heads of department for costume, props and the like. The crews and their equipment stay with the directors as the actors move according to storyline. "It's quicker," says producer Iain MacLeod. "But it's tricky in post when directors have to use footage shot and often edited by someone else."
The new episodes started showing at the end of July – still just three a week. "We'd been planning the storylines that would peak at the 60th as if we had six a week, not three," says MacLeod. "We told the writers we need a big event – something to culminate our stories, but we didn't know when it would happen so we wanted something flexible."
Plot climax
The team wanted tales that would pay tribute to Warren's original intention of social realism in soap and managed to edit plotlines so that all the intended climaxes peak in anniversary week.
One long-running plot, involving domestic abuser Geoff Metcalfe (Ian Bartholomew) and his long-suffering wife Yasmeen Nazir (Shelley King), reaches the conclusion of her trial for attempted murder. Geoff sets fire to their house, dragging Yasmeen's granddaughter Alya (Sair Khan) onto the roof. "The tone is important here – in keeping with the gravity of the story but mixed with the 'thrillerish' third act of a movie," says MacLeod.
"Cast, doubles and crew isolated for two weeks so they were able to get close to each other for the night shoot"
Ian McLeod, producer
While most 9pm dramas shot in the Covid era use close-cohort working to allow for hand holding and kissing, for a soap with a cast the size of Corrie's (currently 70), this has rarely been possible. "But we had to do that for the rooftop sequence," says MacLeod. "Cast, stunt doubles and key crew isolated for two weeks so they were able to get close to each other for the duration of the night shoot."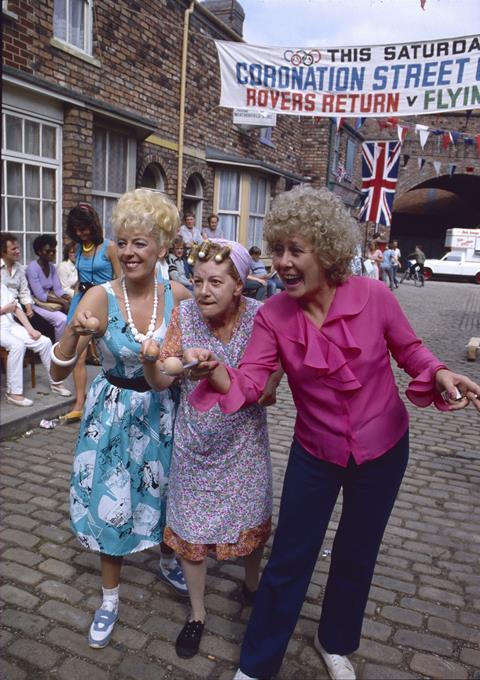 The show used CGI for the scene's Weatherfield backdrop – "which isn't typical for us," says Whiston. "If your stories normally need CGI, maybe soap isn't the genre for you."
He also admits that budgets were less lavish than for previous anniversaries. "We usually end up with close to six times the normal episodic budget but the pandemic spooked commercial people at every broadcaster across the world, so budgets were also in lockdown," says Whiston. "We got more money but not as much as we normally get. Necessity is the mother of invention here."
He illustrates this with the second big climax – Ken Barlow's one-man protest against the bulldozers threatening to knock down the street in the name of redevelopment. To keep shooting costs down and preserve Covid rules, drone cameras were used to capture Barlow's Tiananmen Square moment, although fittingly, it is Barlow who effectively delivers the anniversary speech – talking about community, referencing moments from Corrie history and giving dedicated fans a meta moment.
Around the episode, ITV is scheduling 60 messages in 60 days from actors to charities and members of the public. Accompanying books are being published and even a collector's item postage stamp is being released.
But there has also been time for moments of reflection. With Corrie born of social change and rooted in working-class culture, is the 60th time to move further into the 21st century? While black and Asian characters have appeared in the show, it was only last year that the soap's first black family, the Baileys, arrived.
"I'd be foolish to counter argue that criticism," admits MacLeod. "The show has been too white and we're making proper strides towards redressing that – although the debate fuelled by the Black Lives Matter protests has sharpened up the issue.
"Off screen, that means making further strides with crews and writers. Part of the issue with shows like Corrie is that people tend to stay until they retire – there's not much churn – but we are making improvements."
The hire of three new BAME writers in the past year and participation in the Original Voices scheme, where newcomers are given trial scripts and strong writers are brought onto the team, are attempts to redress the balance. That is important as Corrie – despite regular predictions of its demise – remains the financial engine of ITV.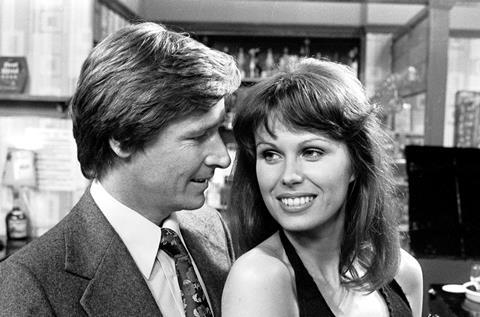 You just have to look at the top-rated programmes - Coronation Street is right up there 52 weeks a year," says Steven Murphy, editor of Inside Soap. "Shows like The Great British Bake Off burn brightly, but only for a few weeks at a time, and advertising revenue for the soaps is huge. People might say they're on a trajectory of decline, but it is a slow one and they still hook in more viewers than anything else week in, week out."
"But Corrie isn't just money and ratings," adds Whiston. "It's a symbol of ITV, so we need to reflect our audience. It was important that we didn't come off air during the pandemic, and the audience told us they were grateful for that. They forgave things not being as they should be when we returned.
"Soaps aren't just TV. They're an extremely valuable social resource and that's why we have to get things right."