NHK is pioneering the move to higher resolutions, with three new dramas shot in 8K and plans to cover the Tokyo 2020 Olympics in the format
Wedged between leafy Yoyogi Park and Tokyo's lively Shibuya district stands the headquarters of Japanese public broadcaster NHK.
The boxy building was opened in 1965, but is set for long-awaited refurbishment after the Tokyo 2020 Olympics – a move into the future that mirrors the broadcaster's experiments with 8K programming.
NHK is best known for its world-class documentaries and factual series, but has also become synonymous with high-resolution broadcasting. At Mipcom next month, it is hosting an Ultra High Definition 8K showcase.
The NHK 8K Theatre will comprise a 248-inch screen and a booming sound system on the third floor of the Palais des Festivals in Cannes.
Planned screenings include the international premiere of NHK's feature-length adaptation of Kazuo Ishiguro's novel An Artist Of The Floating World, with actor Ken Watanabe speaking about his experience in the lead role. Other speakers include Silverback Films' Alastair Fothergill, producer of Netflix's Our Planet.
"When an engineer fires up the screen, the room is filled with colours and images that rank among the sharpest television has produced to date"
Meanwhile, ahead of next year's Olympics, the public broadcaster is planning a series of experiments across Japan. Several will be shown in the ultra-high-resolution format on a dedicated 8K channel and at public viewing venues across the country.
At an exclusive preview at an 8K theatre in the Japanese capital, NHK's chief secretariat of 8K production Atsushi Murayama reveals to Broadcast an 85-inch 8K screen and 24 speakers servicing 22.2 audio channels. When an engineer fires up the screen, the room is filled with colours and images that rank among the sharpest television has produced to date.
Demonstrating the clarity of the individual sound channels is music concert Sting & Shaggy: Live In Philadelphia, while a documentary about Tibet, co-produced with China's Beijing TV, offers images of staggering sharpness.
Another clip shows footage from a collaboration between NHK and the Egyptian authorities to film artefacts from the soon-to-open Grand Egyptian Museum, followed by An Artist Of The Floating World.
The variety of content on show begs the question of what genres work best in 8K. "Nature is an obvious choice," says Murayama. To that end, NHK has produced a programme about Yellowstone Park and another about the underwater world off the coast of Mexico.
HOW 8K CAN BENEFIT SCIENCE PROGRAMMING
Takeshi Shibasaki is the producer behind the NHK's live broadcast from the International Space Station in 2006. He wasn't invited to go himself, and as a result had to train a Japanese astronaut to do the filming. He now oversees Cosmic Front, an hourlong weekly show that deals with phenomena such as black holes, dark matter and dark energy.
Shibasaki believes science filmmaking is entering a significant phase. "8K's moment has come," he says, seated in an edit suite he set up to streamline post-production of 8K science output. "It will soon become the standard."
The offline edit suite for 8K footage looks barely any different from suites producing at lower frame rates, with an iMac Pro, a 4K screen and an 88-terabyte rack of high-speed hard drives.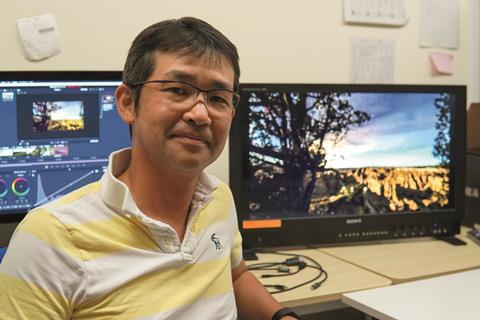 Shibasaki's team uses raw 8K footage, normally shot on Red Helium and then ingested into BlackMagic DaVinci Resolve 16 for editing.
Shibasaki's first flagship 8K programme came in 2016, when he sent his crew to Antarctica to film underwater in a frozen lake, in search of answers to how the Earth became habitable.
Stunning images of the lake bed revealed mysterious species that are theorised to have made a crucial contribution to the great oxygenation event that changed the planet's environment.
This project was not just an experiment in film-making but also helped scientists collect samples and study the conditions under the inhospitable ice. The high resolution, which can be magnified many times, unlocked the door to the research.
"The conditions were not just harsh, it was a truly dangerous environment," says Shibasaki. "A team of three veteran NHK divers was dispatched to shoot. No one can do that like us."
Sport, too, is a reliable genre for new tech. This summer, NHK broadcast live coverage of athletics competitions using 8K cameras. The cameras were placed on rails and were capable of moving at 12 metres per second to keep up with the athletes.
Drama is a more complex and newer genre for the medium. Shooting an hour of drama in 8K takes NHK up to a month – but the real heavy lifting comes in post. The edit, colour grade and sound mix takes two to three months and, if VFX is needed, a hefty extension will be made to the delivery schedule.
It's no surprise NHK has made only two drama specials in 8K: An Artist Of The Floating World and a programme based on Russian series The Sniffer. It is now working on a third, period piece The Stranger, which tells the story of a famous writer working as a news correspondent in Shanghai in the 1920s.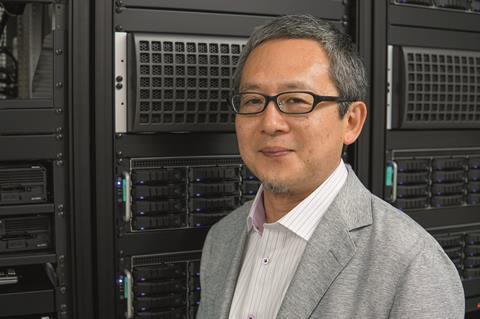 Murayama suggests the fact that 8K allows viewers to see the facial expressions of actors in vivid detail is the key driver in drama. Other Japanese companies are also pushing into the 8K drama space.
Pay-TV service Samurai Drama Channel is launching its 120-minute historical drama The Return at Mipcom. Period drama is a particular challenge in 8K as the high resolution will reveal any shortcomings in costume, make-up or set design.
The Return, which tells the story of an outlaw who returns to his home town after many years, is a co-production with Nihon Eiga Broadcasting Corporation. Kansai TV is handling international sales.
However, producing 8K is pointless if consumers don't have the screens to play it on. A nationwide survey conducted by NHK found that the weekly reach of its 8K channel is just 0.3% – roughly 400,000 viewers.
While Murayama is banking on sales of 8K television sets ramping up before the Olympics, the Japan Electronics and Information Technology Industries Association forecasts just 30,000 units will be shipped in 2019. In a country of 127 million people, this is a minute number and Sharp is the only manufacturer making sets in Japan right now.
Murayama admits the take-up is "tiny" but suggests the rate will increase faster in the next year as prices drop. He points to the example of 4K TVs, of which an estimated 1.5 million have been sold in Japan in the past four years, with prices per unit now as little as a quarter of what they were at launch. "Hopefully, this will happen to 8K TVs too," he says.
8K OPPORTUNITY FOR UK FIRMS
NHK is already co-producing 8K docs with UK partners – announcing natural history film Okavango: A Flood Of Life with Bristol-based Icon Films, and Botswana's venerated Natural History Film Unit, back in March.
It is also working on natural history series The Mating Game (working title), a co-production with the BBC, BBC Studios and Alistair Fothergill's Silverback Films.
As 8K TV set sales gather pace, co-production will be an important endeavour for NHK. As Murayama puts it: "We need a lot of 8K programmes."
NHK has also begun acquiring completed films in 8K from the international markets – handing an opportunity to British distributors, especially in the factual space. "There are filmmakers who use 8K as their default in order to future-proof their products," says Murayama.
There is also a silver lining in the form of the Beijing 2022 Winter Olympics – China could become a big market for 8K, which would speed up sales.
NHK sees the development of innovative and cutting-edge production tech as essential to giving producers the tools to better compete with SVoD and AVoD services.
Murayama says the overall vision is "to create a TV image that is the closest to that of human vision". While it is "technically possible" to develop 50K technology, he adds, 8K appears best to mimic the rates at which the human eye and brain process and perceive real-life images.
However, data shows mobile phone viewing is set to increase significantly, so does it make sense to have such high resolution for such small screens?
For Murayama, the answer is an unequivocal 'yes'. "Hollywood movies look great on a small screen," he says, predicting that as 5G streaming becomes prevalent, streaming high-res content on the go will become a seamless experience.
NHK 8K PROGRAMME HIGHLIGHTS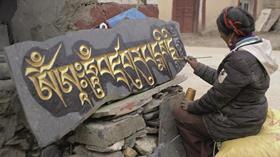 UNDER THE SEA OF CLOUDS: EXPLORING THE TIBETAN PLATEAU
Co-production with Beijing TV
1 x 45 minutes
A peek into a vibrant, hidden Tibetan village of Buddhist monasteries, mountain streams and prayer-inscribed rocks, to which film crews rarely gain access.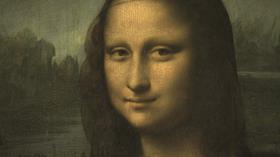 THE LOUVRE IN 8K
Co-production with Musée du Louvre
4 x 59 minutes; 1 x 43 minutes
Series tracing the 500-year history of the Louvre through some of its iconic paintings, such Leonardo da Vinci's Mona Lisa.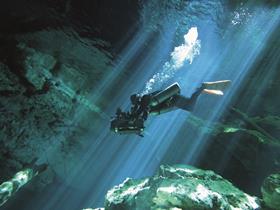 8K NATURAL WONDERS: THE UNDERWATER CAVE OF THE YUCATAN
NHK in co-production with NHNZ
1 x 29 minutes
Film journeying deep into the rarely accessible cave system in Mexico's Yucatan Peninsula, the world's largest of its kind. NHK describes it as an "immersive dive into one of the most gorgeous, unearthly places on the planet".