The company, which uses AI to create professional pop promos for US$18 each, has taken on two music industry execs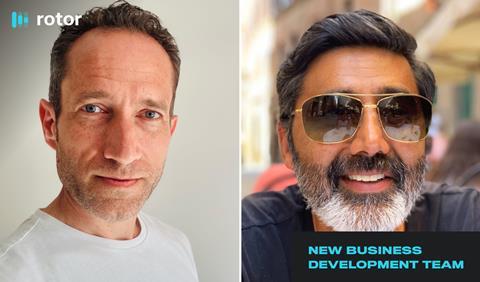 The artificial intelligence (AI)-powered music promo video maker, Rotor Videos, has taken on senior business development executives Alex Branson (pictured, above left) and Pj Dulay (pictured, above right).
The move follows what the company says has been a very positive lockdown period for the business, as bands and labels look to create pro-quality content from home.
Rotor is a cloud-based AI tool that enables the creation of music videos in a few steps – upload your track, pick your video clips (your own or from the Rotor library), and choose an editing and effects style.
The app listens to the music and cuts everything together for the artist, adjusting the timings of clips and effects based on the rhythm, tempo and intensity of the track. A preview video is created and made available to purchase and download in either SD or HD – starting at US$18.
A few example videos, created by Rotor Videos, are below.
Rotor has a user base of independent artists, managers and labels, has seen a 55% increase in user registrations. It has seen a 161% increase in revenue from its app during lockdown.
Branson was formerly general manager at Warner Music Group, while Dulay has previously worked as VP of global digital business at Universal Music Group.
Diarmuid Moloney, Rotor Videos CEO and founder, says: "Bringing in respected music industry executives in Alex and Pj means we can continue to serve, and connect with, more talent and industry partners. The video format is proving ever-more valuable in creating connections, increasing visibility, brand affinity and engagement - particularly during 2020 when much of our regular activity is restricted and safety is key."
Branson says: "The Rotor offering is a well-honed and thoughtful solution, bridging the gap to music video creation for so many musicians and creatives. I'm excited to use my expertise in taking the business to the next level and helping more people to go Rotor their videos."
Dulay adds: "As music videos increasingly connect artists with fans worldwide, it's a great time to be working with Rotor in developing more valuable opportunities for the business, taking its smart music video solution to some of the world's most-loved artists and their teams."