VFX-heavy Cbeebies show now filming in Bristol, in The Bottle Yard's vast M3 Green Screen studio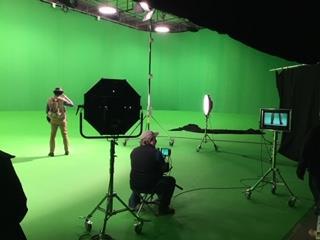 Bristol's The Bottle Yard Studios is housing the shoot for the latest 30 x 14-min series of Cbeebies' Andy's Aquatic Adventures in its massive M3 Green Screen studio, which measures 80ft x 40ft m x 27ft.
The BAFTA-nominated series, produced by BBC Studios and The Natural History Unit's children's department, uses the NHU's extensive archive, which is composited onto the scenes shot against green screen.
In the latest series, presenter Andy Day meets animals living in, or near, coastal habitats, rivers and lakes. The VFX-heavy production sees Day shrink down to the size of the animals and blend seamlessly into the action.
Filming at The Bottle Yard Studios will continue for 10 weeks.
Producer Mark Jones says: "The Bottle Yard's green screen is the perfect fit for our production. The sheer size of it complements the epic landscapes we composite onto it from BBC Natural History Unit's archive. As there is an aquatic theme to this series, we plan to construct a green screen pool, bringing to life the archive of animals that live in our oceans."
Fiona Francombe, Site Director of The Bottle Yard Studios, added: "This series sees our green screen studio used in yet more inventive ways; the creativity of the director and crew with each new theme is outstanding. This is the third instalment we've hosted since first building our green screen for Andy's Prehistoric Adventures in 2015."