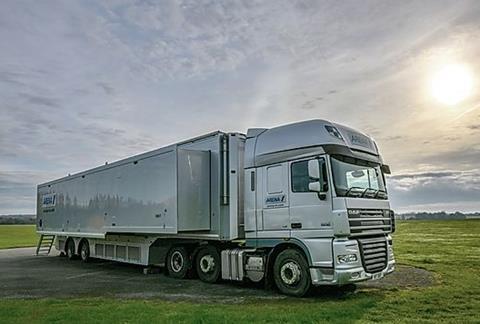 Arena Television has invested in a Sony XVS-8000 switcher for its new OB17 truck.
The OB17 is one of Europe's largest outside broadcast vehicles at 16.5 metres long and weighing in at 32 tonnes. It has twin full-length expanding sides.
Arena TV chose the XVS-8000 after previously having used Sony MVS-8000 series vision mixers for over a decade.
The XVS-8000 and the OB17 truck provides the flexibility to cover productions from HD to UHD, as well as in SDR and HDR.
Dafydd Rees, deputy director at Arena TV, said: "We created a robust truck optimised to address the growing demand we see from high-profile broadcasters to produce HDR content in the HD domain and not just the UHD domain."
Norbert Paquet, head of live production solutions at Sony Professional Solutions Europe, adds: "Having been created to facilitate both HDR and SDR productions, Arena Television's decision to put our XVS-8000 switcher at the core of its OB17 is testament to its ability to meet the demands of modern broadcasting and take production environments to the next level. It's great to hear that the XVS switcher has already been part of large productions such as ITV's Royal Variety Performance - highlighting OB17's full potential."