The widely-used editing software receives a wholesale refresh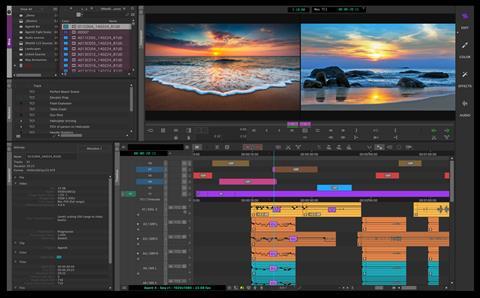 Avid has 'redesigned and reimagined' Media Composer, relaunching it to appeal to future generations of editors.
At the company's Avid Connect event, held in Las Vegas just before NAB 2019, Avid unveiled Media Composer 2019, which has been designed to try to keep both current and future users happy.
Avid describes Media Composer 2019 as providing "a new user experience", with a customisable role-based user interface. The Avid bins have been redesigned and the software now features task-based workspaces, showing only the things the user might need for that task.
Avid appears to be repositioning Media Composer as a complete finishing tool, talking about end-to-end workflows and being able to access "editing, effects, colour, audio, and finishing tools without leaving Media Composer."
Media Composer 2019 can also handle 8K, 16K and HDR, and a new distributed processing add-on speeds up post by sharing media processing. "Tasks that previously took hours can now be done in minutes," says Avid.
Avid CEO Jeff Rosica, said: "After receiving input from hundreds of editors and teams across the media industry, and knowing where the industry is headed, we reimagined Media Composer, the product that created the nonlinear video editing category and remains the gold standard. Media Composer 2019 is both evolutionary and revolutionary. It maintains what longtime users know and love while giving them more of what they need today—and what they will need tomorrow."
Media Composer 2019 will be available in late spring for all of its models and be available in different flavours, including Media Composer | First, Media Composer, Media Composer | Ultimate and Media Composer | Enterprise.