The BBC has completed the roll-out on satellite platforms and is kicking off the roll-out on Freeview and YouView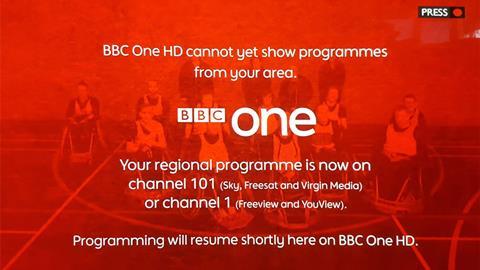 The BBC has now completed the roll-out of BBC1 HD regions on satellite platforms, and tomorrow begins the roll-out for Freeview/YouView viewers.
The initiative gives viewers an entirely HD channel for BBC1 HD on 101 on the EPG, including regional news output and other local programming in HD.
This programming has remained in SD since the birth of HD, meaning viewers have had to switch to channel 1 on the EPG to access regional news and local programming.
The roll-out of BBC1 HD regions will allow the BBC to finally retire the red slate that advises viewers to go to channel 1 for local programming (pictured above).
Making BBC1 HD available on a regional basis is a "major undertaking," says the BBC and will involve the broadcaster launching regional versions of BBC1 HD in two phases.
The changes will take place automatically, although viewers might need to perform a rescan or retune for the update the work.
Following the roll-out, BBC1 will still contnue at channel 1 on the EPG in standard definition, although on newer Freeview Play devices an update will put BBC One HD at channel 1 on the EPG, along with the other HD versions of BBC channels moving to the most prominent EPG numbers. The BBC says it is also working on ensuring BBC1 HD for the English regions is also fully available on BBC iPlayer.