Studio AKA's title sequence and animated inserts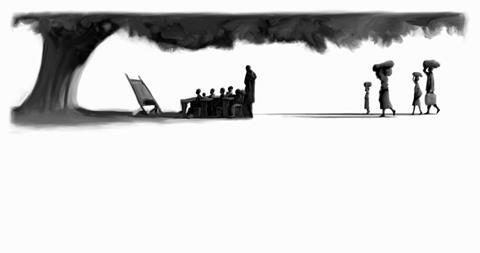 Studio AKA created the 60-second title sequence and nine minutes of animated inserts for eight-part BBC2 and Netflix series Black Earth Rising.
The animated sequences, directed by Steven Small, were used to portray particularly violent and tragic events that took place during the Rwandan genocide and its aftermath.
Small and his team designed hand-drawn segments to be inserted into episodes, taking references from source materials including hand-drawn 2D line animation and live action. Studio shoots and iPhone video influenced the lighting and movement and a combination of 3D, rotoscoping and simple line artwork was used to create the imagery.
Small says: "The opportunity to make imagery for writing as incisive as Hugo Blick's is rare. The sequences needed to resemble broken memories, be spare in their look and only say what they needed to say, removing everything else.
"It felt right to pool sources of reference and inspiration, generating a fragmented quality that gathers the drawing and painted art together within its restless and unsettling style."
The title sequence for the series was created by Studio AKA's Kristian Andrews. He crafted a 60-second sequence using blended After Effects and CG elements to fulfil Blick's vision.
The titles are backed by Leonard Cohen's atmospheric track You Want It Darker, creating a hypnotic, compelling opening to the drama.