The in-person event, produced by SMPTE in partnership with the Broadcast Tech & Sport Group, takes place on 29 June at BFI Southbank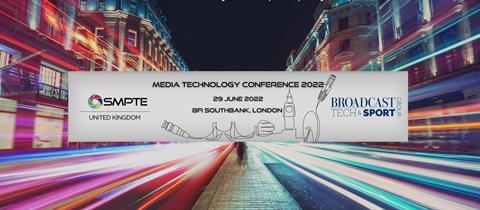 The Society of Motion Picture and Television Engineers (SMPTE) has released the programme for its Media Technology Conference 2022, which takes place on 29 June at BFI Southbank, London.
The event brings together leading industry technologists to present and debate topics affecting the industry in 2022.
SMPTE says the Media Technology Conference is "guaranteed to be opinionated and challenging" and says that audience participation will be encouraged throughout the day.
The conference is separated into two areas – one focused on creative technology, including sessions on virtual production; cloud technology for production and post; and studio technology.
The second area will look at technology infrastructure and has sessions covering standards-based vs proprietary for practical IP studio builds; whether to choose public cloud or private virtual infrastructure; and what use 5G really has for broadcasters.
This one-day conference is aimed at senior technology leaders and their teams in broadcast, production and media distribution, as well as graduates and students entering the industry.
A number of discounted tickets are available for junior engineers. Each full-price ticket qualifies the purchaser to buy two discounted tickets, so a senior engineer can bring two junior team members to the conference, for example. A limited number of complimentary tickets will also be available for students. Full price tickets cost £250 for SMPTE members and £315 for non-members. Discounted tickets (for junior engineers) cost £75 each.
Attendance offers a practical understanding of upcoming technologies, including their strengths and weaknesses, and the experiences others have had in implementing them.
Following the event, there will be a networking drinks reception at the BFI Southbank.
The full programme
Technology Infrastructure (Room: NFT2)
9:00 AM - 10:00 AM
Registration Opens, Coffee and Pastries
10:00 AM - 10:15 AM
Welcome and Session Open
John Ellerton - BT Media & Broadcast
Ian Trow - Ian Trow Tech Ltd
10:15 AM - 10:35 AM
NDI
10:35 AM - 10:55 AM
Standards - ST.2110, PTP and JPEG XS
Dave Mitchison - Appear TV
10:55 AM - 11:15 AM
SDN, PTP and Orchestration
Andy Rayner - Nevion
11:15 AM - 11:45 AM
Coffee and Cake in the Blue Room
11:45 AM - 12:05 PM
Precise 2110 Timing on Windows and remote displays with GPU & DPU
12:05 PM - 12:25 PM
From OB trucks to the Cloud
12:25 PM - 12:45 PM
Panel discussion - ST.2110 - boom or bust?
12:45 PM - 1:45 PM
Lunch in the Blue Room
1:45 PM - 2:05 PM
Should DTH fully embrace social media?
Greg Bensberg - D34
2:05 PM - 2:25 PM
5G for media - just a faster 4G, or delivering new applications?
2:25 PM - 2:45 PM
10 myths of the Cloud
Larissa Görner-Meeus - Grass Valley
2:45 PM - 3:15 PM
Tea and Cake in the Blue Room
3:15 PM - 3:35 PM
Royalty Tracking in OTT and Streaming
Mark Rawlings-Smith - Conviva
3:35 PM - 3:55 PM
Infrastructure Security - A Broadcaster's Perspective
3:55 PM - 4:15 PM
Panel Discussion: Cloud vs On-Prem?
4:15 PM - 4:30 PM
Session Wrap Up
John Ellerton - BT Media & Broadcast
Richard Welsh - Deluxe
4:30 PM - 6:30 PM
Drinks and Snacks in the Blue Room
Creative Technology (Room: NFT3)
9:00 AM - 10:00 AM
Registration Opens, Coffee and Pastries
10:00 AM - 10:15 AM
Welcome and Session Open
Richard Welsh - Deluxe
10:15 AM - 11:15 AM
Session 1 - TBD
11:15 AM - 11:45 AM
Coffee and Cake in the Blue Room
11:45 AM - 12:45 PM
Remote and Cloud vs On-Prem Post Production in a Post-Pandemic World
Cara Sheppard - Twickenham Studios
Darren Woolfson - Molinaire
12:45 PM - 1:45 PM
Lunch in the Blue Room
1:45 PM - 2:45 PM
Next Gen Cinematography
Christina Nowak - Anna Valley
Julia Lou - Lux Machina
2:45 PM - 3:15 PM
Tea and Cake in the Blue Room
3:15 PM - 4:15 PM
What do Blockchain and NFTs Mean for Film Makers - Taking Rights Back and Making Money
Tracie Mitchell - Greenfish.io
Mark Kenna - Bad Blood Films
Solene Marvian - Films Angel
4:15 PM - 4:30 PM
Session Wrap Up
Ian Trow - Ian Trow Tech Ltd
4:30 PM - 6:30 PM
Drinks and Snacks in the Blue Room