The cameras are part of a new system including a hardware controller and protocols enabling existing cameras to work within the production system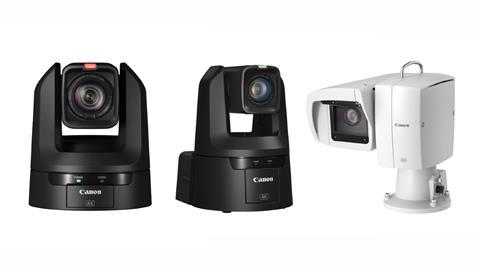 Canon has launched three new pan-tilt-zoom cameras – the CR-N500, CR-N300 and CR-X500 – as part of a new remote camera system. It has also released a hardware controller for the cameras (the RC-IP100), as well as a free software controller called Remote Camera Control Application.
The CR-N500 and CR-N300 are indoor PTZ cameras, while the CR-X500 is an outdoor camera. They all capture high-quality 4K UHD footage with various IP protocol compatibilities.
Meanwhile, Canon's new XC Protocol enables other compatible Canon video products to work within the production system, which will "help content creators of all levels to customise their production system to suit their needs."
Canon has committed to releasing firmware which makes its Cinema EOS range cameras compatible with this new remote production system.
Of the three PTZ cameras Canon has announced today, the two indoor cameras (the CR-N500 and CR-N300) enable IP streaming and operation for live productions. Both support multiple protocols including RTMP/RTMPS, NDI|HX, RTP/RTSP and Canon's newly developed XC Protocol.
The CR-N500 utilises Canon Log 3 and Wide DR modes to produce what it says are "the best possible HDR results for both live streamed or recorded content ready for post-production."
For outdoor captures, the CR-X500 has a rugged, robust body with IP55 water and dust proof rating, remote control capability over serial communication and an inbuilt wiper to cope with wet conditions.
In terms of connectivity, the CR-N500 and CR-N300 have Power over Ethernet (PoE+), HDMI, 3G-SDI, and the CR-N300 offers an additional USB port. The CR-X500 uses a 12G-SDI connection to achieve 4K UHD up to 60P with a single cable.
Canon says all the cameras achieve quality equivalent to Canon's professional video products. The CR-N500 and CR-N300 capture 4K UHD 30P at 4:2:2 10-bit; while the CR-X500 leverages captures up to 4K UHD 60p, also at 4:2:2 10-bit.
The CR-N500 and CR-X500 include Canon's Dual Pixel CMOS AF focusing system for accurate and quick focusing in 4K. Meanwhile, the CR-N300 includes the Hybrid Auto Focus system, providing sharp and quick focus.
The CR-N500 and CR-X500 have a 15x optical zoom, while the CR-N300 has a 20x optical zoom. The cameras have image stabilisation for "smooth, shake-free imagery from wide angle to telephoto." The CR-X500 also includes an additional 30x advanced zoom when capturing in full HD.
The RC-IP100 hardware controller can control 100 PTZ cameras at once from a single operator. It provides control over focus, white balance and shutter speed, and features a multi-function joystick and professional zoom rocker for incremental movement of the camera and smooth transition between wide and tele zoom.
Both the RC-IP100 and the Remote Camera Control Application can control up to 100 pre-set positions, as well as the trace function setting, where 10 camera movements can be pre-determined in a rehearsal and then the sequence initiated by pressing a button.
The Remote Camera Control Application runs on computers and tablets and is capable of controlling up to 20 Canon PTZ cameras. Up to nine can be shown as a preview on the user interface.
The software control allows the image settings of the camera such as iris, white balance and gain, to be fine tuned from a laptop keyboard.
The CR-N500 and CR-N300 are compatible with the RC-IP100 controller and the Remote Camera Control Application via IP and selected third-party controllers. The CR-X500 is also compatible with the RC-IP100 controller via Serial Connection.
The CR-N500 costs £5,399, the CR-N300 is £2,699, the RC-IP100 is £2,050.92 and the CR-X500 will retail at £23,750.
Paul Atkinson, product specialist, Professional Video Cameras, Canon, told Broadcast: "There's been a marked change in the way things are being captured. Lots of big events are being done remotely and these cameras will fit in anywhere. You can simultaneously pan, tilt and zoom at the same time, much more like a handheld camera. It's not just about the cameras either, they are part of a new system, and the protocols will be compatible with other systems too. We'll include the opportunity to use existing cameras via a firmware update."