The low down on Canon's new compact 5.9K Full Frame model
Canon has launched the C500 Mk II camera, a compact Full Frame model that records in Canon's new 5.9K Cinema RAW Light codec onto CFexpress cards.
The camera is built around Canon's 5.9K Full Frame CMOS sensor, to provide what Canon says is "a cinematic, immersive Full Frame look combined with Canon's natural, smooth skin-tone and faithful colour reproduction."
Canon is pitching it as a versatile, portable camera for 4K, with the C500 Mk II using a high-quality debayering algorithm when over sampling 5.9K into 4K, resulting in "exceptional image quality".
The C500 Mk II has 15+ stops of latitude with wide colour space, meaning it's well suited for High Dynamic Range (HDR) shoots.
It also has a built-in motorised Full Frame ND unit (2,4,6, 8 and 10 stops) enabling images to be captured with a shallow depth of field, even in the daytime.
The Cinema RAW Light format used by the C500 Mk II has "all the benefits of a RAW file in terms of flexibility in post-production yet allows the EOS C500 Mark II to record high quality files in a smaller file size," says Canon. The camera can make high frame rate recording up to 50/60 fps in 5.9K resolution with the Cinema RAW Light codec.
It can also record internally in Canon XF-AVC format with 4K 4:2:2 10bit, simultaneous recording as well as proxy recording.
The camera has a modular design, so is configurable to suit each production's needs. It's the first camera in Canon Cinema EOS camera with a user interchangeable lens-mount for EF and PL, widening the choice of lenses available. It's also the first Cinema EOS camera to support Electronic Image Stabilisation.
The camera also has Canon's dual pixel CMOS Auto Focus (AF), including face detection AF and tracking AF, enabling focus control in a variety of filming situations. To further fine tune AF performance, the camera offers the ability to set the AF tracking speed and response.
The C500 Mk II supports user LUTs, enabling cinematographers to apply or customise their own LUTs.
The camera has a list price of £16,999.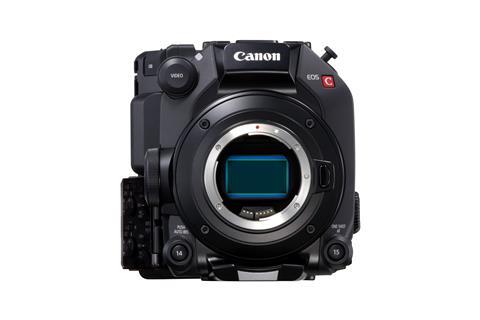 Canon EOS C500 Mk II key features:
5.9K Full Frame sensor
Faithful color reproduction with Canon color science
Natural and smooth Skin tone
HDR capable with PQ/HLG and Canon Log 2/3
Internal recording to CFexpress / Cinema RAW Light and XF-AVC
Compact and robust body
Lightweight body at 1,750g
Reliable in harsh environments
Modular system
User interchangeable lens mount
Pioneering autofocus technology
Electronic IS
User LUTs
Internal ND (2/4/6/8/10)