VFX giant announces recruitment of general manager, head of production VFX and global head of production for feature animation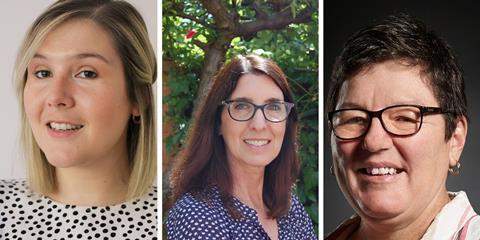 Cinesite has taken on three new hires at its London and Montreal offices.
Melissa Taylor (pictured centre) joins as general manager and Siobhan Bentley (pictured left) as head of production VFX in London; while Tamara Boutcher (pictured right) joins as global head of production for feature animation, in Montreal.
Taylor will oversee Cinesite London's visual effects studio while working closely with Montreal colleagues and group VFX brands Image Engine and Trixter.
She has 30 years' industry knowledge and joins Cinesite from Framestore, where she was global head of business development.
Bentley joins Taylor at Cinesite's London HQ where she's tasked with leading, developing and motivating the production teams to drive efficiency and continuous improvement. She joins from MPC.
Meanwhile, Boutcher becomes global head of production for feature animation after an internal promotion. She will be responsible for the production and day-to-day operations of Cinesite's growing feature animation slate.
Cinesite CEO Antony Hunt, said: "Melissa, Siobhan and Tamara are proven talented executives with deep knowledge of the visual effects and feature animation industries. In joining our global leadership team they'll bring a broader range of ideas and approaches to further strengthen Cinesite's position in the market.
"Working towards equal representation in an industry which is statistically male-dominated is very important to us all and we're working hard to improve the balance. Cinesite is driven by talented people, whatever their gender, race or orientation. We have a collective philosophy on diversity and inclusion which is embodied in our wider approach of encouraging everyone on the team."