The immersive format projects images onto the side walls of the cinema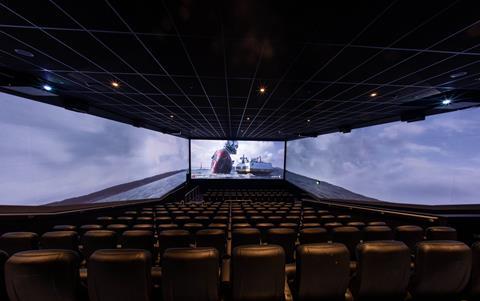 Cineworld has opened a new 270-degree cinema experience called ScreenX that it says is the "world's first multi-projection cinema technology."
ScreenX supplements the main screen images with additional images projected onto the side walls of the cinema, to create an immersive viewing experience.
Proprietary ScreenX software blends these multiple images into one 'seamless' image extending from the central screen and out to the sides.
The side walls are covered in a fabric that ensures the brightness and colour closely match the main screen content.
The ScreenX cinema at Cineworld Greenwich O2 uses an idea originally launched in South Korea in 2015 and is the first UK cinema to bring the tech to the UK, along with Cineworld Speke. Cineworld Leeds White Rose will add ScreenX capabilities next month.
Cineworld then plans to extend the rollout to 100 theatres across the UK, U.S and eight other international locations.
A number of Hollywood films have been screened in the ScreenX format since its launch in South Korea, and Cineworld marked the opening of its ScreenX cinema in Greenwich by screening sci-fi horror The Meg (pictured above) in the immersive format last night.
Byung-Hwan Choi, CEO of one of ScreenX's developers, CJ 4DPLEX, said: "ScreenX mimics how the human eye interprets a visual by appealing to both our front and peripheral vision. It honours our commitment to break cinematic boundaries and create amazing cinema experiences."
Kelly Drew, Cineworld operations director added: "We are driven by innovation and this fully immersive experience will transform the way our customers experience film. With a great line-up of films such as The Meg and The Nun, ScreenX will truly transport movie fans into the on-screen action."