Salford post-production house invests across its facilities to gear up for 4K HDR work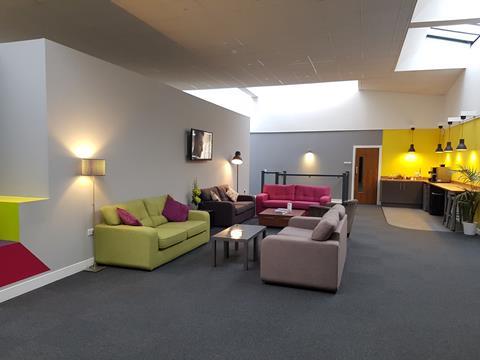 MediaCityUK-based post house Core Post (reception area pictured above) has invested around £250,000 in expanding its picture and audio facilities.
The investment includes adding 10 offline edit suites, bolstering its offline capacity to 19 suites, and upgrading one of its audio dubbing suites to be Dolby Atmos capable.
Its kit purchases include a DaVinci Resolve Advanced panel and an Eizo 4K HDR monitor for its grading suite. It has also expanded its storage services, investing across its Avid Nexis, nearline storage and LTO archive.
The expansion was triggered after Core Post won the post work on Sky's 4K Ultra HD, HDR production Brassic.
"We have been seeing a lot more interest in 4K Ultra HD and HDR and these deliverables recently, so we saw this as the ideal opportunity to be ready to provide those services ourselves," said Matt Brown, senior editor and co-founder of Core Post.
The facility has also taken on three support staff and an online editor to crew up for the increased volume of work, Brown told Broadcast.
"Our vision is to remain one of the leading post-production providers in the region, and to continue to evolve with technological advances as they happen," he said. "Our investment in 4K HDR and Atmos shows we are now well placed to meet the latest delivery needs of our clients."