Development will see it become the biggest studio complex in the world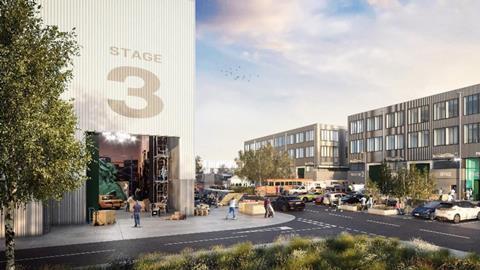 Buckinghamshire Council has approved Pinewood Studios' plans for a 1.4 million sq ft expansion.
The expansion will include 21 new sound stages, a backlot filming space, education and training hub and a publicly accessible nature reserve. Once completed, Pinewood will be the biggest studio complex in the world with a total of 51 purpose-built stages.
In addition to the studio, the development will create a 63 acre nature reserve at Alderbourne Farm north of the existing studio site. The publicly accessible reserve will protect existing habitats and enhance local biodiversity, as well as provide new footpaths.
The studio estimates that the expansion will create over 8,000 new jobs and inject £640 million a year into the UK economy.
Pinewood Group corporate affairs director Andrew M Smith OBE DL said: "We're delighted Buckinghamshire Council has approved our plans for the expansion of Pinewood Studios and new nature reserve at Alderbourne Farm. This development will provide invaluable resources to the British film and TV sector, consolidate Pinewood's status as the UK's leading production site, deliver significant benefits to our local community and encourage new talent to join the industry."
Pinewood Group is also currently expanding Shepperton Studios, with Netflix supporting work to double the size of its production hub there.