The well-established outside broadcast providers will merge and rebrand to EMG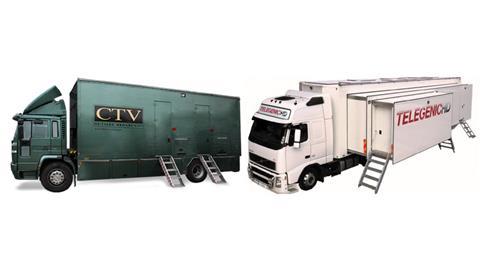 Outside broadcast specialist EMG Group has announced that its brands CTV and Telegenic will now operate under the EMG brand.
In a press release, EMG said: "CTV and Telegenic have made an amazing contribution to the market, however, their consolidation delivers numerous synergies that will enhance the market value of EMG and deliver a stronger and more dynamic single entity."
EMG goes on to say that removing the barriers between these divisions will deliver a stronger, re-focused EMG with a clearer market offering. It also believes the rebranding will enable EMG to develop more innovative technical solutions.
40-year old company CTV was acquired by EMG in the mid-2000s, and has a crew totalling around 100. EMG acquired Telegenic in 2019, and operates a fleet of 15 OB and production trucks and employs around 100 people across production, admin, and management. The company was originally founded in 1981.
Part of the thinking behind the transformation of its outside broadcast services is to enable EMG to more effectively transition towards remote production through the use of its Remote Operations Centres in High Wycombe and BT Tower and BT Sport Studios in London.
With Telegenic and CTV now under the EMG brand, all major companies in the group are now re-branded, across EMG's operations in the Netherlands, Belgium, France, Germany, Italy, the UK and the US
As part of the change, former Telegenic commercial director Eamonn Curtin has been appointed international sales director in the EMG Group. Angela Gibbons succeeds Eamonn within EMG UK as sales director of EMG UK.
Both will be based at EMG's UK HQ in High Wycombe.
CTV and Telegenic employees in the UK and US will now work for EMG and continue to be based in High Wycombe and Atlanta, Georgia, respectively.
Shaun Gregory, CEO, EMG, said: "I'm really excited about formally welcoming CTV and Telegenic into the EMG family. They are both hugely respected businesses that have delivered some of the most compelling content to audiences around the world. EMG UK will be able to access a whole new range of products and services, further develop their 'remote strategy' and benefit greatly from the financial stability that being part of a group offers.
Peter Bates, CEO, EMG UK, said: "It takes a special kind of togetherness to bring these major events to the watching world. Our teams of experts work behind the scenes to capture events live and broadcast them to an expectant audience. These are people whose passion for what they do is matched only by the passion their work invokes. As we start this new journey, they know that when we join together, we create something more powerful than all of us."
EMG's credits include The European Tour, Tour de France, Ryder Cup, FIFA World Cup, UEFA European Championships and Formula One, as well as live shows including Eurovision, MTV Awards, BRIT Awards and Royal Events and entertainment shows including The Voice, Masterchef and The X Factor.