It has recruited Adam Buckner and Tim Doubleday to specialist virtual production roles at the company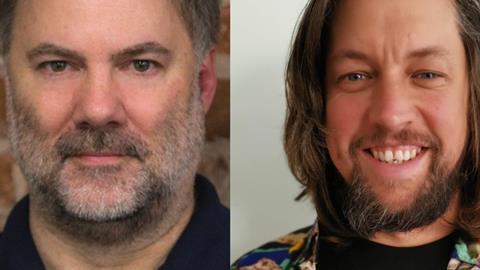 Mixed reality specialist Dimension has expanded its VFX and mo-cap team in response to "soaring growth" in demand for real-time filmmaking and virtual production services.
Adam Buckner (pictured, above left) joins Dimension as virtual production supervising producer. He joins from Lipsync Post, where he was senior VFX producer, following more than six years at Unity Technologies in a role which saw him train millions to use the real-time engine.
His credits include Star Trek: Deep Space Nine, for which he was nominated for two Emmy Awards.
Buckner will lead Dimension's team creating cinematic real-time scenes and delivering on set virtual production using LED stages.
Dimension has also taken on Tim Doubleday (pictured, above right) as virtual production supervisor. He has more than 20 years of experience in motion capture and real-time graphics for games and film, including working with Andy Serkis on films including Star Wars: Episode VIII – The Last Jedi and Mowgli: Legend of the Jungle.
Dimension launched its virtual production offering in March 2020, and in February, announced a strategic partnership with visual effects and animation company DNEG for virtual production.
Simon Windsor, co-founder and joint managing director at Dimension, said: "As our virtual production and volumetric pipelines converge, Adam and Tim's vast experience in film and VFX is an incredible asset to the team. The film industry is increasingly looking to virtual production, fuelled by real-time engines and emerging technologies such as volumetric capture, and for new creative and effective ways to develop films and create story worlds."