The new wing to the company will support live, virtual production and "location-based experiences" for the metaverse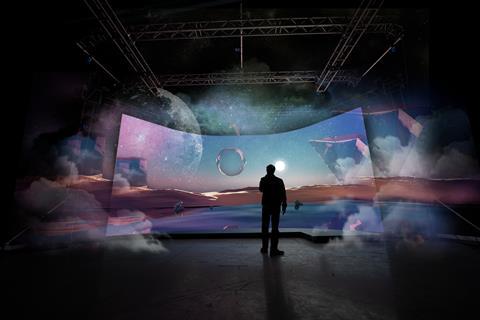 Disguise has launched a Metaverse Solutions division to support live, virtual production and "location-based experiences" for the metaverse.
The company sees projects catering to the metaverse as a growth area, as audiences crave "richer, more immersive experiences". It believes companies are finding it challenging to navigate the technical elements needed to start building metaverse experiences, which has been the driver for setting up the new division.
According to Disguise, 45% of all adults are keen to listen to live music in a virtual world, while Rolling Stone magazine believes we're on the brink of a "virtual artist revolution" with Ariana Grande, J.Balvin and DJ Marshmello being among the early adopters.
A number of Disguise customers already have experience using Disguise technology to deliver live events in the metaverse, including launch events for major brands such as Gucci and Ferrari.
Disguise Metaverse Solutions will build on existing products and services to make it possible for businesses to start taking advantage of the opportunities the metaverse has to offer. The new division aims to work with major and emerging metaverse platforms, such as Fortnite, Roblox, Sandbox and Niantic to deliver integrated solutions so brands and performers can create metaverse experiences.
Disguise will work with metaverse event enablers Surreal and advanced content creators Zoan while also combining their workflows and expertise with Epic Games' suite of applications, such as architectural visualisation tool Twinmotion, web 3D viewer Sketchfab and 3D photogrammetry software Capturing Reality. This will enable Disguise to offer virtual production workflows that are custom-designed for the metaverse.
Disguise CEO Fernando Küfer said: "Our mission is to help create experiences that challenge expectations. We believe in connecting the physical with the virtual worlds, to create gateways to the metaverse. Through this we will enable a world that fulfils essential human needs – to connect, to collaborate and to be included. The promise of the metaverse is to unleash a new wave of opportunities for every kind of creator, including partners, brands, and performers alike. We have always focused on simplifying complex technology to unlock creativity that empowers our users to create the most amazing experiences. The creation of our Metaverse Solutions division is a key part of this strategy."
Disguise head of Metaverse Solutions Alex Wills, adds: "There is a huge amount of interest and investment in this space right now and, what is most exciting about launching this new division is that we offer a tangible solution to help brands and creators develop the next generation of experiences. Our xR technology combines key metaverse building blocks including real-time 3D graphics, spatial technologies and advanced display interfaces – all to deliver a one-of-a-kind gateway to the metaverse."
Disguise is holding a webinar, 'Opening the Gateway to the Metaverse', on 15 June 2022 in the Metaverse via the Surreal Platform, featuring thought leaders from Epic Games, Amazon AWS, and disguise. You can register for the event at https://disguise.surrealevents.com/register