Significant investment in 4K kit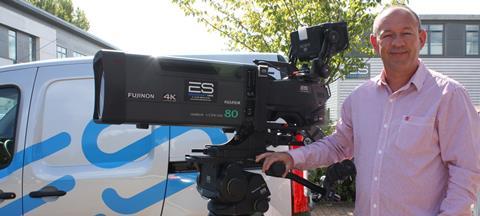 ES Broadcast Hire has bought 33 x Fujinon 4K box lenses that it will make available for use on live sport and light entertainment production.
The 11 x UA27x6.5BE and 22 x UA107x8.4BE 4K lenses will be added to the company's existing UHD lens inventory in December.
ES Broadcast Hire managing director Warren Taggart (pictured) said it was an "easy decision" to buy the lenses: "The UA107 will expand our range of lenses for live sports, while the UA27 will appeal to studios for light entertainment, as well as fulfilling a role on the halfway line at football and rugby matches."
During 2017 ES Broadcast Hire's kit has been used on coverage of the Monaco F1 Grand Prix, English Premier League football, the Six Nations rugby championships and the UEFA Champions League final.
In September, the company bought 100 x Sony HDC-4300 4K camera channels along with 2 x Sony HDC-4800 ultra-slow-motion 4K camera channels, 2 x Sony XVS-8000 4K vision mixers and a number of Grass Valley LDX 86N 4K camera channels.
ES Broadcast Hire is the kit rental division of ES Broadcast.