Significant camera investment announced at IBC 2017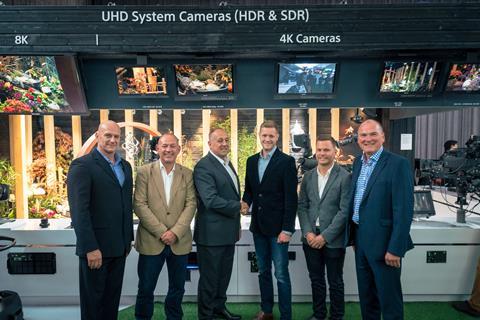 Equipment rental company ES Broadcast Hire, which specialises in 4K equipment, has made a huge investment in 100 of Sony's flagship 4K system camera, the HDC-4300.
It has also purchased two of Sony's HDC-4800 4K ultra high frame rate cameras and two Sony XVS-8000 4K switchers. The deal was announced at IBC 2017.
ES Broadcast Hire is headquartered in London and has recently opened new offices in Munich and Madrid and also plans to open in Belgium later this year.
Following the vast expansion of its inventory of HDC-4300s, it now has the largest fleet of the camera in Europe, with more than 140 of them in total.
Its substantial haul of 4K cameras and switchers will be used for "major sporting events and future-proofs ES Broadcast Hire's offering as more customers make the move to 4K," said ES Broadcast Hire.
The company's backing of the Sony HDC-4300 is down to the camera's "proven 4K and HDR performance," said Edward Saunders, CEO, ES Broadcast Hire. "We know that an investment in Sony technology will enable our customers to deliver high-quality content to audiences across the globe."
PICTURE CAPTION: From left to right: Darren Thompson-Allott - ES Broadcast Hire Account Manager, Sony Professional Solutions Europe, Warren Taggart – Managing Director, ES Broadcast Hire, David Nortier – UK Sales Director, Sony Professional Solutions Europe, Edward Saunders – CEO, ES Broadcast Hire, Ben Murphy – Managing Director, ES Broadcast Hire, Richard Scott – Head of Media Solutions, Sony Professional Solutions Europe