Regional facility adds head of technical operations and a senior editor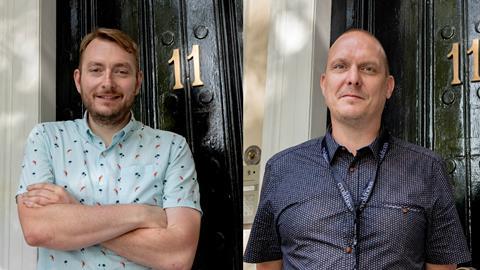 Evolutions has recruited two new senior staff members for its facility in Bristol.
Janne Harrowing (pictured above right) joins as Bristol head of technical operations. He joins from the BBC, where he spent the last three years coordinating the work of the BBC EDGE Group, including trialling what impact 5G could have on content production and researching IP contribution technologies.
Evolutions has also taken on Paul Goodman (pictured above left) in Bristol. He joins as senior editor and previously spent 12 years at Envy, working on projects including Surgeons: At the Edge of Life, 999: What's your emergency and Flirty Dancing.
Evolutions Bristol managing director Gabriel Wetz, said: "I couldn't be happier to have both Janne and Paul join us. Janne brings a wealth of knowledge and confidence from his previous role and will help us develop in all technical areas. Paul brings an additional depth of creative experience from his long tenure at Envy working on a massive list of high-end content."
Evolutions Bristol's recent credits include Countryfile, Gardeners World, Serengeti and Crystal Maze.