Michael Sienczak joins as head of technical operations while Joe Stabb is promoted to head of creative DI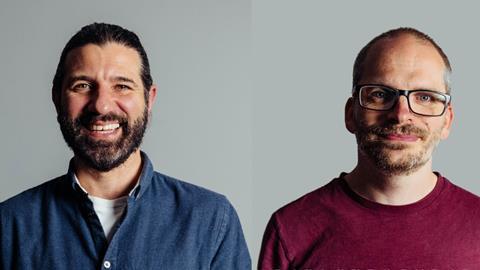 Fifty Fifty has appointed Michael Sienczak as head of technical operations. He joins from Halo where he was head of workflow. In his new role he will spearhead new workflows and play a key role in Fifty Fifty's technical strategy.
Fifty Fifty is expanding this year, opening a new building near its existing Soho base on D'Arblay street. The building will house additional offlines and finishing suites to support a growing slate of feature documentary and scripted specialist SVOD programming in HDR and Dolby Atmos.
The company has also promoted senior colourist Joe Stabb to head of creative DI. Another new role at Fifty Fifty, Stabb will provide leadership and guidance for the picture team as well as ensure creative requirements are catered for across all workflows in the business. Stabb will continue to lead as the company's premiere colourist.
Sienczak added: "I am really excited to join the team here at Fifty Fifty. Their reputation in the industry has always been great, and I am looking forward to feeding into that legacy and helping to build a bright and promising future. In conversations about the position with [joint MDs] Alex and JP, our collective impressions of the industry and vision for the future of post aligned very easily, which helped make it an easy decision to take on this new challenge."
Fifty Fifty operational MD, Alex Meade, added: "We are delighted to have Mikey [Michael Sienczak] join the team here at Fifty Fifty, not only does he come with a wealth of experience and expertise, he is also very much aligned to the ethos and culture of the team and we are looking forward to a very exciting future with him at the helm of our technical team."
Stabb said: "After working at Fifty Fifty for the past three years as senior colourist, I am continually impressed by our team's energy and passion to push the boundaries and develop our roster of work. I am thrilled to be diversifying my role focusing on the creative picture output of the company and harmonising the creative requirements of our clients' projects to complement the bespoke technical solutions that Fifty Fifty does so well."
Fifty Fifty commercial MD, JP Dash, added: "Joe's new role as head of creative DI is a perfect complement to Michael's appointment as head of technical operations. Fifty Fifty already has a fantastic grounding and track history in cutting edge workflows across HDR and Dolby Atmos finishing and we are taking bold steps increasing our work portfolio across feature documentary and scripted programming. Together, Joe and Michael can ensure that we are well placed for further developments in technology and to allow workflows to be elegant without any creative compromise. It's a hugely exciting time for us."
Recent credits for the post house include Netflix eight-part reality series Snowflake Mountain for Naked; The Savoy, series 2 (BBC) for Studio Ramsay; and scripted comedies, The Mind of Herbert Clunkerdunk, series 2 and Lazy Susan (BBC) for Tiger Aspect.