The immersive audio room has been unveiled as part of a facility-wide series of upgrades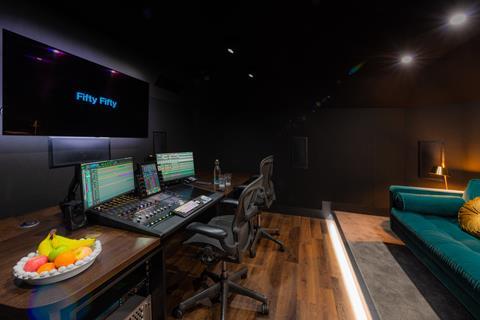 Fifty Fifty has opened a Dolby Atmos suite at its offices at D'Arblay Street, Soho.
The immersive audio room includes 12 low-profile speakers sunk into the walls and ceiling. The room is built around an Avid S6 mixing desk, with the control room desk and booth desks designed and built by AKA Design.
Fifty Fifty has already delivered Jack Whitehall Stand Up in Dolby Atmos, and has a growing roster of SVoD/OTT work with Dolby Atmos requirements from a number of its clients.
Fifty Fifty says it believes Atmos will "become the norm for OTT delivery."
The Atmos suite replaces a previous audio mix room at the facility. The control room space has been expanded and reconfigured to accommodate a larger number of clients attended mix reviews.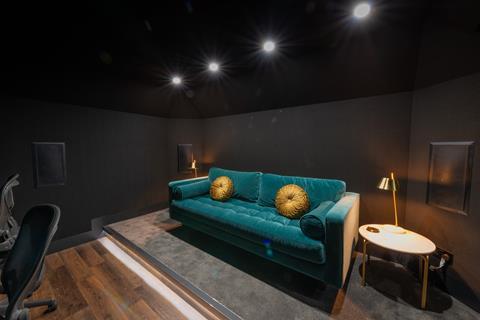 The desk in the control room is now also large enough to provide clients some desk space to work at when attending the dub, while the voiceover room can comfortably seat two people.
Fifty Fifty joint-md JP Dash told Broadcast: "We know the importance of keeping talent relaxed so a lot of time went into making sure the room is spacious, airy and has natural light (through an acoustically sealed window). Having line of sight into the suite is also essential, which we have wherever you sit in the room."
The upgrades include a rack-mounted Mac Pro and Avid MTRX, enabling Fifty Fifty to utilise audio-over-IP via Dante within the suite and voiceover booth, reducing the amount of cabling and giving the facility greater flexibility.
Gavin Allingham, head of audio at Fifty Fifty, said: "After hearing how incredible they sounded, we opted to use PMC speakers. They are extremely low profile, which allowed us to sink all 12 of them all in the walls and ceiling, helping to keep the room feeling spacious. They sound epic."
In addition to unveiling its first Dolby Atmos room, Fifty Fifty has also invested in kit and upgrades for elsewhere in the facility. These include a Sony BVM-HX310 HDR Trimaster HX 4K HDR monitor for its HDR finishing suites and QC rooms, and a Leader LV5600 broadcast-quality waveform monitor for 4K monitoring.
It has also fully refurbished its outdoor terrace, which will open at the end of this month, and doubled the capacity of its offline facilities. These has increased to 24 rooms in D'Arblay St, taking its capacity to 40+ offlines using a mix of remote and on-location cutting rooms.