Very few tickets are available for Broadcast TECH's 200-capacity free-to-attend event at BT Sport Studios this month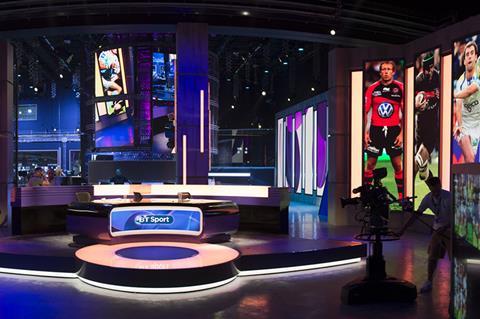 Broadcast TECH is hosting a full-day Sports Tech Innovation Forum on Wednesday 22 November at Studio 1 in BT Sport Studios (pictured above). The event, which is part of Broadcast Tech Fest 2018, is free-to-attend and focuses on the consistently pioneering area of tech innovations in sports broadcasting.
Broadcast TECH has lined up a long-list of high-profile speakers for the event, including ITV head of digital – daytime, sports and factual Jaine Sykes; BT Sport COO Jamie Hindhaugh; DAZN VP of Insight and Analytics Luc Osbourne; Eurosport SVP Technology Gordon Castle; Premier League Productions senior producer Nai Wyn Thomas; British Esports Association content director Dominic Sacco; The FA senior video manager Damien Cullen; IMG head of engineering Tim De Marco; and many more.
The Sports Tech Innovation Forum is a full-day event with a series of compelling panel speaker sessions and short case study presentations, all examining, debating and celebrating the ever-expanding role technology plays in all aspects of sports production.
The day kicks off with a keynote from BT Sport COO Jamie Hindhaugh introducing the themes of the day while highlighting the innovations BT Sport has pioneered through ground-breaking use of technology.
This is followed by a 'State of the Nation' panel discussion, including Eurosport, ITV Sport and BT Sport, which will discuss how sports broadcasters are utilising tech innovations such as artificial intelligence, immersive VR/AR production, HDR, live streaming, data-driven analysis, and bespoke OTT platforms to transform their productions.
The next panel discussion focuses on fan engagement and what sports broadcasters, rights holders and tech companies are doing to enrich the viewing experience and fans' relationships with different sports.
Other sessions throughout the day include a speaker panel discussing how data is being used to bring sports broadcasts to life; a behind-the-scenes look into the production and distribution of a large esports tournament; a panel discussion looking at how the tech developments outlined in the 'State of the Nation' session are making their mark on the production of sporting events. There are also case studies on the production of drone racing for Eurosport, the Women's Super League and 4K outside broadcasts.
Broadcast TECH's Sports Tech Innovation Forum is free-to-attend and takes place in Studio 1 at BT Sport Studios in the Queen Elizabeth Olympic Park, Stratford, London on Wednesday 22 November.
There has been heavy demand for tickets to the event and while there will be seating for 200 people, there are only a few tickets left. If you would like to register your interest to attend, visit http://broadcasttech.co.uk/sports-tech-innovation
The key subjects under discussion during the Sports Tech Innovation Forum include:
Consumer trends in sports viewing, including 4K, HDR, high-frame rates and the devices and platforms used to access content.
What 5G will mean for televising sports/remote production
Case studies demonstrating pioneering uses of tech in sports production
The increasing role of AI in sports – what it enables and what will be possible in the future
How to plan, develop and market a successful sports OTT platform
AR/VFX developments in virtual studios, on-screen graphics and match analysis
The rise and rise of eSports
The growth of live streaming, direct-to-consumer broadcasting
Is TV no longer the platform of choice for sports broadcasts?