Each project utilises extended reality (XR) to attempt to realise new forms of storytelling and entertainment.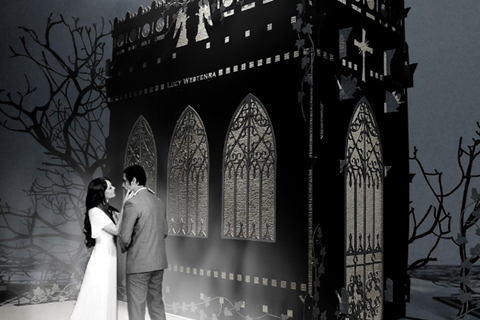 Digital Catapult and Arts Council England have selected 20 'cultural experiences' using extended reality immersive technology (XR) to receive funding, mentorship and technical support to "realise new forms of art, storytelling and entertainment."
The 20 experiences were revealed at the CreativeXR Showcase and Market at the beginning of this month, having been whittled down from 260 applications for the programme.
CreativeXR is run by Digital Catapult and Arts Council England in partnership with StoryFutures Academy, with support from the BFI International and the Epic MegaGrants program.
Several of the projects selected require minimal equipment to be accessed at home. This includes Transportalists, a live concert experience which can be projected onto a tabletop and experienced via a smartphone; and The Invited, an Augmented Reality pop-up storybook brought to life on a tablet.
The 20 XR projects at this year's CreativeXR:
A Place to Be by Independent Film Trust. A 360˚ VR experience set in a South London shebeen, which uncovers the untold histories of Black Britons.
Austerity on Trial by English Touring Theatre and Notional Theatre Immersive Storytelling Studio. An immersive courtroom experience combining installation, mixed reality and verbatim testimony to explore the human impact of austerity in the UK.
Blood Speaks: Maya – The Birth of a Superhero by Just Another Production Company. An immersive story following a girls transformation into a uniquely female superhero whose powers are derived from menstruation.
Hatsumi by Hatsumi. A WebVR tool to communicate the experience of pain and emotion through 3D drawing
Child of Empire by Project Dastaan and Anzu Films. A VR docufiction based on the 1947 Partition of India and Pakistan which puts you in the shoes of a migrant, weaving together vignettes from three of partition witnesses' stories.
#CorpTopia by Kimeleon.tv. An AR multiplayer immersive theatre video game set in a parallel world of biologically mixed human-animal species.
Extraordinary People - Extraordinary Places by ScanLAB Projects. A series of independent stories allowing the viewer to step into 3D rendered environments and hear from some fascinating characters.
Future Rites by Alexander Whitely, Sandra Rodriguez and Normal Studio. A collaborative VR dance performance based on the seminal ballet The Rite Of Spring, combining live motion capture, real-time animation and AI.
Hatched by Satore Studio and Borough Productions. A musical drama tracing the intense relationship between Trump and his Twitter avatar.
(Hi)Story of a Painting by Fat Red Bird. A series of educational stories, where each episode will build a painterly world around an iconic work of art.
The Invited by Davy & Kristin McGuire (pictured above). The world's first augmented reality pop-up book based on the classic story Dracula
IamMUSIC by KRAKED and Associated Industries. A bold new creativity tool designed for users of any skill level to create music and build delightfully immersive experiences in ways only possible in VR.
Munkination - A Second Chance by Visualise & Audience Labs at the Royal Opera House. A hip hop opera about climate change inspired by Afrofuturism
New World by Forest Tribe. A theatre show using 5G live-streaming, music and haptic technology to create a shared, inclusive experience for children with complex needs.
REBOOT by AΦE. A surreal future world where time and space bend and boundaries between audiences and performers are blurred.
SONG by HAN Systems. An experimental look at the global phenomenon of K-pop experienced as a 360˚ live stream
Story Portals Presents: The Vega Hotel by YonderBeyond. A fusion of pop-up architecture and AR for an in-home storytelling experience.
The Foundling by Raucous. A tabletop theatre experience delivered directly to audiences' homes, using AR, AI and binaural sound, to reveal the gothic, haunting tale of Hopegood Shakespeare.
Tales of the Wild by Passion Pictures. A virtual reality love letter to the plant life of plant Earth. A full body interactive experience told through the most contemporary storytelling medium, rooted in the most ancient connection to nature.
Transportalists by FANDCO. A communal at-home interactive performance, which combines AR, projection mapping and physical artefact: part theatre/ rock concert, part computer/ board game.
Dr Jeremy Silver, CEO of Digital Catapult said: "The raft of visionary prototypes developed this year is testimony to the growing strength and depth of the UK's immersive content sector and the ability of the UK's creative community to come together in times of adversity. CreativeXR has this year truly shown that augmented and virtual reality can allow new stories to be told to new audiences in new ways. Let's face it - there has to be more to at-home experiences than on demand TV and live streaming."
Francis Runacres, executive director of enterprise and innovation at Arts Council England, said: "We're delighted to see another brilliant cohort of artists and producers present the work made possible by CreativeXR. The range and ambition of the projects demonstrates the importance of the programme in pushing forward the creative potential of immersive technology, with experiences designed to bring culture into people's homes sitting alongside pieces which will be able to transfer to venues once social distancing measures are lifted."