Picture post expansion for Goldcrest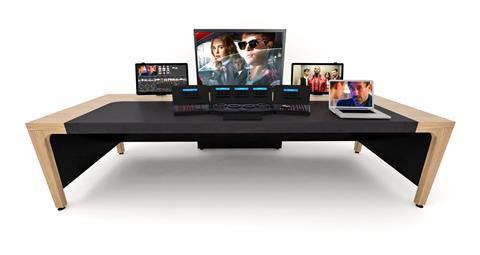 Soho's Goldcrest Post is building four new picture suites to cater for TV drama work as it prepares for the arrival of star colourist Jet Omoshebi.
The Lexington Street facility is in the process of adding a hero grading suite for TV drama work, two new online suites for QC and deliverables and a third Digital Intermediate (DI) suite. One of four new custom desks, desgined by AKA Design for Goldcrest is pictured above.
The extra capacity will require the purchase of additional Blackmagic Design Da Vinci Resolve software licences and associated hardware, new Sony X300 HDR monitors, more storage and a significant reshuffle of the existing facility.
Once completed, the new suites, located near to its recently expanded audio facilities, will form part of an internal TV drama 'village', complete with a client area.
Discussing the expansion with Broadcast, Goldcrest Post managing director Patrick Malone said: "When we started our move into TV drama, we were shoe-horning the work in alongside features.
We were getting away with it really. People just had to work bloody hard. But the last thing we wanted to do was compromise our reputation by screwing up one of these jobs because we didn't have the manpower or infrastructure to handle it."
Instead, led by Omoshebi, who joins from Encore in January, the facility will look to offer dedicated workflows for TV drama that mirror the existing feature film set-up, in which all content stays 'live' right up to the point that it is rendered for delivery.
"We're going to be doing TV drama with considerable intent to do it as well as we do features," added Malone.
The new suites are being designed by Goldcrest's in-house engineering and technology team. Jigsaw24 and Big Pic Media will provide the hardware. The facility currently uses a Rohde & Schwarz DVS-SAN for its film workflow storage, but decisions are yet to be made about the purchase of any additional storage needed for the TV drama team.
AKA Design is designing and building bespoke furniture for the suites, with Medialease providing asset finance for the grading and online kit. The new suites are due to be operational by the middle of November.
As revealed two weeks ago, dubbing mixer Howard Bargroff will start operating out of Goldcrest next week. Omoshebi and Bargroff both worked on Rellik and The Night Manager for the BBC and Fortitude for Sky Atlantic.