Device aimed at smaller events and venues, enabling a single operator to vision mix, audio mix and create graphics overlays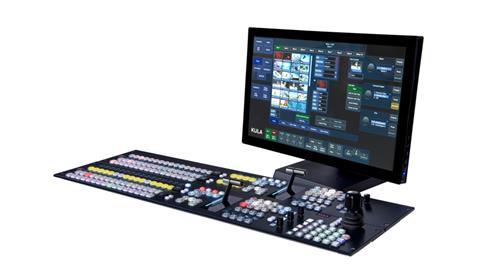 Grass Valley used IBC 2019 to unveil its all-in-one production system Kula AV. The compact product combines a vision and audio mixer and a graphics creation and editing station. It's aimed for use at smaller venues and events, enabling a single operator to "have everything they need at their fingertips."
The Kula AV includes Grass Valley's FormatFusion3 technology, which auto-detects and converts any combination of SD, HD and 1080p to the required output.
The system's integrated audio mixing capabilities include clean and quiet audio switching, and audio-follow-video mode for simplified control.
The Kula AV has a large internal ClipStore and a 1TB hard disk. Once created, graphics are automatically loaded into the system's ClipStore, ready for immediate use.
It has 40 video and 80 audio inputs, a 19" Kula panel and Mav audio module, while the system is compact enough to be easily loaded into a flypack for transportation.
Mark Hilton, vice president of live production at Grass Valley, said: "Producing first-class content is increasingly important to customers outside the traditional broadcast space — from corporate events to sports and live entertainment venues as well as houses of worship. Kula AV puts all of our expertise into an easy to deploy package, at an entry-level price. By bringing the power and capability of multiple systems into a compact form factor that will fit in even the most confined spaces, we allow smaller production operations to meet the demand for compelling, high quality content."