New base is in the ABC Building, alongside the likes of Versa, The Farm, Sony, and more
Gravity Media has opened a new production centre in the ABC Building, Manchester, replacing its former base in the area.
The new centre is on the fourth floor of the ABC Building, with a 3,000 sq ft space that includes three off-tube commentary booths, two Avid Media Composer edit suites connected to the edit core for a full suite of edit services, a dedicated audio control room and two multi-suite, three-tier production galleries designed to be able to integrate next generation cloud-based, GPU-powered workflows including the likes of MAVIS and GVAMPP.
There is also a large production office, collaboration and meeting area, and the ABC Building itself offers a flexible workspace, café / bar, outdoor terrace, cinema and other communal areas.
In addition, the facility is directly connected to Gravity's London production centre, allowing for completely decentralised remote production workflows.
Gravity Media is no stranger to the ABC Building, having moved Morning Live to there from its former London base in just two months earlier this year. However, the company had already been planning o move to the building from ong beore that.
Ed Tischler, Gravity Media managing director for EMEA, explained: "We first came here a couple of years ago, so it's been on our radar for a while."
Having eyed the move for a while, Tischler and Gravity see Manchester as a key growth area, not just for themselves, but also the media as a whole: "We have every intention of growing this even further for ourselves and alongside the other people within this community as well."
Remote production is a big part of the new base, but Tischler insisted that for now, Gravity continues to see it as just one part of a range of options for production: "So it's not that necessarily we see a decline in on site facilities or provisions for us. It's about just constantly evolving those workflows, getting down the amount of people on site, reducing carbon footprint, tackling the challenge that everybody has with increasingly scary freight prices and things like that.
"So for us, it's hand in hand, but possibly, yes, shipping more from on site into here [the Manchester production centre]."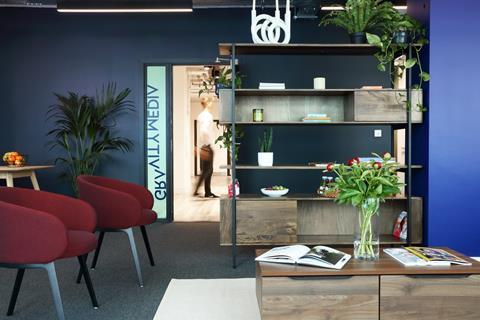 Frank Callaghan, director of production and content, pointed out that another important side to the new centre is the options it opens up for post-production and local talent with its more accessible location: "When you come here, you realise that you've got facility where people would want to come and work with post production and different independent companies might want to come in. It's a facility for everyone, it's not just for us. Although we have got stuff to do and we have got stuff to fill it out, we're very much open to those conversations and speaking to local companies, clubs, federations and the LE world about possibly doing work."
He continued on talent: "One of our biggest contracts is obviously UEFA and we do 32 commentaries on a Thursday night when the Europa League is on. Obviously there's not 32 commentators in London. A lot of people that we use, for example Guy Mowbray or Sam Matterface, are based up north, so they're having to come all the way down to London to do their commentary.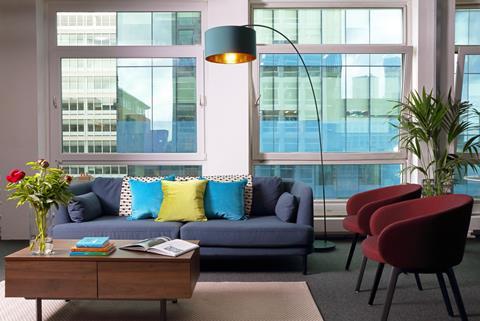 "Now we've got a facility here, that local talent doesn't have to come down to London. We're networked up to London, so they can do the voiceover here that appears in our edits back in London, and we're good to go."
Gravity head of systems integration for EMEA Paul Sykes added on the possibilities for growing a post-production base in Manchester: "We have Gravity House in Soho with four floors, and lots of cutting rooms. That is that is definitely a model that would be very simple for us to bring here, especially as we've got a lot of the connectivity back to our centralised areas in Chiswick."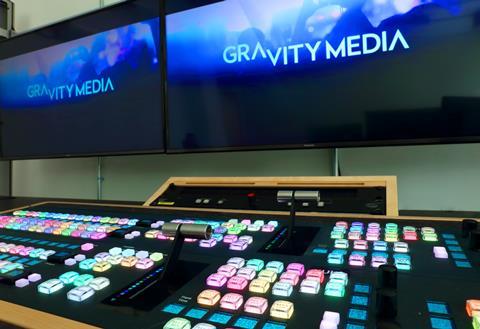 Gravity also hopes to use its new central Manchester location to draw on talent from the Salford University film, technology and media programmes.
Director of technology for EMEA, Nick Symes, explained: "There is certainly what appears to be a skills gap, certainly in engineering and technology roles. So we are very much underway working with universities and higher education institutions who are running media centric courses, around production and broadcast technology, and other roles that will naturally fit into our industry to try and nurture that talent. We want to make sure we can support it, and then benefit from it as people come out of education and want to start working."
The Manchester facility joins other Gravity Media production centres in London, Sydney, Melbourne and San Francisco.