LenscareFX's 420 VFX shots on BBC1 drama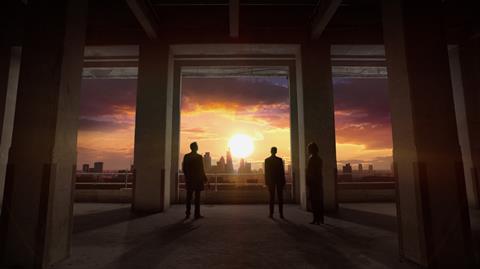 VFX: LENSCAREFX / CLIENT: EUSTON FILMS
Tunbridge Wells-based visual effects company LenscareFX created the VFX for crime drama series Hard Sun. It worked on 420 effects shots across the six-part series and was involved from the pre-production stage, planning all the set pieces with producer Hugh Warren and the directors Brian Kirk, Nick Rowland and Richard Senior.
LenscareFX VFX supervisor Sascha Fromeyer says: "Brian gave me space to create a look for the sun and moon shots. He had a collaborative and upbeat working style that suited VFX."
The series begins with a scene that ends with a house exploding. Production designer Eve Stewart created a set showing just the exterior ground oor of the building. LenscareFX's work included developing a set extension to show the entire house as well as a London backdrop. Its VFX artists then created a fully CG explosion using Houdini. No actual explosion was shot or required, which Fromeyer says was a good thing, because filming a real explosion can "slow down shooting and often looks too tame".
In the last episode, executive producer Kate Harwood and writer Neil Cross were heavily involved in the final scene, which centred on a black hole. Cross "wanted a realistic-looking hole with an accretion disk and a tail reaching the sun", says Fromeyer. "Supervising art director Ingo Putze drew up the perfect scenery, and the black hole slowly eats up the rising sun."
LenscareFX's effects also included screen replacements and adding "a lot of blood to already blood-soaked shots. We replaced plenty of skies and added either the sun or the moon in a slightly daunting-looking fashion."